Fourteen Army National Guard members are being investigated for taking part in a photo that appears to mock funerals for fallen soldiers — a "totally unacceptable" display, Pentagon officials told NBC News.
That's in addition to a female soldier who officials said Tuesday they were suspending for allegedly posting the photo, which shows 14 guard members gathered around an empty, flag-draped casket, mugging for the camera with the caption, "We put the FUN in funeral."
The photo was taken at a National Guard Training Center in North Little Rock, Ark., and includes guard members from a number of separate states.
"These are essentially kids blowing off a little steam, but given the serious and solemn nature of their mission, (funeral duty), their actions are inappropriate and totally unacceptable," a U.S. defense official told NBC News.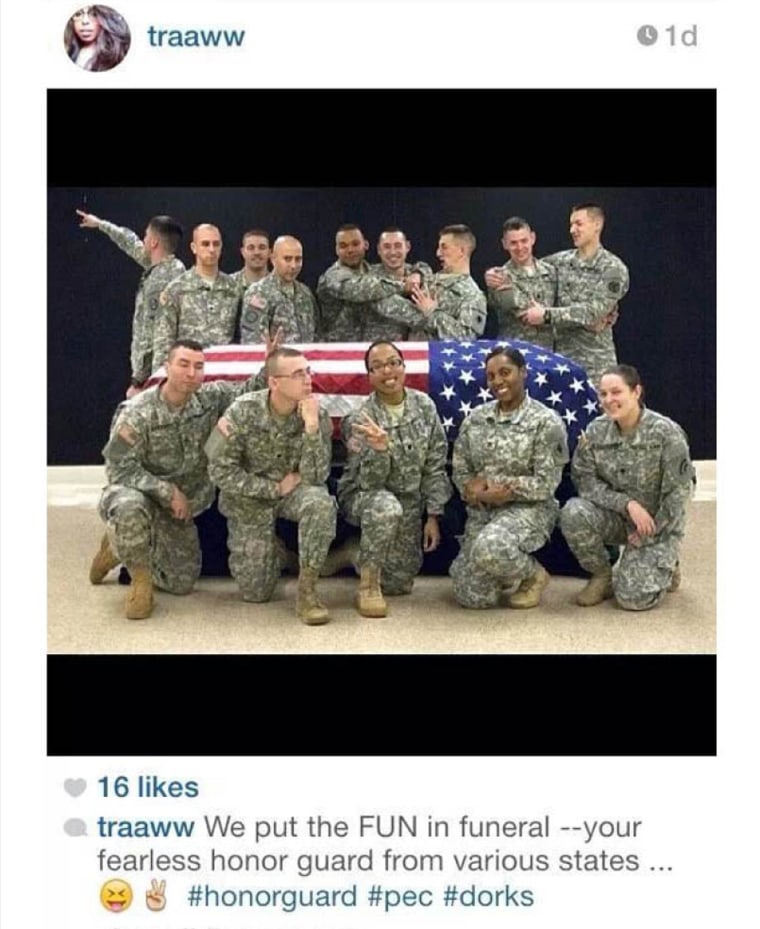 Aside from the casket photo, a second "selfie" snap shows the suspended female soldier, Spc. Terry Harrison, in a car on her way to a military funeral in Wisconsin with a caption complaining about the cold weather. Harrison is a member of the Madison, Wis.-based 1st Battalion, 147th Aviation.
"It so damn cold out. Why have a funeral outside? Somebody's getting a jacked up flag," the photo's caption read.
Pentagon officials say she's been indefinitely suspended from funeral duty pending an investigation. Guard officials say the specialist has received death threats as a result of the posted photos.