Nearly six months after the Pentagon opened all military combat roles to women, the Marine Corps is making the change official in name — doing away with the word "man" in nearly two dozen job titles, NBC News confirmed.
The Marines in the next few days will announce gender-neutral name changes to 19 roles — a move ordered by Navy Secretary Ray Mabus, the Marine Corps Times first reported.
The word "man" will be replaced with "Marine."
But an official told the Marine Corps Times the names of several so-called military occupational specialties, or MOSs, will not be changed following the months-long review.
"Names that were not changed, like rifleman, are steeped in Marine Corps history and ethos," the official told the publication. "Things that were changed needed to be updated to align with other MOS names."
Related: All Combat Roles Now Open to Women, Pentagon Says
In addition, titles such as manpower officer or vertical takeoff unmanned aerial vehicle specialist won't be changed because the jobs don't specifically refer to the person doing the task, the Times reported.
The job titles that are changing include: basic infantry Marine, light-armor vehicle Marine, basic field artillery Marine, reconnaissance Marine, antitank missile gunner, field artillery fire control Marine, field artillery operations chief and armor Marine.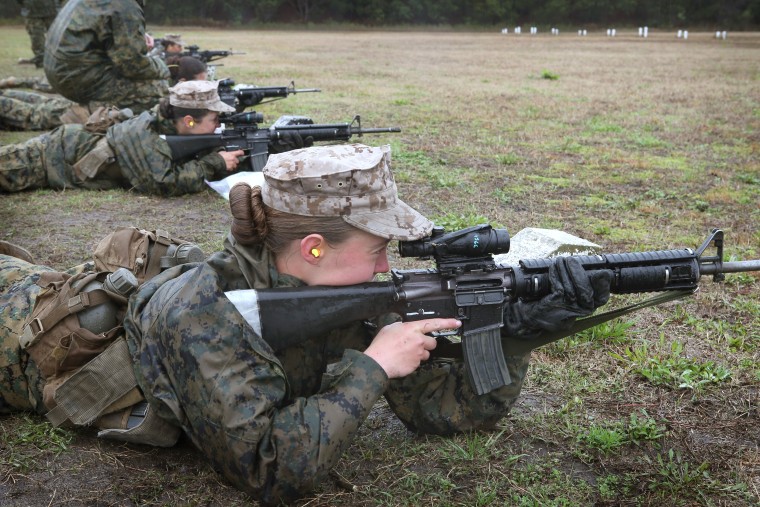 Defense Secretary Ash Carter's announcement in December that the military would open up combat jobs to women represented a historic shift — and a chance for females to apply for some 220,000 military positions previously denied to them.
The move came three years after a deadline was set to lift the 20-year formal ban on women serving in combat, with President Barack Obama declaring at the time that "valor knows no gender." Some military leaders balked at the change, arguing that mixed units do not do as well as men-only ones, The Associated Press reported.
Mabus has said that women must meet the same physical testing requirements and standards as men.
The Navy and Air Force have since opened nearly all of their combat roles to women, with the Army still moving to do so.
Women have historically made up a small sliver of the Marine Corps.
Last month, the military said it had approved requests for two women to make lateral moves into Marine infantry roles — as a rifleman and machine gunner.
In another military milestone, the Pentagon could announce as soon as this week that it will formally allow transgender men and women to serve openly.