Four weeks after his funeral, more remains of slain U.S. Army Sgt. La David Johnson have been identified, the Pentagon confirmed Tuesday.
The remains were retrieved from the spot near the village of Tongo Tongo, Niger, where Johnson and three other American soldiers were ambushed and killed on Oct. 4 by ISIS-linked militants.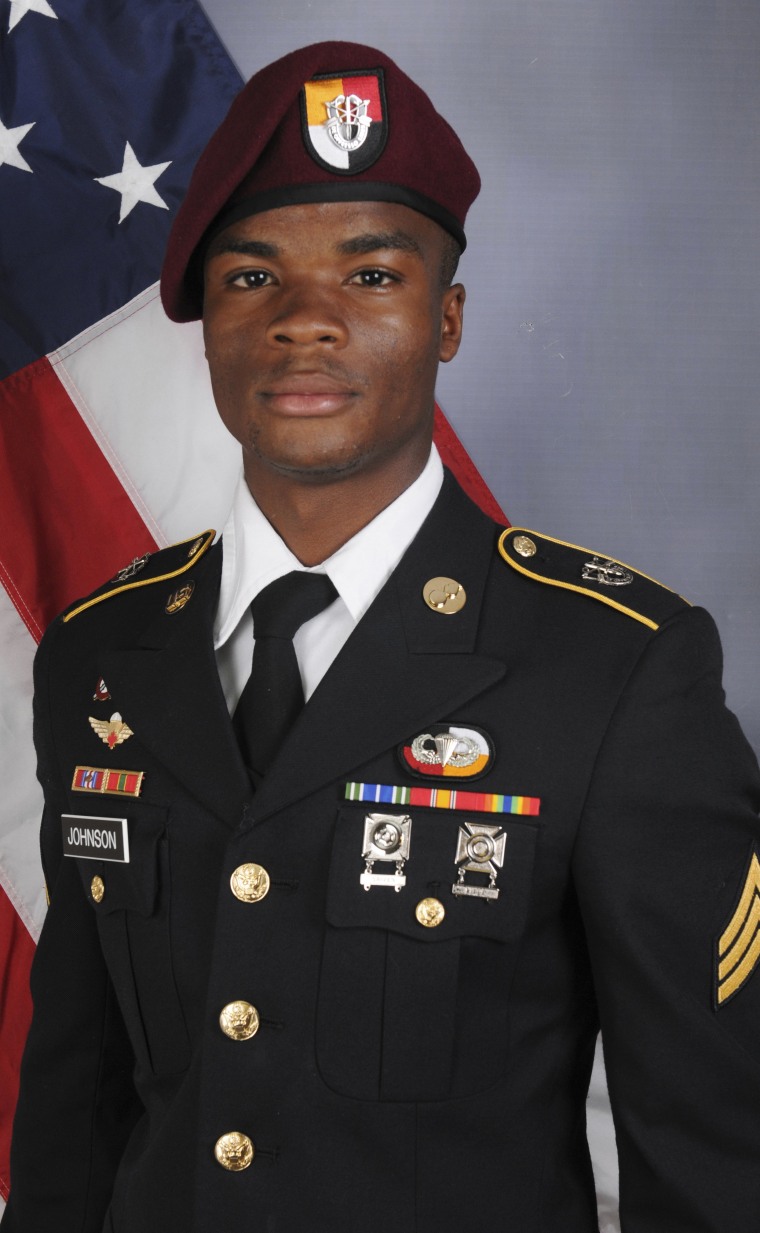 They were found during a Nov. 12 inspection of the site by a joint task force force of FBI and military investigators and later identified via DNA testing, Defense Department spokeswoman Dana White said in a statement.
"We can confirm that the Armed Forces Medical Examiner has positively identified these remains as those of Sgt. Johnson," she said.
It was not clear if the bone fragments would be buried with Johnson, who was laid to rest on Oct. 1 at a cemetery in Hollywood, Florida. And there also was no immediate response to the grim discovery from Johnson's pregnant widow, Myeshia Johnson.
But Rep. Frederica Wilson, D-Fla., a close family friend, said it was a shame she had to find out about it via the news.
Related: Trump says he did not 'specifically' order Niger mission
"He left a Gold Star Family and to learn about his final moments on TV and in the newspaper is a shame for this nation," she told reporters Tuesday. "It is a shame for any Gold Star Family to go through the pain and agony of learning about their son's last moments on TV."
Later, in a statement, Wilson said it "is difficult to find the words to describe how dismaying it was to learn that some of Sgt. La David Johnson's remains were found in Niger weeks after his funeral."
"I want the family to know, though, that I will continue to push and push and push for a thorough investigation of both the ambush and La David's final hours," Wilson wrote.
Johnson, a 25-year-old father of two from Miami Gardens, was killed alongside Staff Sgt. Bryan C. Black, 35, of Puyallup, Washington; Staff Sgt. Jeremiah W. Johnson, 39, of Springboro, Ohio; and Staff Sgt. Dustin M. Wright, 29, of Lyons, Georgia.
NBC reported last month that the deadly ambush by 40 to 50 militants stemmed in part from a "massive intelligence failure."
House and Senate armed services committees are now looking into the scope of the U.S. mission in Niger and whether the Pentagon is properly supporting the troops on the ground there.
Johnson's tragic death led to a political fight with President Donald Trump after he called Myeshia Johnson as she was driving to collect her husband's body from Dover Air Base.
Myeshia Johnson said she asked that it be placed on speakerphone so Wilson and the others in the car could hear it.
"I heard him stumbling on trying to remember my husband's name, and that's what hurt me the most because if my husband is out there fighting for our country and he risked his life for our country, why can't you remember his name?" Myeshia Johnson told ABC's "Good Morning America." "And that made me cry even more."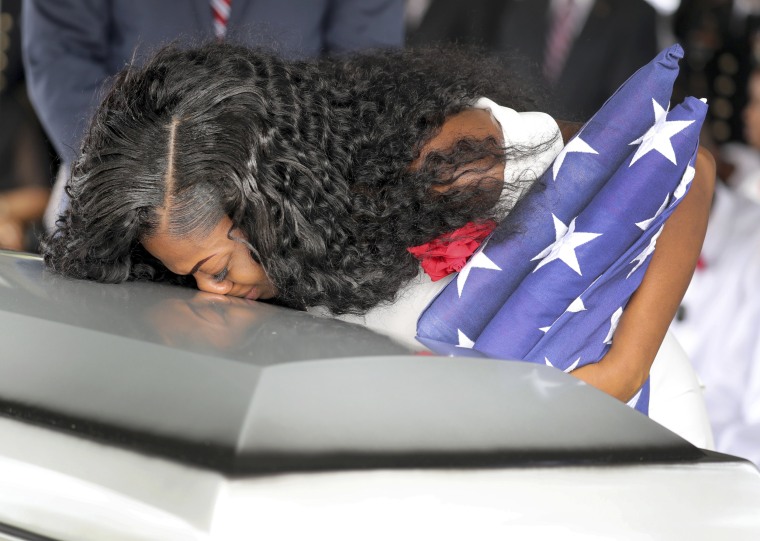 Wilson confirmed Johnson's account. "He said, 'But you know he must've known what he signed up for,'" she said.
That sparked a heated denial from Trump, who called Wilson "wacky."
"I didn't say what that congresswoman said, I didn't say it at all," Trump told reporters. "And she knows it."
Later, Trump's chief of staff, John Kelly, waded into the controversy by ripping Wilson for going public with the details of the president's call to Johnson's widow. And he claimed the congresswoman delivered a 2015 speech at an FBI field office dedication in which she "talked about how she was instrumental in getting the funding for that building," rather than keeping the focus on the fallen agents for which it was named.
Video of the speech contradicted Kelly's claim.