The Navy admiral in charge of the military branch's operations in the Middle East was found dead in Bahrain on Saturday, the Navy said.
Vice Admiral Scott Stearney was found dead in his residence in Bahrain Saturday and no foul play is suspected, Chief of Naval Operations Admiral John Richardson said in a statement. The Naval Criminal Investigative Service and the Bahraini Ministry of Interior are cooperating on the investigation.
Stearney took over as commander of U.S. Naval Forces Central Command and the Combined Maritime Forces in May, where he commanded more than 20,000 U.S. and coalition sailors, Marines, Coastguardsmen, and civilians. Stearney served 36 years in the Navy.
"This is devastating news for the Stearney family, for the team at Fifth Fleet, and for the entire Navy. Scott Stearney was a decorated naval warrior," Richardson said in a statement.
"He was a devoted husband and father, and he was a good friend to all of us," Richardson said.
Rear Admiral Paul Schlise, the deputy commander of Fifth Fleet, has assumed command, he said. Vice Admiral Jim Malloy is preparing to fly out to Bahrain later today to take command in the interim.
Stearney was a native of Chicago and entered the Navy in 1982 after graduating from the University of Notre Dame. He became a Navy aviator in 1984 and served in strike fighter squadrons flying the FA-18 Hornet, according to the Navy website.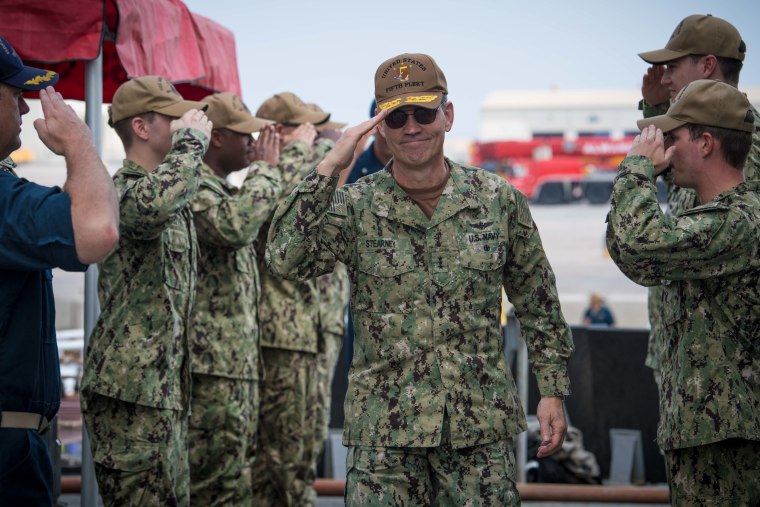 He served in Kabul, Afghanistan, as chief of staff of Joint Task Force 435 and later Combined Joint Interagency Task Force 435. In the U.S., he served as instructor and readiness officer at Navy Fighter Weapons School, as well as other roles, the Navy said.
Stearney's past assignments included commander of the U.S. Transportation Command's Joint Enabling Capabilities Command, commander of Strike Force Training Atlantic, commander of Carrier Strike Group and commander of Navy Warfare Development Command, and director of operations of U.S. Central Command, the Navy said.