WASHINGTON — The Defense Department's inspector general is investigating the senior Pentagon spokesperson for allegedly forcing her subordinates to run personal errands and drive her around in bad weather, and for removing staffers who complained about her, according to five current and former Pentagon officials.
The investigation into Dana W. White, the assistant to the secretary of defense for public affairs, focuses on allegations of leader misconduct and abuse of power by at least four current and former Office of Secretary of Defense Public Affairs staffers. The investigation was first reported by CNN.
White's alleged actions run in stark contrast to Defense Secretary James Mattis' own way of treating subordinates. He routinely picks up his own dry cleaning at the Pentagon cleaner, stands in line at CVS to buy his own office supplies, and carries his own luggage on trips.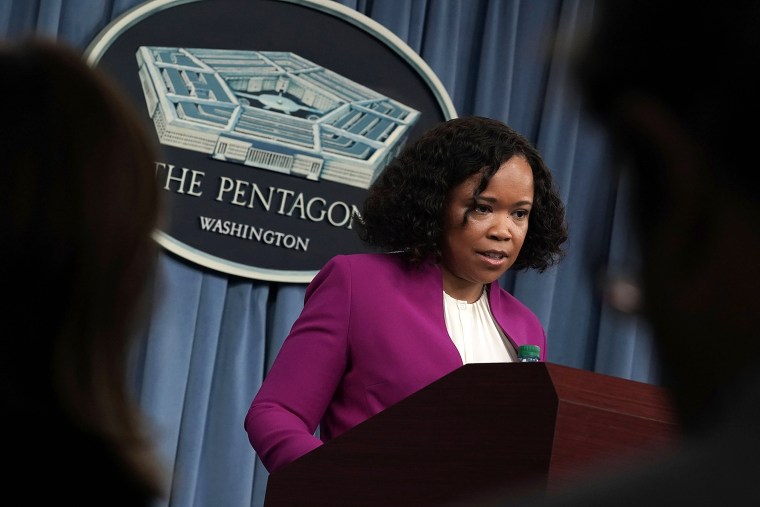 The abusive behavior White is accused of includes instructing her staff: to make phone calls to a foster care facility in California about adopting a child; to buy her pantyhose and other personal items at the CVS in the Pentagon; to pick her up at home and drive her to the Pentagon during storms; to fetch her dry cleaning and her meals throughout the day and; to help her plan personal trips.
At least a half dozen Pentagon staffers have been interviewed about White's behavior, which allegedly also included booking personal grooming appointments.
Pentagon ethics guidelines say that "a DoD official may not direct or request subordinates to use official time to perform any activities other than official activities."
The five current and former officials told NBC News on Tuesday that investigators are also looking into allegations that White, a Trump administration political appointee, removed at least four Department of Defense employees — both uniformed and civilian — and had them reassigned as acts of reprisal.
In at least one case, according to a source with direct knowledge, a staffer sought guidance from senior personnel officials about the propriety of White's requests for help with her personal matters.
But allegedly White found out and the individual was removed from a position in her office and reassigned to a lower profile job. Two of those reassigned say the removal derailed their careers by harming their chances at future promotion.
White has so far not been found in violation of any regulations. A Pentagon spokesperson confirmed there is an ongoing investigation but declined to provide details
"This is an ongoing review about which we cannot comment," wrote Charles E. Summers, Jr. Principal Deputy Assistant to the Secretary of Defense for Public Affairs U.S. Department of Defense.
Each year, the department publishes an "Encyclopedia of Ethical Failure." Starting in 2014, it included the case of a brigadier general who "ordered subordinates to run personal errands for him, including picking up his dry cleaning, driving him to the barber shop, and putting the license plates on his personal car (also directing them to use an official Government vehicle for these purposes)."
The report concluded: "The general's behavior violated the Joint Ethics Regulation because he used federal personnel, equipment, and duty time to conduct personal business."
White's repeated removal of staffers who disagreed with her created an atmosphere of fear, according to five current and former staffers, with both uniform and civilian staff fearful that speaking out against her could end their careers.
"You could actually think of it as theft," said Kathleen Clark, an ethics expert and law professor at Washington University Law School. "You're essentially using, as though it belongs to you for your personal purposes, something of value to the government — your subordinate's time."