WASHINGTON — When President Donald Trump visited CIA headquarters in the first weeks of his presidency, he toured the secure floor where agency officers direct drone strikes against suspected terrorists, current and former U.S. officials told NBC News.
Impressed by what he saw, Trump conveyed to incoming CIA Director Mike Pompeo and the assembled agency officers that he wanted them to take a more aggressive posture, according to two current U.S. officials and one former official briefed on the visit.
Soon afterward, multiple sources said, the CIA began carrying out drone strikes that might not have been authorized under the Obama administration, including in Syria, where the military has taken the lead on targeting militant leaders.
The White House granted CIA officers more autonomy to decide on whether and when the U.S. can pull the trigger in various places around the world, including in Yemen, where the military carries out the bulk of the airstrikes, according to four U.S. officials who have been briefed on the agency's counterterrorism operations. The upshot is less micromanaging of targeting decisions by the White House, these officials say.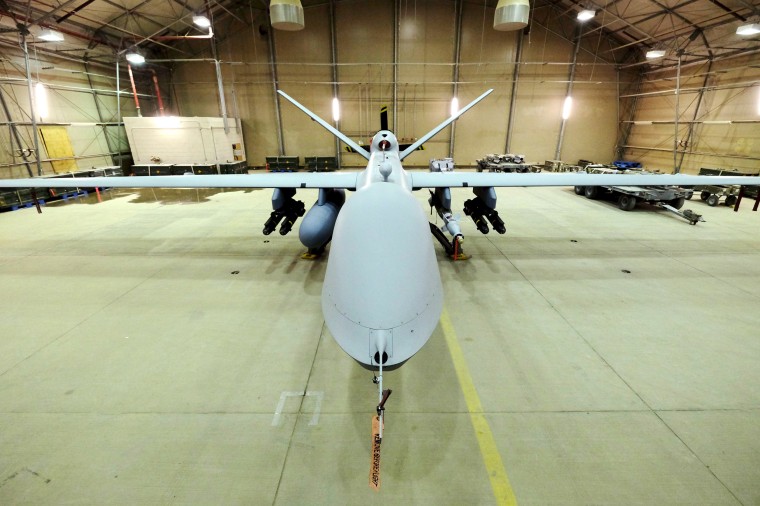 Now, the Trump administration is contemplating additional policy changes that will further expand the CIA's authority to conduct drone strikes in a number of countries, both in and out of war zones. Such a move would reverse years of effort by President Barack Obama to reduce the CIA's role in targeted killing and shift that responsibility to the military. It could also mean more civilian casualties in CIA drone strikes.
In reporting this story, NBC News spoke to officials at intelligence agencies, the Pentagon, Congress and the White House. All requested anonymity to discuss a classified program.
At the peak of its lethal activity in 2010 during the Obama administration, the CIA was carrying out as many as two drone strikes a week in Pakistan. Some current and former officers have argued that turning American's premier spy agency into what one former CIA officer called "a killing machine" caused an erosion in its traditional espionage mission against adversaries such as Russia and China. A changing threat environment, and new Obama rules, led to a sharp drop off in the pace of CIA strikes in recent years.
Pompeo has pushed for more freedom of action. He wants Trump to authorize the spy agency to strike targets in Afghanistan, which had long been the domain of the military, a senior U.S. official with direct knowledge told NBC News. The New York Times first reported that news last week.
The White House also is drafting a new written policy on counterterrorist operations outside of war zones that would supercede the so-called drone playbook that the Obama administration had hoped would govern the decisions of future presidents, several officials said.
The drone playbook, known as the Presidential Policy Guidance, or PPG, includes a provision that no strike should go forward unless analysts determine that there is a near-certainty that no civilians will be harmed. And it includes a provision forbidding the addition of new detainees to the U.S. prison in Guantanamo Bay, Cuba.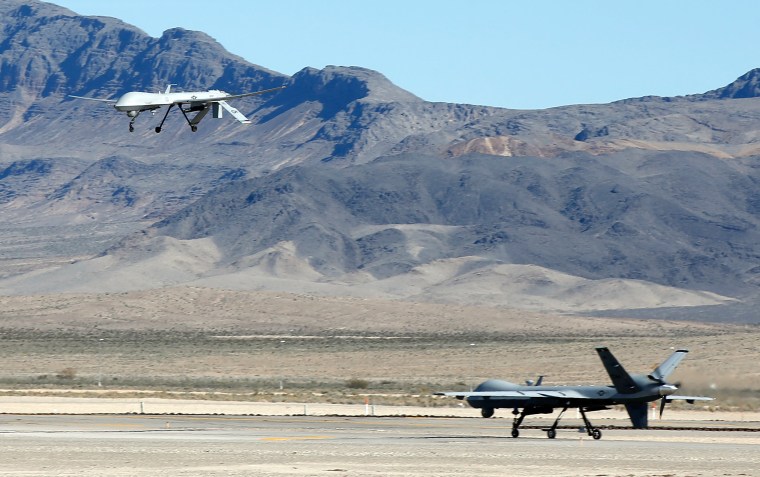 The Trump administration is contemplating removing both of those restrictions, officials involved in the planning told NBC News.
These developments concern human rights activists, who argue that the CIA is less accountable than the military.
"The last thing the U.S. should be doing right now is expanding a global, secret killing program," said Zeke Johnson, senior director of programs for Amnesty International USA. "By its own admission, the U.S. government's use of drones has meant the deaths of civilians and there has been insufficient accountability."
U.S. officials who favor the changes point out that the military's conventional bombing campaign in Iraq and Syria appears to have killed far more civilians than U.S. drones have.
But such comparisons are hard to make. Because the CIA drone strikes are secret and the U.S. government will not officially confirm them, there is no way for outsiders to gauge their frequency or effectiveness. In recent years, officials say, the pace of CIA drone strikes has declined as the military has conducted most of the drone strikes in nearly every country in which they are occurring, including Afghanistan, Iraq, Syria and Yemen. But that also means it is not possible for outside groups to determine how many CIA strikes have occurred.
Related: Iran Has Drone Base Near U.S. Troops
Another factor is that the CIA and the military's Joint Special Operations Command have integrated their targeted killing programs in recent years, U.S. officials say. It's become easier for the CIA to hand off intelligence about a target and have the military pull the trigger, or vice versa.
"It's impossible to know with Yemen, it's impossible to know with Iraq and Syria, [how many CIA strikes have occurred]," said Bill Roggio, the editor of Long War Journal, a website that has tracked the strikes for years based on local media reports and other data.
The exception is Pakistan, where the U.S. military generally doesn't bomb, and where the al Qaeda threat has much diminished in recent years. There have been five CIA drone strikes in Pakistan in 2017, up from three last year, according to Long War Journal.
It's unclear whether a Trump overhaul to Obama's drone playbook would be consequential in practice. Currently the playbook does not apply in Syria, Iraq or Afghanistan. It also does not apply for now in parts of Yemen and Somalia, which the military has declared to be active U.S. war zones.
But the playbook is still in place for Pakistan and anywhere else the CIA could potentially conduct drone strikes, including Libya and other parts of North Africa where ISIS is becoming an increasingly problematic presence.
In war zones such as Iraq and Syria, the so-called law of war standard applies, which tolerates civilian casualties as long as the targets are military and the collateral damage is "proportional" to the military benefit.
U.S. national security officials say they have seen no sign that Trump is seeking to follow through on some of the extreme rhetoric he employed on the campaign trail, including his calls for killing the families of terrorists and employing interrogation tactics that are "worse than waterboarding," the simulated drowning technique used on three al Qaeda operatives that many consider to be torture.
The Pentagon and the CIA declined to comment. The White House did not respond to a request for comment.