WASHINGTON — President Donald Trump has intervened in three high-profile murder cases involving U.S. service members, dismissing charges against a Green Beret accused of killing an Afghan man, pardoning a former Army officer serving 19 years for ordering soldiers to fire on unarmed Afghan men, and promoting a Navy SEAL who was convicted of posing with a dead body but acquitted of more serious charges.
"The President, as Commander-in-Chief, is ultimately responsible for ensuring that the law is enforced and when appropriate, that mercy is granted," said Press Secretary Stephanie Grisham in a statement.
"These actions are in keeping with this long history. As the President has stated, 'when our soldiers have to fight for our country, I want to give them the confidence to fight.'"
Responding to the news, the ACLU blasted what it said was an "utterly shameful use of presidential powers."
"Trump has sent a clear message of disrespect for law, morality, the military justice system, and those in the military who abide by the laws of war," said Hina Shamsi, director of the he group's National Security Project, in a statement.
Army Green Beret Maj. Matt Golsteyn, accused of killing an Afghan man, was deployed to southern Afghanistan at the time of the man's death in 2010 and returned to the U.S. without any charges. He was charged after he admitted to the killing during a polygraph for a job at the CIA. Golsteyn said he killed the man, an alleged Taliban bombmaker, in an ambush.
"Our family is profoundly grateful for the president's action," said Golsteyn in a statement. "We have lived in constant fear of this runaway prosecution. Thanks to President Trump, we now have a chance to rebuild our family and lives. With time, I hope to regain my immense pride in having served in our military. In the meantime, we are so thankful for the support of family members, friends and supporters from around the nation, and our legal team."
In an interview with NBC News shortly after the announcement, Golsteyn said Trump had called him earlier Friday to inform him about the action.
"He said it was an honor to be able to give use our lives back," Golsteyn said.
"We told him thank you," Golsteyn added. "I don't know what you can say to someone who is literally giving you your life back. Thank you is insufficient to say to someone who literally is giving you your life back."
Trump also pardoned former Army 1st Lt. Clint Lorance, who is serving a 19-year murder sentence at Leavenworth federal penitentiary.
Lorance was convicted of ordering an enlisted soldier to open fire on a group of unarmed Afghans in 2012.
One soldier fired two shots at three men who were riding a motorcycle. He missed. The men dismounted their bike and approached Afghan soldiers who were at the front of a mixed U.S. Afghan patrol.
The Afghan soldiers asked the three men to leave. Lorance then ordered his platoon's gun truck to fire on the men, killing two.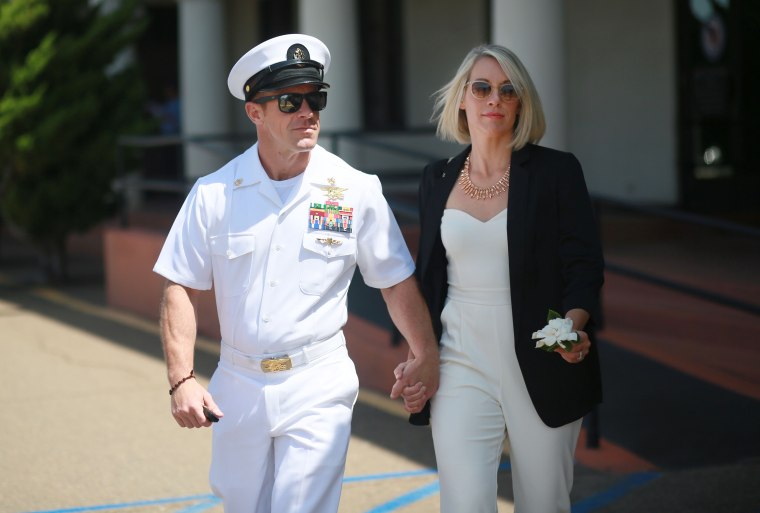 At his court-martial, several of Lorance's soldiers testified the Afghan men posed no imminent threat.
The Army said in a statement that it would work to implement the pardons of Golsteyn and Lorance.
"The Army has full confidence in our system of justice," it said. " ... The foundation of military law is the Constitution, and the Constitution establishes the President's power to grant pardons."
In the third case, the president signed an order directing the promotion of Navy SEAL Edward Gallagher and a restoration to his rank as chief petty officer.
Gallagher was convicted by a military jury in July of posing with a dead body but acquitted on six other counts, including war crimes. Gallagher was accused of stabbing an ISIS prisoner to death in 2017.
During his trial, a SEAL medic confessed that he had killed the wounded prisoner by shutting his breathing tube. He said he did it to save the man from being tortured by Iraqi soldiers. Jurors also found him innocent of shooting civilians and trying to cover up his actions.