President Donald Trump's plan to pay for his proposed border wall by taking funds from more than four dozen Air Force military construction projects poses various national security risks for the U.S. armed forces, according to a report compiled by the U.S. Air Force.
The report, obtained by NBC News, details the importance of each of the 51 military projects chosen by the Trump administration to lose their funding, including construction of a new gate to address a growing security concern at an overseas U.S. base, projects to build facilities to safely store more than $1 billion in munitions overseas, and even replacing a boiler whose failure is "imminent" and could cause the evacuation of an entire base in Alaska.
President Donald Trump declared a national emergency in February in an effort to circumvent Congress and fund the wall he had promised to build along the U.S. border with Mexico, citing "an invasion of our country with drugs, with human traffickers, will all types of criminals and gangs."
At Incirlik Air Base in Turkey, the entry-control point at the main gate is "degrading and not properly configured to provide proper protection for pedestrian and vehicle passage," the Air Force report says, adding there has been a "higher threat environment" there since the U.S. began operating in Syria.
"Security breaches have increased since the base began Operation Inherent Resolve Support," the report says. "If not funded, the main gate remains vulnerable to hostile penetration in the midst of contingency operations and an increased terrorist threat."
The base has been at a heightened level of force protection since July 2015.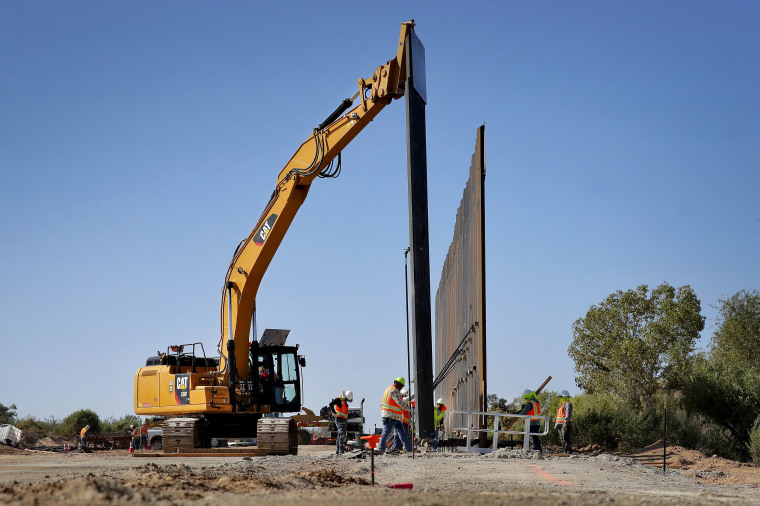 In the Pacific region, money for a project to build facilities to store more than $1 billion in munitions at Andersen Air Force Base in Guam was diverted to the wall, endangering the largest munitions stockpile in the region, according to the report.
Pacific Air Forces rely on the munitions stored at Andersen Air Force Base for both exercises and during combat operations in wartime. If the munitions are not properly stored, they may not be functional, affecting operations of fighter aircraft and bombers, the report says.
At Eielsen Air Force Base in Alaska, a boiler failure at a facility that provides all electrical power and steam heat for the base is "imminent," the report says. With temperatures as low as 65 degrees below zero, a failure would be devastating to facilities and the missions housed by them within hours." The base would be forced to evacuate within hours and once closed "would freeze and require millions of dollars of repair to return to usable conditions."
There is no guarantee the funds will automatically be backfilled, according to a congressional official and a U.S. defense official. The congressional official said the projects may be set back a year or more.
One of the major areas affected were military construction projects supporting the European Defense Initiative, a program intended to increase U.S. military presence in Europe to deter Russian aggression. In some cases, without the construction projects, the bases identified as part of the initiative cannot support the deployment of U.S. airmen or assets.
Projects to upgrade airfields in Germany, Luxembourg, Great Britain, Hungary and Slovakia have been shelved, leaving the bases unable to support U.S. and NATO airplanes. Construction of storage facilities and fuel supply has also been postponed, "directly limiting theater presence and impairing mission capability and readiness" and support to Operation Atlantic Resolve within Europe, Africa, and the Middle East, the report says.
The safety of one dozen F/A-22 aircraft and the supporting personnel at Spangdahlem Air Base, Germany, are at risk, because of aircraft firing engines inside shelters that are not adequately vented. The project would have upgraded hardened aircraft shelters for the attack aircraft, and without it they "will have no shelter facilities in case of enemy attack, making the assets vulnerable to destruction."
The Air Force submitted a list of all unobligated funds to the Office of the Secretary of Defense months ago, but only found out what projects would be affected when the list was released to Congress and the public last week, according to a congressional official and an Air Force official.
"We had no advanced notice of what projects they chose," the Air Force official said.
"These projects are still very important, and we continue to be committed to our allies and partners," Air Force spokesperson Ann Stefanek said.
Roughly $1.8 billion will be taken from projects in the continental United States and $1.8 billion from projects overseas. The $3.6 billion is expected to construct 175 miles of wall along the southern border.