TOKYO — An American contractor at a military base on Okinawa was charged Thursday with murdering a local woman — a case that has inflamed anti-American anger on the Japanese island.
Kenneth Shinzato is accused of stabbing the 20-year-old victim multiple times in the neck in April, according to indictment documents seen by Japan's Yomiuri Shimbun newspaper.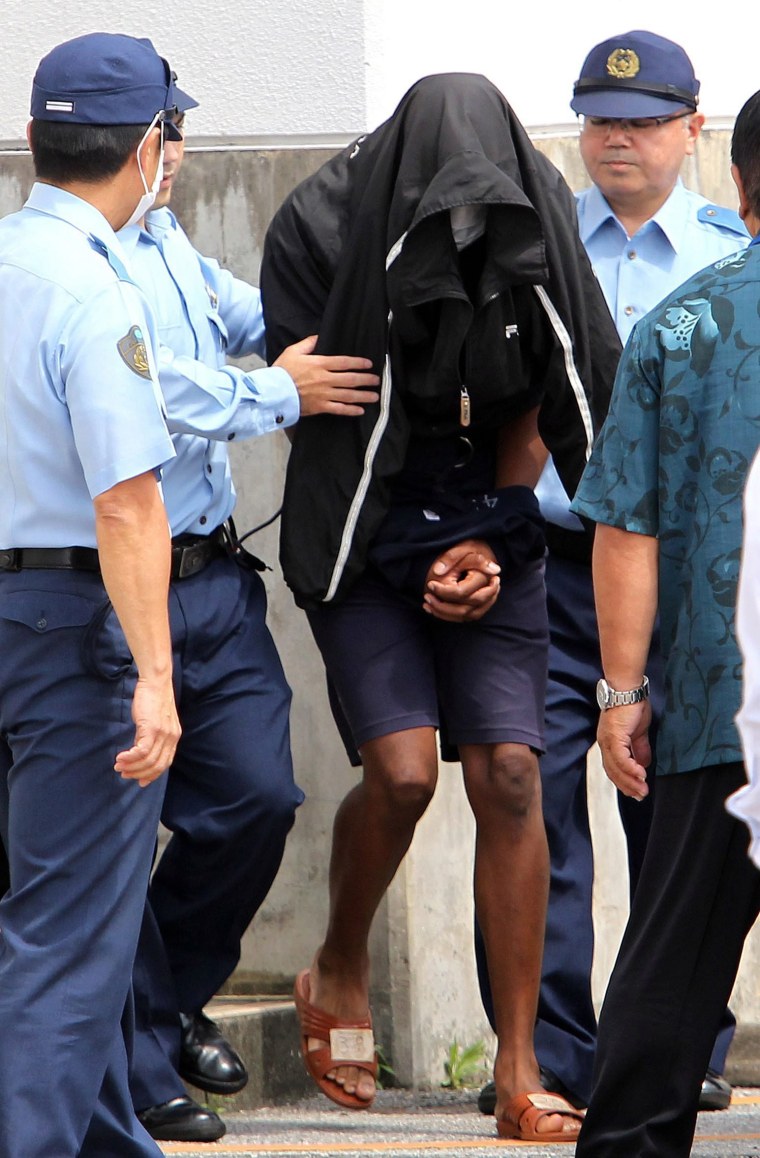 According to the report, 32-year-old Shinzato hit the victim over the head with a stick. The victim vanished after messaging her boyfriend to say she was going for a walk, according to The Associated Press.
Shinzato has also been referred to in the media as Kenneth Franklin Gadson — Shinzato is reportedly his wife's name. He is a retired Marine, according to the AP, and local reports quoted anonymous sources saying he was working as a contractor in IT services before the alleged crime.
He was arrested on May 19 but only initially charged with disposing of the victim's body. He admitted dumping the corpse in a woodland and has since invoked his right to silence, according to local reports.
The additional charges brought Thursday were murder and "rape resulting in death," according to the Yomiuri Shimbun. But the newspaper reported the indictment documents said Shinzato never went through with the rape.
The paper did not appear to explain this discrepancy. The Naha District Public Prosecutor's Office declined to clarify when contacted by NBC News on Thursday.
The incident has sparked fresh anger and mass protests by locals on Okinawa, which has been home to U.S. military bases since the end of World War II.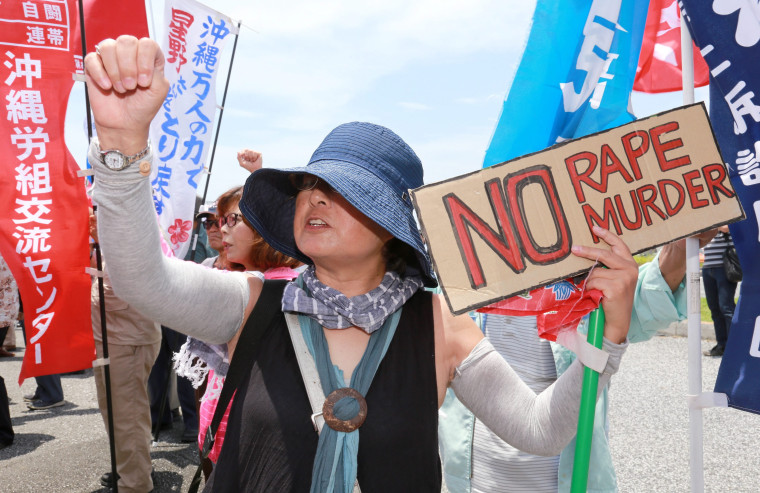 Some 65,000 people — many of them wearing black armbands — attended a rally to protest the killing earlier this month. Tensions have flared in the past over a high crime rate linked to American troops.
"The Japanese government needs to understand that the public anger has reached its limit," Okinawa Governor Takeshi Onaga told the rally. "They cannot allow any further victimization of the Okinawans due to the burden of having these military bases."
Japanese Prime Minister Shinzo Abe lodged a formal complaint with President Barack Obama over the incident when Obama visited Japan for the G7 summit last month.
Obama expressed his "sincere condolences and deepest regrets" and promised to "cooperate fully with the investigation to ensure that justice is done under the Japanese legal system."