WASHINGTON — The average number of U.S. troops serving in Afghanistan at any given time is thousands more than the Pentagon officially acknowledges, according to three U.S. defense officials.
The Pentagon officially acknowledges 8,400 troops on the ground there, but that number actually hovers between 11,000 and 12,000, the officials said.
The actual force manning level is 8,448, which is the maximum number of U.S. service members who are authorized to be assigned to either Resolute Support or U.S. Forces Afghanistan, the two military missions there.
But there is overlap between units as service members are transitioning in and out and there are units and people there on temporary duty shorter than 120 days. Those additional forces put the actual footprint at between 11,000 and 12,000 on any given day, according to the officials.
President Donald Trump announced a new strategy in Afghanistan Monday night, saying that the U.S. will expand authority for American armed forces to target the terrorist and criminal networks that sow violence and chaos throughout Afghanistan. But the president did not provide specific details about how the U.S. military mission will change or how many U.S. troops could be deployed for the new strategy.
Speaking during an unannounced visit to Baghdad Tuesday, Secretary of Defense James Mattis also declined to say how many more U.S. troops could be deployed.
"I'd prefer not to go into those numbers right now. The first thing I have to do is level the bubble and account for everybody who's on the ground there now, the idea being that we're not going to have different buckets that we're accounting for them in, to tell you what the total number is. And there is a number that I'm authorized to go up to," Mattis said.
Related: Trump Vows to Continue Aghan War. Taliban Say They're Fine With That.
"I've directed the Chairman [of the Joint Chiefs of Staff] to put the plan together now. We've obviously been discussing this option for some time. When he brings that to me, I'll determine how many more we need to send in, Mattis said.
Asked whether reports that the U.S. may send about 3,900 more troops, Mattis said, "I'd rather not say a number and then have to change it later on. Let me look at the plan that the military brings me."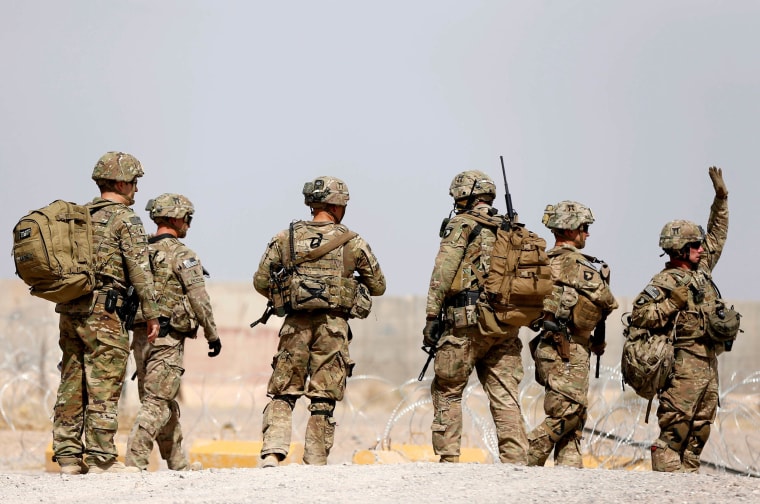 Just last week, Mattis explained that the number of U.S. troops actually serving in Iraq, Syria, and in Afghanistan is not even transparent to him.
"We had to change how they were accounting for them, because there were so many different pockets," he said during a press availability at the Pentagon. "We in this building couldn't figure it out."
He explained that some troops there are not counted because they are there for a short duration, some are transitioning in or out, and some are on special missions.
Related: Pence Puts Pakistan 'On Notice'
"I had to change the accounting process because we couldn't figure out how many troops we had there," Mattis said. When asked why the Pentagon still has not provided the correct number to the media, Mattis said, "I didn't know that was the case," and directed a member of his staff to see him about getting the media the more accurate numbers. Mattis made that comment on August 14, but the Pentagon still has not provided the correct figure.
The Commander of all U.S. military forces in the Middle East said Tuesday that the first deployments of troops will arrive in Afghanistan pretty quickly, according to the Associated Press.
Speaking to reporters traveling with him in Saudi Arabia, General Joseph Votel said, "What's most important for us now is to get some capabilities in to have an impact on the current fighting season."