WASHINGTON — The four U.S. soldiers who were killed in Niger in an ISIS ambush last year are now eligible for back pay for serving under hostile fire, according to a memo sent by a top defense official Monday.
When the soldiers were killed near the village of Tongo Tongo in October, U.S. service members deployed to Niger did not receive the Imminent Danger Pay, an additional $225 a month, that their counterparts in Iraq, Afghanistan and other dangerous environments earn.
But the undersecretary of defense for personnel and readiness, Robert Wilkie, sent a memo Monday saying troops serving in Niger, Mali and parts of Cameroon will now get Imminent Danger Pay for every month served there, with the change retroactively effective for all those who served in those countries as of June 7, 2017.
At a House Armed Services hearing Tuesday, the commander of U.S. Africa Command said he submitted the request for troops serving in Niger to receive hostile fire pay last year.
"We submitted that with Niger and other countries in the area where it is dangerous several months ago to [the Office of the Secretary of Defense]," Gen. Thomas Waldhauser said.
The Pentagon defines service members as eligible for Imminent Danger Pay if they are subject to hostile fire or mine explosions, in an area near hostile fire or mine explosions which endanger the member, or if they are killed, injured or wounded by hostile fire, mines, or any hostile action.
U.S. service members who deploy to some other African nations — Eritrea, Ethiopia, Kenya, Somalia, and Sudan — were already eligible for hostile fire pay, according to the Department of Defense website.
The U.S. military training mission in Niger gained international attention in October after a dozen American soldiers were ambushed by some 50 fighters associated with the Islamic State in the Greater Sahara.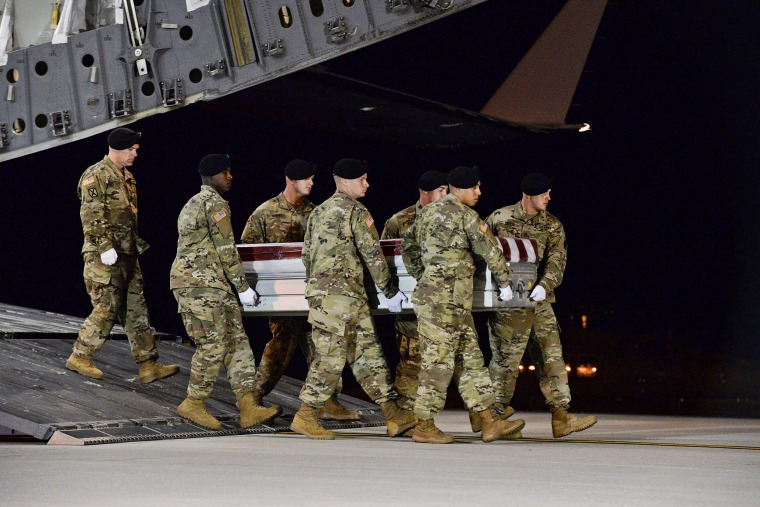 Three U.S. soldiers were found dead after the firefight: Bryan Black, 35, of Puyallup, Wash.; Jeremiah Johnson, 39, of Springboro, Ohio; and Dustin Wright, 29, of Lyons, Ga. Two others were wounded.
A fourth U.S. soldier, Sgt. La David Johnson, was missing for nearly 48 hours before he was found dead.
Two weeks after the attack, Secretary of Defense James Mattis said when the soldiers set out on their reconnaissance mission an attack was "considered unlikely."
American troops deployed to Niger for more than 30 days already received an extra $150 per month in Hardship Duty Pay and $250 per month for Family Separation Pay.
There were about 800 American troops operating in Niger at the time of the October attack.