BEIT SHE'ARIM, Israel — Like many veterans, Nichol Fuentes has struggled with some aspects of life since leaving the Marines in 2013.
Fuentes, 38, a retired sergeant, suffered recurring ankle injuries while in Iraq and while stationed in Japan. She has also been diagnosed with post-traumatic stress disorder, or PTSD.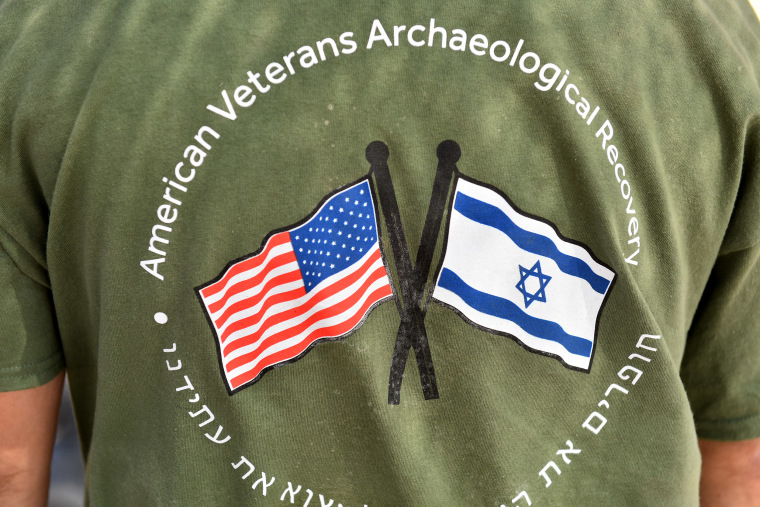 But the New Jersey mother of three and wife of an active-duty Marine has been invigorated by an unexpected field: archaeology.
"It's almost like therapy," she told NBC News amid the dust and stones of an excavation site at Beit She'arim, a World Heritage site and national park in northern Israel. "It's helped me a lot. It's given me something to focus on and a purpose."
Fuentes said that a dig she recently took part in helped her recapture the sense of "camaraderie" she had lost since leaving the military.
Fuentes traveled to the Holy Land with American Veterans Archaeological Recovery, or AVAR.
Stephen Humphreys, a former U.S. Air Force aircraft maintenance officer, heads up the program. He served in the military for six-and-a-half years, before going back to college to become an archaeologist.
"I realized that archaeology digs really bring people together," he said. "You build this fantastic sense of community that's really centered around this mission. ... I thought there were a lot of parallels between that and my military service."
Joshua Sooklal, an Iraq war veteran who served in the U.S. Navy Hospital Corps, said the project has given him a new sense of belonging.
"My job was to protect people, to basically serve them. After I lost that I felt I had no purpose in life," he said. "Reinstating that purpose is what came through with this program. Connecting with other veterans, showing that my purpose is still needed and wanted. It has also reinstated the motivation that I have to be a driven person."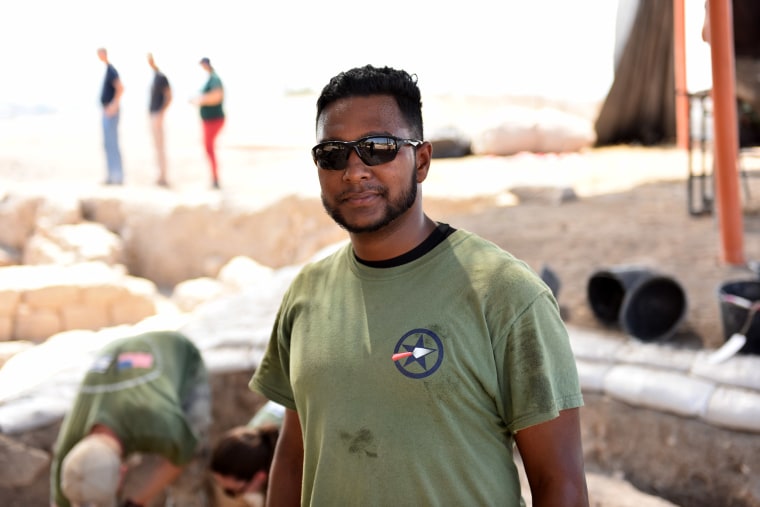 Humphreys said that the veterans he works with "usually have a combination of physical and mental issues they are coping with."
Some have been wounded by improvised explosive devices and suffer from traumatic brain injuries or PTSD.
"Because of those issues, because of their separation from the military culture, a lot of them are really isolated," he said. "They don't feel comfortable going out, they don't think people understand them — that's who we tend to be talking to."
Humphreys hopes that the program won't just give veterans an "amazing transformative experience to bond together again," but also bring potential employment opportunities in the field.
AVAR works with specialists from the University of Haifa's Zinman Institute of Archaeology, including Dr. Adi Erlich, who is in charge of the excavation at Beit She'arim, a site rich in history.
"Ancient Beit She'arim was a major Jewish town in Galilee during the Roman and Byzantine periods," Erlich said.
The site was the hometown of Rabbi Judah — a major Jewish leader in the late second and early third centuries — whose burial place became a famous necropolis.
Humphreys said one of his favorite things about working with Erlich and the University of Haifa team is that they "pride themselves" on bringing in people from diverse religious backgrounds — whether that be Jewish, Muslim or Christian.
And for the veterans AVAR works with, "this area reminds them of some of the places that they have served," he added. "Allowing them to come and have this really positive experience working alongside Muslims in this kind of a setting … it makes them realize that people here are very friendly and welcoming, and that's something nice to see."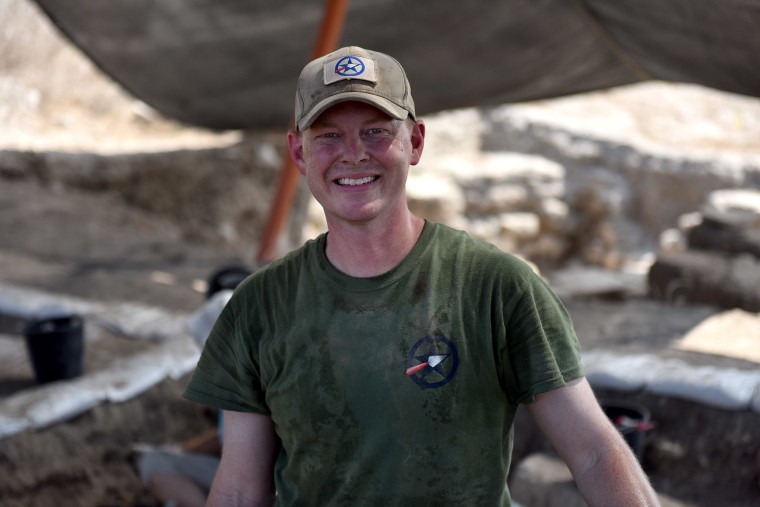 However, Humphreys said that it's the area's connection to the Bible that brings some of the most rewarding moments for those in the program, and for himself.
"We have a lot of veterans who are of a Christian background, and one of the things we wanted to do is actually give them the chance to do archaeology in Israel, in the Holy Land, and touch some of the things it is maybe they have heard about in the church."
Beit She'arim — and its history — has also left a mark on Fuentes.
"This is one of best spots in the world to dig … it's amazing," she said. "The earth here just keeps on giving."
Paul Goldman reported from Beit She'arim, and Francis Whittaker reported from London.