In the 1940s, H. Edward Spires faced a choice men don't face today — enlist or be drafted. Spires chose to enlist, and was assigned as an Air Force chaplain's assistant in San Antonio, Texas.
But his "easy" assignment came to a screeching halt in 1948, when he was reported for being gay and was discharged as "undesirable." Now, 68 years later, the 91-year-old has filed a federal lawsuit seeking an honorable discharge so he can receive a military burial.
"It was all so horrible. I couldn't even eat food," Spires, of Norwalk, Conn., recalled of the grueling interrogation and eventual dismissal back then. "If you've never been through this before then you wouldn't understand."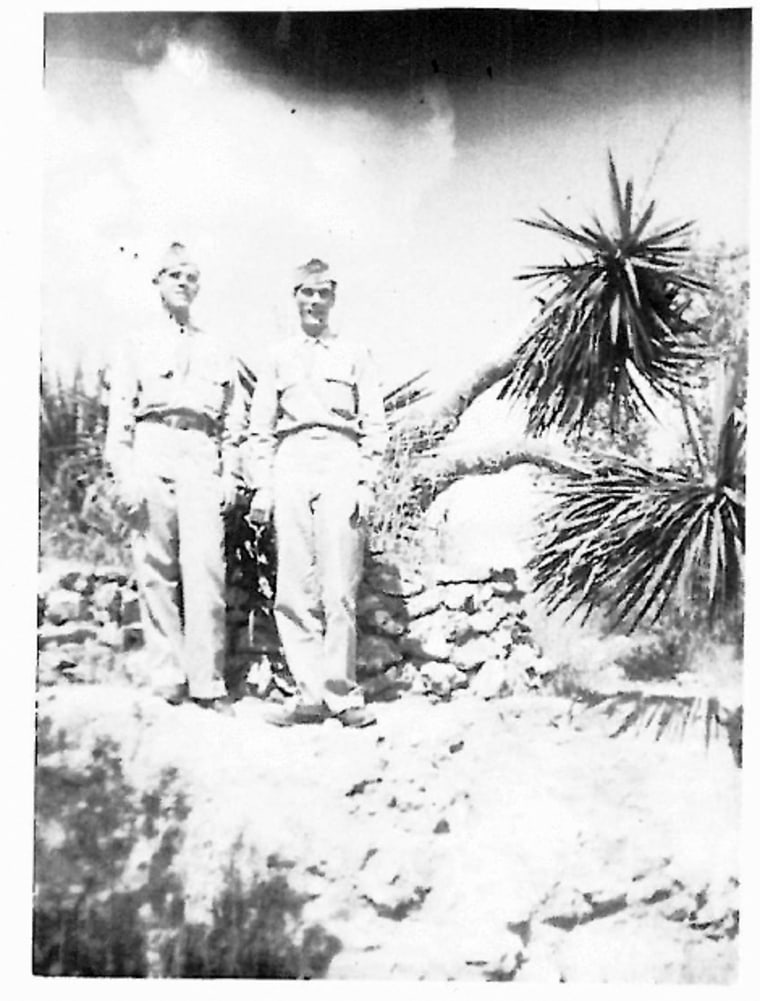 Spires is recovering from pneumonia and nearly died from the illness several weeks ago, which makes the suit particularly pressing. His partner David Ronsenberg — also a veteran — said Friday that the difference between the way the two men have been treated by the military is a disgrace.
"Despite the discrimination I faced, I left the military with an honorable discharge," Rosenberg said at a press conference Friday at Yale Law School, which is providing Spires with legal services in his effort, NBC Connecticut reported. "It is an injustice that the military has treated Ed and me so differently, despite our equal honorable service."
Because of the repeal of Don't Ask, Don't Tell in 2010, it became possible for Spires to apply to have the status of his discharge changed.
Spires' applications were denied in 2014 and again earlier this year, after the Air Force said it couldn't find his records due to a 1973 fire, according to the lawsuit. Yale's Veterans Legal Services Clinic says it found his service number, proving he served in the Air Force.
Spires enlisted in the what was then the U.S. Army Air Force in 1946, after three years of deferments due to attending a religious school ended. He was sure he'd be drafted, and wanted to choose the branch of service.
"I lived closeted except when I was off base," Spires recalled. "I never did anything pertaining to being gay on the base. ... I had to leave the base in order to go to a gay bar."
"They were already convinced I was gay and that I was guilty."
Time passed, life was good, and Spires loved living in San Antonio, a place he called beautiful.
But in October of 1947 the seemingly "easy" living of a Chaplin's Assistant, a job where Spires found a small community of other closeted gays, started to unravel.
Spires went to a Halloween party off base dressed in a costume of the soap Oxydol, which advertisements pitched with the line "that Oxydol sparkle."
"I was very sparkly and that was taken as being in drag. Someone at the party recognized me and said, 'Ah-ha! He must be gay,'" Spires said.
The fallout was swift. A master sergeant came to collect Spires and another chaplain's assistant, who was also reported but had managed to slip the dragnet.
"I was interrogated for two hours," Spires said. "It seemed like an eternity. It was grueling. They said to empty my pockets. I had an address book and he kept asking, 'who are these people in your address book?' Even relatives who had the same surname."
The questions were deeply personal. Spires tried to maintain his composure and managed to get through the interrogation, only to learn he had to visit the judge advocate's office that coming Monday. His mother, who did not know he was gay, was to visit at the same time.
On Sunday, the day before he was to go to the advocate's office, the pressure of the upcoming meeting and his mother's visit became too much.
"The collapse came that first Sunday night before the interrogation," he said. "I more or less collapsed because I had no one else to talk to ... My mother was coming to see me the next week. I couldn't tell her why."
"I can't tell you how terrible it was," Spires said. "I couldn't tell her, I can't spend days with you because I'm on trial."
"It is an injustice that the military has treated Ed and me so differently, despite our equal honorable service."
That Monday morning in a daze, he managed to find the building he was looking for and walked in for what he thought was a meeting.
"I got there and they said you're going to meet with a board of inquiry," he said. "I had to do that every day for a week. I had to be my own attorney. They did not furnish me an attorney because I was thought of as nothing. They were already convinced I was gay and that I was guilty."
The proceeding ended with Spires being discharged for "undesirable habits and traits of character," in June of 1948. He went so far as to have his secret network of allies help him make a mock-up of an "honorable" discharge in case his family asked to see his paperwork because he was too mortified to tell them the truth.
Spires never did come out to his mother or father but he's pretty sure they knew and loved him anyway. Spires ended up meeting his husband, Rosenberg, in 1956 and the two were always invited to dinner — they later married and officially came out to Spires surviving siblings in 2009.
"My parents knew David, they loved him," Spires said. They intuitively knew, but we didn't have a conversation about it."
"I got a little happiness out of life because of David," Spires said.
Rosenberg told NBC News there was always something just under the surface that bothered his husband about his time in the service. "He's always had this in the bottom of his mind," Rosenberg said.
Then in 2011, everything changed with the implementation of the repeal of Bill Clinton's now famous compromise policy known as Don't Ask, Don't Tell. "I knew then that I could try and get an honorable discharge," Spires said.
He tried to pursue an honorable discharge, but was told the records were destroyed in a fire. Then he was contacted by students at Yale Law School who wanted to take on his case. They dug in and soon found his service number, which proved he had served in the Air Force.
"It was very relaxing, very freeing to have someone come forward and fight for me," Spires said.
Maj. Ben Sakrisson, a spokesman for the Department of Defense, told NBC Connecticut he couldn't provide information about an individual's status due to privacy laws.
Sakrisson did provide a link to a letter sent to veterans, encouraging those who may have been unjustly discharged or their families to seek a correction.