Good morning, NBC News readers.
Sweeping the South and Texas, Joe Biden won an impressive string of Super Tuesday victories, narrowing the Democratic presidential primary race with Bernie Sanders.
We also have in-depth coverage of the coronavirus crisis with special reports from NBC News' Dr. John Torres and Kelly Cobiella in Seoul.
Here's what we're watching this busy Wednesday morning.
---
Biden dominates Super Tuesday, narrowing Democratic contest to two-man race
Joe Biden surged to a surprise victory in delegate-rich Texas after winning eight other states in a dominant Super Tuesday showing, according to NBC News projections.
The race in California, the biggest prize of the night with 415 delegates up for grabs, remained too early to call as of early Wednesday morning, according to NBC News, though Sanders appeared in the lead.
The results from the night indicate that the Democratic primary has essentially become a two-man race between Sanders and Biden.
At a rally in Los Angeles Tuesday evening, made no secret of his happiness with the evening's results.
"We were told when you get to Super Tuesday, it may be over," Biden told supporters Tuesday night, his voice full of excitement. "Well, it may be over for the other guy."
Sanders, for his part, projected optimism at a rally in his home state of Vermont.
"Tonight, I tell you with absolute confidence, we are going to win the Democratic nomination," he said.
The night did not go so well for Elizabeth Warren or Mike Bloomberg.
The Senator from Massachusetts lost her home state to Biden, while the billionaire former New York City mayor only won just one contest — in American Samoa.
Bloomberg will be meeting with top advisers Wednesday morning to reassess his campaign, senior campaign officials told NBC News.
---
In the battle against coronavirus, containment is key, Dr. Torres says
The number of deaths from the coronavirus reported in the U.S. jumped from six to nine in a matter of hours Tuesday — all in Washington state.
We asked NBC News' Medical Correspondent Dr. John Torres what he is most concerned about given the new developments. Here's what he sent in:
"One of the biggest concerns with keeping coronavirus cases under control is containment, preventing the spread outside of an affected area.
A case reported Tuesday highlights how difficult that can be. In that instance, a North Carolina resident tested positive after flying back to the state on the heels of visiting the nursing home in Washington State where an outbreak has occurred that caused the deaths of seven residents.
Containment will continue to be one of the bigger challenges for federal, state and local health departments.
I'm hearing from parents concerned about their school age children catching this virus. Turns out, children aren't affected as much as adults.
In China, research has shown that out of all the cases they've diagnosed, only a little more than 2 percent have been children. And the vast majority of those have only had mild to moderate symptoms not requiring hospitalization or special treatment.
But children, like us, still need to remember to wash their hands plenty of times every day to prevent the spread of the virus. (Here are tips on the best way to wash your hands properly, according to doctors).
Today, and the rest of this week, I'll be keeping an eye on Washington State cases, how testing is rolling out nationwide and what effect that has on state and local health care systems."
---
In Seoul, drive-thru coronavirus testing centers, but no panic
There are over 5,000 confirmed cases of coronavirus in South Korea, the second highest number outside of China.
We asked NBC News' Kelly Cobiella in Seoul what the vibe is like in the usually bustling Asian capital. Here's what she wrote in:
"Snow flurries are falling in Seoul today, an apt metaphor for what's happening in this usually bustling city. Everything is frozen: consumer spending, tourism, industrial activity.
Some offices are open. Schools are closed. The tens of thousands of Chinese tourists who normally fill hotel rooms and restaurants, wander through markets and shop at high end stores have vanished. The street markets are practically deserted. Food vendors are staying home. One hotel worker told me he's never seen it so quiet.
South Koreans are still venturing out, riding the metro with masks on, taking taxis, browsing the shopping malls where infrared cameras scan shoppers for high temperatures.
People don't shake hands anymore and EVERYONE uses hand sanitizer. The little bottles are everywhere and staff at stores, restaurants, hotels, office buildings all prompt you to squirt a dollop into your hands almost before saying hello.
More than 125,000 people have been tested for coronavirus in this country with the numbers of those tested rising every day.
The government has set up drive-thru testing centers in Seoul and other parts of the country. A constant stream of cars roll up, windows roll down, throats and noses are swabbed all while the 'patient' sits in the driver's seat.
The tests are free and available to anyone. As I'd traveled to Japan and back (two flights, three airport trips, a handful of taxis, countless handrails and doorknobs), I decided to get tested.
It took a matter of minutes and I was told if I was positive, I'd get a phone call. A negative result would be confirmed in a text message.
South Korea has the highest number of confirmed cases outside of China, but grocery store shelves are full and there's no sense of panic."
---
WHO issues warning over shortage of protective equipment
The World Health Organization (WHO) has warned of a shortage of personal protective equipment that's endangering health workers fighting the COVID-19 outbreak worldwide.
WHO officials said on Tuesday there was "severe and mounting disruption" to the global supply of personal protective equipment, caused by rising demand, panic buying, hoarding and misuse, which is putting lives at risk.
The news comes as shoppers looking to stock up on hand soap and groceries in the U.S. are being greeted by empty shelves.
See our live blog for all the latest developments on the coronavirus outbreak.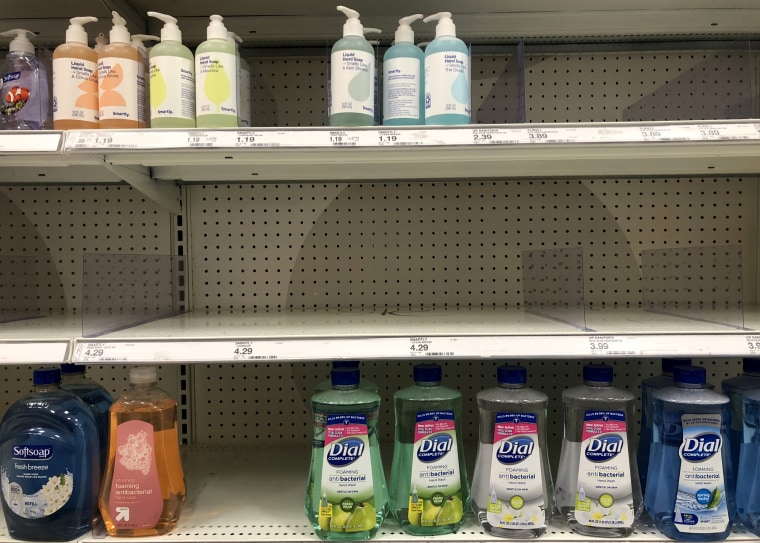 ---
Want to receive the Morning Rundown in your inbox? Sign up here.
---
Plus
---
THINK about it
Trump's peace deal with the Taliban could end an endless war. But at what cost, retired U.S. Army colonel and former member of the National Security Council Jeff McCausland asks.
---
Shopping
Drink more water with these 9 smart products.
---
One memorable image from last night
We may not be voting on first lady (or first man), but Jill Biden certainly caught our attention when she fended off a protester who stormed the stage during her husband's speech.
Talk about standing by your man!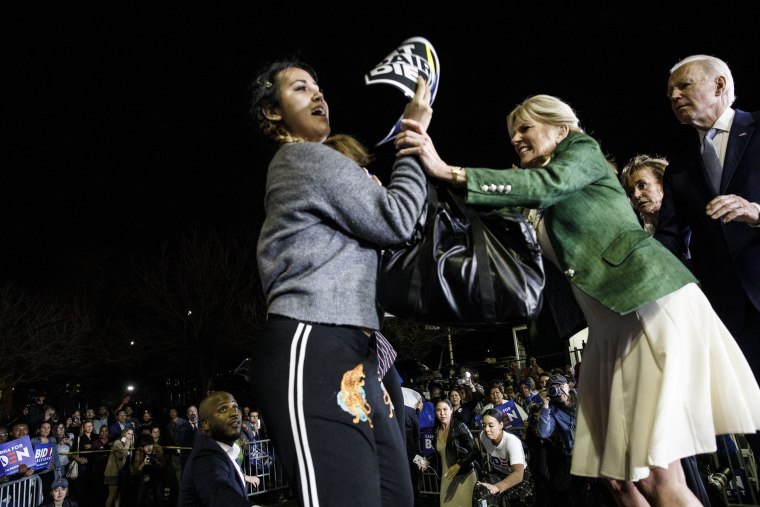 ---
Thanks for reading the Morning Rundown.
If you have any comments — likes, dislikes — drop me an email at: petra@nbcuni.com
If you'd like to receive this newsletter in your inbox Monday to Friday, please sign up here.
Thanks, Petra