Good morning, NBC News readers.
The Democratic debate stage in Las Vegas just got more crowded, a Wuhan hospital director dies of coronavirus and the Boy Scouts file for bankruptcy protection.
Here's what we're watching this Tuesday morning:
---
Bloomberg makes next debate as Nevada takes center stage
Former New York City Mayor Mike Bloomberg qualified on Tuesday for his first appearance in a Democratic presidential primary debate. A Bloomberg spokeswoman told NBC News on Monday that he would participate in the debate, which will be hosted by NBC News, MSNBC and the Nevada Independent, if he qualified.
The looming Bloomberg threat has forced Bernie Sanders, the current front-runner in national polls, to juggle an election fight on two fronts: in the early states to keep his other opponents at bay, and in Super Tuesday states like North Carolina, Texas and Colorado to head off the former mayor.
Elizabeth Warren meanwhile, hit out at Sanders on Monday, saying he "has a lot of questions to answer" about his supporters' threats to members of a union that criticized his health care plan.
In Nevada, early voting began Saturday for the Feb. 22 caucuses. In the first two days alone, 26,000 people voted across the state. For workers on the Las Vegas Strip, early voting has made it possible for them to cast their ballot. The Nevada caucuses will also give an indication of who will win the Latino vote. The state has a larger and more active Latino electorate than either Iowa or New Hampshire.
---
Wuhan hospital director dies after contracting coronavirus
The head of a leading hospital in the city of Wuhan, China, the center of the novel coronavirus outbreak, died on Tuesday after contracting the virus. Thousands of medical workers have been sent to Wuhan in recent weeks to help the overwhelmed local health authorities.
The total death toll from outbreak in China has reached 1,868, officials at China's National Health Commission said Tuesday.
The virus has also seemingly affected Apple, with the tech giant saying coronavirus will keep it from meeting revenue expectations. The company said it has had problems in production and demand in China due to the outbreak.
---
Exclusive: Graham tells Defense Secretary Esper he could 'make your life hell' in battle over Trump Africa policy
Sen. Lindsey Graham and a bipartisan group of lawmakers had a fiery exchange with Defense Secretary Mark Esper as they pushed back against a Trump administration idea to withdraw U.S. troops from part of Africa, according to four people present at or familiar with the meeting.
Senators and members of the House told Esper on the margins of the Munich Security Conference that Congress would not support a U.S. troop withdrawal from the Sahel region in Africa — which stretches more than 3,000 miles across the continent from the Red Sea to the Atlantic — and laid out the reasons to keep the troop presence there, said the four people.
At one point, Graham told Esper that he could "make your life hell," according to the people present.
About 1,000 American troops are usually deployed in the Sahel, where they train local forces, provide aerial refueling to French military planes and collect and share intelligence.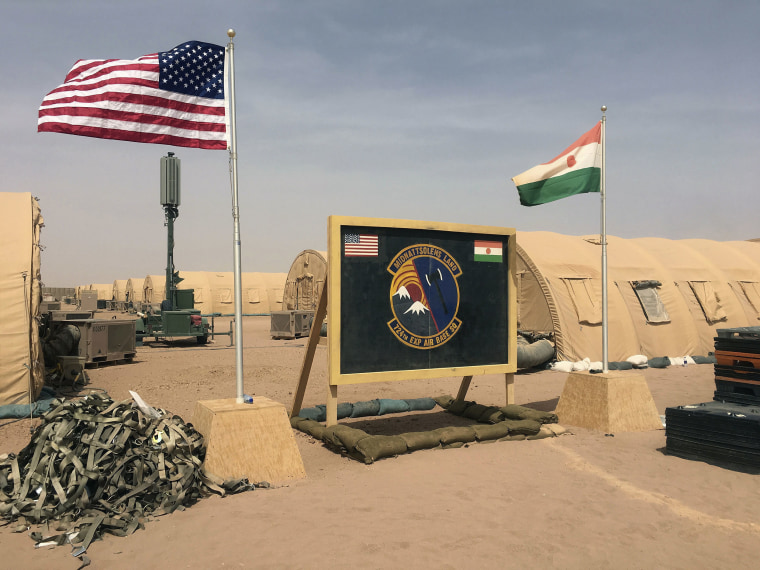 ---
Native American tribe says Pentagon didn't consult on construction of border wall
The Tohono O'odham Nation in Arizona is asking for "government-to-government" consultation with the Defense Department after the construction of the border wall has disrupted sacred sites.
The nation says various sites at Organ Pipe Cactus National Monument in southern Arizona carry historical significance, including one at Monument Hill, where crews over the past week began blasting the land and tearing down ancient saguaro cacti to make way for the wall. The Pentagon didn't immediately respond to a request for comment Monday.
Want to receive the Morning Rundown in your inbox? Sign up here.
---
Plus
---
THINK about it
Country music radio has ignored female artists for years, and there's the data to prove it, writes musicologist Jada Watson. This declining presence of women on the radio has evolved into a sustained, industry-wide deficit.
---
Live BETTER
You may not enjoy prepping meals in advance, but it doesn't have to take all that much time. Here are some tips for those who hate it.
---
Quote of the day
"I think we take for granted sometimes how safe the cars are, and number one, we are praying for Ryan."
— NASCAR driver Denny Hamlin, after a fiery crash involving fellow driver Ryan Newman.
---
One fun thing
Dallas and Pisa now have something in common. The Texas city just got its own leaning tower, after the demolition of an 11-story building didn't go quite according to plan.
Nearly 300 pounds of dynamite wasn't enough to completely topple the structure, and a leaning elevator shaft remained standing after the rest of the building collapsed around it. It quickly assumed the nickname "the leaning tower of Dallas," and the new attraction has Texans taking iconic photos mirroring those that tourists take in Pisa. It won't stick around for long though - a wrecking ball is soon set to take down this American leaning tower.
---
Thanks for reading the Morning Rundown.
If you have any comments — likes, dislikes — drop me an email at: rachel.elbaum@nbcuni.com. If you would like to receive the Morning Rundown in your inbox Monday to Friday, please up here.
Thanks, Rachel Elbaum