Good morning, NBC News readers.
California has declared a coronavirus emergency as federal officials scramble to get more testing kits out across the country.
We've got the latest on the coronavirus crisis, as well as more on how Joe Biden's big Super Tuesday win will impact the 2020 presidential race.
---
California declares coronavirus emergency as number of confirmed cases across country rise
California declared a state of emergency Wednesday after reporting its first coronavirus death and as the number of confirmed cases in the state shot up to at least 60.
The state is also holding a cruise ship off the coast of San Francisco that has been linked to the state's first death.
California isn't the only state scrambling at containment as the number of confirmed cases across the U.S. continues to tick up over 150 from Washington state to New York.
Seattle-area residents are wondering how a global outbreak landed at their doorstep and now they are racing to contain it.
Washington's death toll from COVID-19, the disease caused by the coronavirus, climbed to 10 Wednesday, and at least eight of the deaths have been tied to Life Care Center in Kirkland, where 50 more residents and staff members were showing signs of infection.
The coronavirus outbreak at Life Care Center, about 20 minutes from downtown Seattle, caught the state and the country by surprise.
The virus spread well beyond Life Care Center, stretching to a Facebook contractor and an Amazon employee — the tech giant has asked its Seattle-based employees to work from home. Microsoft, headquartered in nearby Redmond, has done the same.
On Wednesday, congressional leaders reached a bipartisan deal to provide nearly $8 billion in emergency funding to fight the disease.
Get the latest updates on the growing global epidemic in our live blog.
See maps of how the virus has spread in the U.S. and internationally.
---
Scientists were close to a coronavirus vaccine. Then the money dried up.
Dr. Peter Hotez helped develop a vaccine to protect against SARS, an earlier coronavirus, but he never received funding for human trials.
"We tried like heck to see if we could get investors or grants to move this into the clinic," said Hotez, co-director of the Center for Vaccine Development at Texas Children's Hospital and dean of the National School of Tropical Medicine at the Baylor College of Medicine in Houston. "But we just could not generate much interest."
That was a big missed opportunity, he now says. And he plans to take that message to Congress on Thursday, when he's scheduled to testify before the House Committee on Science, Space and Technology.
Meantime, after a weekslong delay, thousands of coronavirus test kits are headed to state and local laboratories, Vice President Mike Pence said Wednesday.
But questions remain about when, exactly, those promised test kits will arrive and how well they will work.
---
Markets rally, thanks to Biden bounce
Stocks surged on Wednesday, with the Dow Jones Industrial Average going up 4.5 percent. We asked NBC News Business Correspondent Ali Velshi what was behind the market rally. Here was his reply:
"Biden. End of story.
There was an element of this market sell off that was fear of Bernie Sanders AND coronavirus.
Apparently, traders have been content selling stocks for the past week and a half because of fear of Sanders becoming president and hiding behind coronavirus as the reason. Because NOTHING about Coronavirus got better between 4 p.m. Tuesday and 4 p.m. Wednesday.
Hence, Biden. Who ISN'T looking to upend the healthcare — and specifically the health insurance industry.
It's the story of the influence of the healthcare industry on our economy."
But other sectors of the economy are still taking a serious hit from the outbreak. Coronavirus is battering the airline industry, turning some airports into ghost towns.
And while the White House is offering assurances that containment of the virus is "airtight," corporate America is taking no chances.
From Ford to Google to JPMorgan Chase, a growing number of major companies is banning employees from foreign travel, nixing large meetings, testing out work-from-home contingency plans and canceling crucial industry events.
---
Milan: City of fashion, football and now fear
Italy, the hardest hit country in Europe with over 3,000 confirmed cases, announced that the death toll had jumped to 107 on Wednesday. The government decreed that schools across the country close until at least March 15.
We asked NBC News Chief Global Correspondent Bill Neely in Milan what impact the coronavirus has had on life in the financial hub. Here's what he sent:
"Ah Milan! City of fashion and football and, well, fear.
It's the capital of the worst hit region in Europe, Lombardy, for infections and deaths caused by coronavirus.
The pink spring blossom is out but the virus that has taken root in and around the city has driven away the tree gazers, the culture vultures and the tourists who normally flock to Milan's magnificent monuments in their tens of thousands.
The beautiful 600-year-old cathedral, one of the finest in the world, had been closed to tourists. It reopened Monday for churchgoers, but their numbers are thin.
Nearby Verdi's opera "Il Trovatore" is unsung at one of the world's most famous opera houses La Scala. No operas, no concerts for the foreseeable future.
Large gatherings of any kind are banned in the city.
In my hotel, most of the rooms are empty. I asked the concierge if he'd ever seen anything like it. He said only the two days after 9/11 bore any resemblance to the cancellations, emptiness and anxiety in the city today.
Today, the fear is mild, like 80 percent of the infections that arise from the virus. Most people I see in the city center are not wearing masks. I have seen two groups of Asian tourists, every one of whom was wearing a mask.
The Milanese, as Milan's people are known as, have a dark humor and on phones this week one image has dominated.
Leonardo da Vinci's "The Last Supper," which hangs in a convent in Milan, is one of the symbols of the city.
But the photoshopped image doing the rounds on phones this week shows no Jesus, no disciples — just an empty table. They've been scared away by the virus."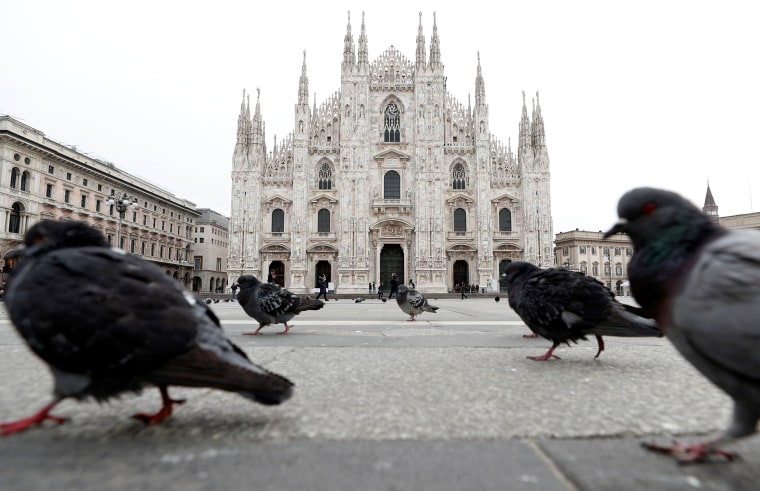 ---
Super Tuesday lessons: 7 key takeaways from a big night
Tuesday was the biggest night of Joe Biden's half-century in politics. Bernie Sanders fell short but notched some valuable victories to make it a two-person race. Elizabeth Warren lost her home state and Mike Bloomberg went bust on a half-billion-dollar bet.
Here are seven takeaways from a big day of voting.
---
Want to receive the Morning Rundown in your inbox? Sign up here.
---
Plus
---
THINK about it
Harry and Meghan lost their "Royal" ambitions because the queen's having none of it, writer Melissa Mohr argues in an opinion piece.
---
Shopping
From Rihanna's Fenty Beauty to Pat McGrath's palletes, we have recommendations for the best in black-owned beauty products from makeup artists and beauty experts.
---
Quote of the day
"I haven't touched my face in weeks. I miss it."
— President Donald Trump during a meeting about coronavirus with airline executives on Wednesday. Turns out, he's not alone.
---
One fun thing
Meet the dancing, prancing dads of south Jersey: The "Daddy Bolts!"
Think Netflix series "Cheer" by a group of dads — police officers and fire fighters with no gymnastic experience.
But that's not stopping them from going to the mat to support their cheerleader daughters.
"We're just doing everything we can to show them that we want to be involved in their lives," said one proud father Eric Easter.
It's impressive and worth a watch!
---
Thanks for reading the Morning Rundown.
If you have any comments — likes, dislikes — drop me an email at: petra@nbcuni.com
If you'd like to receive this newsletter in your inbox Monday to Friday, please sign up here.
Thanks, Petra