Good morning, NBC News readers.
President Donald Trump retreated from the census citizenship battle, R. Kelly was arrested again, and Tropical Storm Barry barrels toward the Gulf Coast.
Here's what we're watching today.
---
Trump gives up on adding citizenship question to 2020 census
President Trump announced Thursday that he was dropping his effort to include a citizenship question in the 2020 census, but instead was ordering departments and agencies to share information to get a better count of the number of citizens and noncitizens in the country.
While Trump might have lost this battle, he made it clear his administration was "not backing down" on the citizenship issue.
The latest dustup was merely a skirmish in the larger war over using citizenship status to help determine which party controls the White House and the House in the future, as well as how federal money is distributed, NBC News' Jonathan Allen writes in an analysis.
---
'Know your rights': Advocates, lawyers mobilize ahead of planned ICE raids
With the Trump administration set to conduct mass immigration raids in major cities across the country beginning Sunday, advocates and lawyers are ramping up efforts to educate immigrant communities about their rights.
The material includes videos and social media toolkits covering what to do if an ICE agent shows up at your house.
"People should understand that they have rights regardless of their immigration status," said Lee Gelernt, a lawyer with the American Civil Liberties Union.
Anxious families across the country are bracing for the raids, which are expected to target approximately 2,000 families in several cities.
---
Hurricane warning in effect as Tropical Storm Barry heads for Gulf Coast
A hurricane warning was in effect Thursday as Tropical Storm Barry headed for a likely Friday night collision with the Louisiana coast.
"There are three ways Louisiana floods — storm surge, high rivers and rain. We're going to have all three," Gov. John Bel Edwards warned.
Watch live video as a weather radar tracks Tropical Storm Barry's progress toward the Gulf Coast.
---
U.S. tech companies face new reality when doing business with China
It looked like the U.S. tech industry had been given a reprieve in late June when Trump reversed course on a decision to effectively bar companies from doing business with Chinese telecom giant Huawei.
But experts say that the cooling trade tensions with China mask a deeper change in how tech companies that once counted on China as an important partner and prospective market opportunity now approach doing business with companies like Huawei.
"There's been a sea change in political and corporate attitudes toward China," said James Lewis, senior vice president at the Center for Strategic and International Studies, a Washington think tank. "All the things that China does — its corporate espionage campaigns, its serious human rights violations — make companies a little nervous."
---
The Week in Pictures
See the most compelling images from the last week here.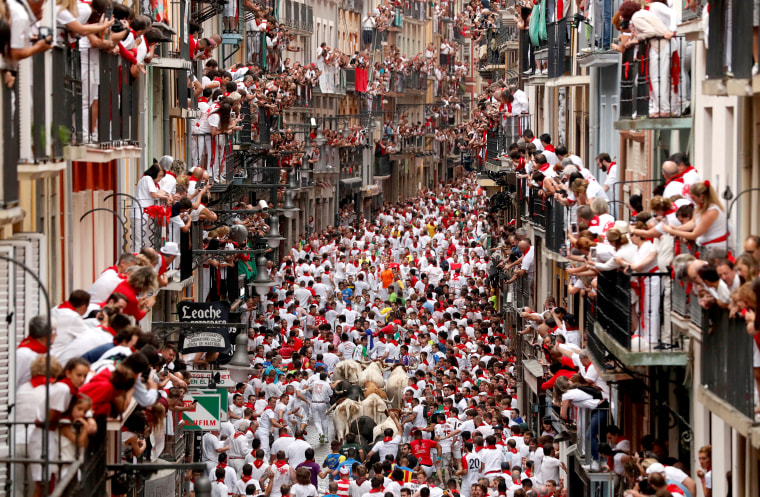 ---
Want to receive the Morning Rundown in your inbox? Sign up here.
---
Plus
---
THINK about it
Summer wedding season is upon us — but outdated, gendered traditions don't have to be, historian Stephanie Coontz writes in an opinion piece.
---
Science + Tech = MACH
The tragic bridge collapse in Genoa, Italy, has spurred the creation of a new space-based inspection method.
---
Quote of the day
"You have a lot of power and you have to use it wisely."
— President Donald Trump to several hundred conservative digital and social media professionals at the White House "Social Media Summit" on Thursday.
---
One gator thing
Chicago is caught in the jaws of alligator fever.
The search is on for a roughly five-foot reptile spotted lurking in the waters of the city's Humboldt Park Lagoon.
"Alligator Bob," a member of the Chicago Herpetological Society, is helping the effort to catch the elusive beast nicknamed "Chance the Snapper."
---
Thanks for reading the Morning Rundown.
Hope you have a great weekend. If you have any "Chance the Snapper" sightings, let me know!
If you have any comments — likes, dislikes — drop me an email at: petra@nbcuni.com
If you'd like to receive this newsletter in your inbox Monday to Friday, please sign up here.
Thanks, Petra