Good morning, NBC News readers. Hope you had a great holiday weekend.
The White House is revamping its effort to add a citizenship question to the census. Leaked cables revealed the harsh words the U.K.'s top diplomat in the U.S. used to describe President Donald Trump. And the American women's soccer team triumphed at the World Cup.
Here's what we're watching this Monday morning.
---
Justice Department swaps legal team in bid to add citizenship question to census
A top U.S. immigration official said Sunday that Trump is "determined" to add the citizenship question to the 2020 census — despite the fact that the initial effort to do so was shot down by the Supreme Court.
At the same time, the Justice Department announced Sunday that it was replacing the legal team charged with defending the Trump administration's effort to put a citizenship question on the next census.
A DOJ spokeswoman did not say why the change was being made.
Some critics speculated that the switch was prompted by the department's career lawyers quitting the case out of legal and ethical concerns.
---
Biden's post-debate South Carolina support: Strong — but not certain
While campaigning in South Carolina over the weekend, former Vice President Joe Biden offered apologies for the first time for his comments about working with segregationist senators and defended his civil rights record.
His weekend in South Carolina marked an important foray into the early voting state, where black voters are crucial, after Sen. Kamala Harris' pointed and personal remarks at last month's Democratic debate drew attention to his 1970s stance on school busing.
But amid signs some black voters may be rethinking their support, party leaders in the Palmetto State say that it will take more than a few bad news cycles for Biden to lose serious ground.
---
'Inept,' 'insecure,' 'incompetent': U.K.'s top diplomat in U.S. blasts Trump in leaked memos
Kim Darroch, Britain's ambassador to Washington, made the highly critical comments about the president and his administration in a series of diplomatic cables to London.
"We don't really believe this administration is going to become substantially more normal; less dysfunctional; less unpredictable; less faction riven; less diplomatically clumsy and inept," Darroch wrote in one of a series of leaked documents covering the period from 2017 to the present.
The cables provide a rare insight into how a key U.S. ally views the Trump administration behind closed doors.
---
U.S. women win fourth World Cup
The U.S. women's national soccer team proved their dominance at the 2019 Women's World Cup by defeating the Netherlands 2-0 on Sunday in the championship match on Sunday.
The victory in Lyon, France — capturing the world's attention and capping an unrivaled run by the soccer powerhouse — marks both the fourth world title and back-to-back wins for the U.S. women after taking home the trophy in 1991, 1999 and 2015.
"It's surreal," co-captain Megan Rapinoe said after the win. "I don't know how to feel right now. It's ridiculous."
Now that they won in France, the U.S. women's team can turn to another battle: Their legal fight against the U.S. Soccer Federation for their pay to match that of their male counterparts.
U.S. female players are paid less — despite the fact that the women's team has generated more total revenue than the U.S. men in recent years.
But the inequity isn't only on American fields. During the Women's World Cup, 24 teams competed in France for their share of $30 million in prize money from FIFA — which was just 7.5% of the Men's World Cup prize of $400 million in 2018.
---
Want to receive the Morning Rundown in your inbox? Sign up here.
---
Plus
---
THINK about it
Justin Amash's decision to leave the GOP reveals a hard truth about Republicans, political consultant Reed Galen writes in an opinion piece.
---
Science + Tech = MACH
Hello Jetsons: Electric air taxis powered by hydrogen could be in production in the United States by 2021.
---
Live BETTER
Overindulge this weekend? Try this "Summer Mondays" routine to hit the reset button.
---
Quote of the day
"Equal pay! Equal pay! Equal pay!"
— Chants in the stands after the U.S. women's soccer team defeated the Netherlands to win the 2019 World Cup.
---
One fun thing
For the past week, the world has watched and cheered as 15-year-old tennis sensation Cori "Coco" Gauff has racked up win after Wimbledon win.
But there are two people who are not surprised by her success: Corey and Candi Gauff.
After all, her parents say, this was the plan.
"We're surprised it is coming as soon as it is, but not surprised about her potential," Candi Gauff told NBC News.
And what's their advice for her this week?
"Just go out and see how great you can be."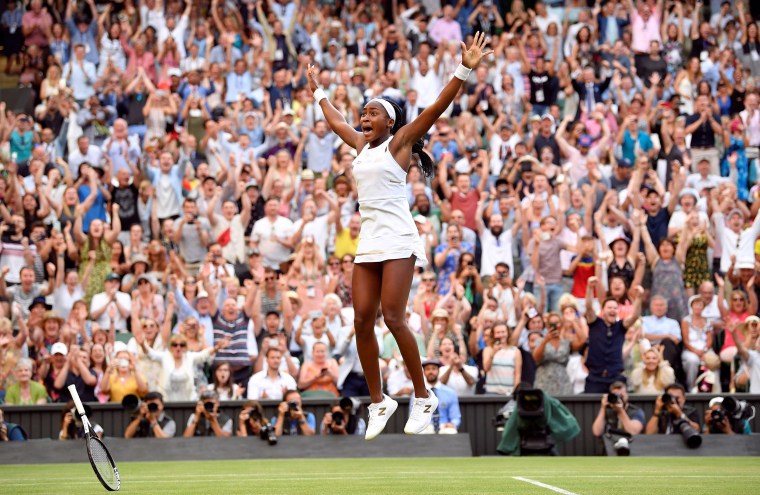 ---
Thanks for reading the Morning Rundown.
If you have any comments — likes, dislikes — drop me an email at: petra@nbcuni.com
If you'd like to receive this newsletter in your inbox Monday to Friday, please sign up here.
Thanks, Petra