Good morning, NBC News readers.
A migrant mother shares her tragic story, another incident in the Strait of Hormuz escalates tensions with Iran, and a group of conspiracy theorists are headed to the White House to air their social media grievances.
Breaking: President Donald Trump is expected to order that the controversial citizenship question be added to the census.
Here's what we're watching today.
---
'I watched my baby girl die, slowly and painfully'
A migrant woman whose 19-month-old daughter died weeks after being released from a U.S. detention facility gave emotional testimony at a congressional hearing Wednesday.
Yazmin Juárez, an asylum seeker from Guatemala, said her daughter Mariee died because of "neglect and mistreatment" while in custody of Immigration and Customs Enforcement.
"We came to America, where I hoped to build a better, safer life for my daughter Mariee," Juárez said in Spanish, sitting next to a photo of herself and her daughter.
Juárez has filed a wrongful death claim against the government, seeking $60 million.
The hearing comes amid heightened criticism of the Trump administration following reports of squalid conditions for migrants, including allegations of sexual assault and abuse.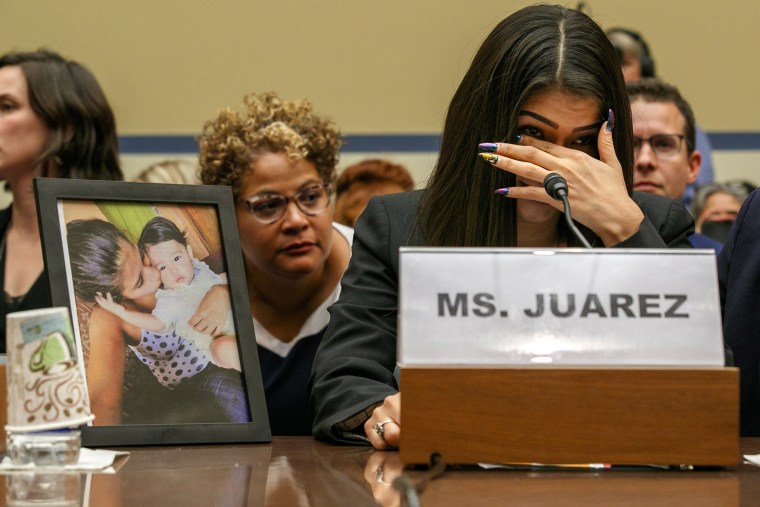 ---
Iranian boats tried to block U.K. tanker in Strait of Hormuz, U.S. and British officials say
Several Iranian boats approached and attempted to impede a British commercial vessel through the Strait of Hormuz, but the Iranian vessels were driven away by a British military ship, a senior U.S. defense official and a British government spokesperson said.
Iran's Islamic Revolutionary Guard Corps denied any encounters with foreign vessels within the last 24 hours and said the claims were "worthless."
The incident comes amid escalating tensions in the region and is the latest to be reported near the Strait of Hormuz, a strategic waterway off Iran's coast which separates the Persian Gulf and the Gulf of Oman.
---
'Facts are being overlooked': Acosta defends Epstein plea deal
Labor Secretary Alex Acosta on Wednesday defended his role in securing a federal non-prosecution agreement for sex offender Jeffrey Epstein more than a decade ago.
Acosta, who at the time served as the U.S attorney for the Southern District of Florida, said in a news conference that his office intervened in the case after state prosecutors failed to secure a plea deal that would have resulted in jail time for Epstein and give justice to his victims.
"Times have changed, and coverage of this case has certainly changed," Acosta said about the deal that was struck in 2008.
Former Florida state attorney Barry Krischer blasted Acosta's version of events after his press conference.
"Mr. Acosta should not be allowed to rewrite history," Krischer said.
Nevertheless, Acosta indicated that he had no intention of resigning over the issue.
---
'Incredibly toxic': Conspiracy theorists, far-right agitators head to White House with social media in their sights
President Donald Trump is scheduled to host several right-wing internet personalities at an event Thursday that the White House said was intended to "share how they have been affected by bias online."
Trump and other Republican politicians have recently amplified attacks on social media companies for what they see as unfair censorship directed at conservatives.
But critics say the event will only serve to legitimize people who traffic in trolling and harassment.
"The people and topics that they elevate with their massive platforms are incredibly toxic and will have very damaging long-term effects on society," said Erin Gallagher, a disinformation expert.
---
South Carolina teachers moonlight as factory workers to make a living wage
Meredith Blackwood's typical workday begins at 7:30 a.m. in a classroom full of third graders — and ends as late as 11 p.m. in a factory across town.
Blackwood, 27, is a teacher at Cayce Elementary in West Columbia, South Carolina, where last year she was awarded Teacher of the Year. She was paid $36,000 for the 2018-19 school year.
Lawmakers in the state, which ranks among the worst for education in the country, recently approved a raise for teachers. Advocates say it's not enough.
---
Want to receive the Morning Rundown in your inbox? Sign up here.
---
Plus
---
THINK about it
Kentucky and America deserve better than Mitch McConnell, State Rep. Attica Scott argues in an opinion piece.
---
Science + Tech = MACH
From coffee cups to cocktail stirrers, we all individually produce mountains of trash – an estimated 1,600 pounds per year. We take a look at how we got here and what we can do about it.
---
Live BETTER
You worked hard for your money, don't waste it. Here are five things you never need to buy new. (The savings will blow you away).
---
Quote of the day
"I never would have thought in a million years that I would be wearing a hair net and rubber gloves and working in this factory."
— Heather Herndon, a 56-year-old kindergarten teacher at Rocky Creek Elementary School in Lexington, South Carolina.
---
One inspiring thing
A quiet place is a safe place for Jack Higgins.
The 21-year-old has autism and for him loud noise is unbearable.
But it never stopped him from taking classes at Carmel High School in Putnam, New York.
So when it came time for graduation, his principal made a special request: for the crowd to hold the clapping and cheering.
And when Jack walked up to collect his diploma, he was met with silence and smiles.
"It may be the most moving moment of my life," his father Pat Higgins said.
---
Thanks for reading the Morning Rundown.
If you have any comments — likes, dislikes — drop me an email at: petra@nbcuni.com
If you'd like to receive this newsletter in your inbox Monday to Friday, sign up here.
Thanks, Petra