Good morning, NBC News readers.
For the first time since the global coronavirus crisis began,China reported no new domestic cases of the illness Thursday. It was a positive sign that the outbreak could be at a turning point in the country it originated from as it continues to spread in Europe and the United States.
---
Trump signs second coronavirus emergency aid package into law
President Donald Trump signed a coronavirus aid bill into law that was approved by the House and Senate.
The legislation, dubbed the Families First Coronavirus Response Act provides free coronavirus testing and ensures paid emergency leave for those who are infected or caring for a family member with the illness. It also provides additional Medicaid funding, food assistance and unemployment benefits.
It paves the way for lawmakers to turn their attention to a third emergency measure: A $1 trillion spending proposal from the White House that would include billions in direct payments to Americans.
Trump also announced Wednesday that he is invoking a wartime law to force American businesses to produce medical supplies.
Here are some of the other big developments:
Europe has become the epicenter of the virus,surpassing China in the number of cases and fatalities, with more than 82,000 confirmed cases and 3,500 deaths.
Italy, the hardest hit country in Europe, announced it will extend its lockdown as the death toll continues to climb. The country reported 475 deaths Wednesday — its largest single day increase since the pandemic began.
New York City doubled its number of cases in one day to now over 1,800 confirmed infections.
Two members of Congress have tested positive for COVID-19: Rep. Ben McAdams, D-Utah, and Rep. Mario Diaz-Balart, R-Fla.
Get the latest updates from around the world in our live blog.
Tune in tonight: NBC News, in collaboration with Facebook, will air a live primetime broadcast:"Special Report: Coronavirus Pandemic" at 10 p.m. ET.
During the broadcast anchored by Lester Holt our NBC News Coronavirus Crisis Team will be answering your questions about the unprecedented pandemic. See it onNBC, MSNBC, the streaming service NBC News NOW and Telemundo Digital.
---
'A death sentence': Critically ill patients denied transplants amid coronavirus outbreak
Without a new liver, Zach Branson, 33, might have only a month left to live.
After decades of health scares, he was scheduled to have a transplant surgery on March 25. But doctors just canceled it, citing concerns about the coronavirus
"It meant everything to me," Branson said. "After struggling with my health for my entire life, it felt like I was getting another chance."
Sadly, he's not alone. As the coronavirus continues to spread across the country, hospital administrators are being forced to make difficult decisions about how best to deploy limited medical resources.
These choices could be particularly devastating for the tens of thousands of Americans awaiting new organs, transplant experts said.
---
Coronavirus could cause 'carnage' among the world's refugees, aid groups say
The coronavirus outbreak threatens to inflict "carnage" on refugees around the world who often live in cramped conditions, lack access to clean water and are in countries with failing or stretched medical systems, humanitarian aid groups say.
From Syria to Bangladesh to Uganda, the risk posed to people who have fled war and persecution is potentially dire, and only urgent international action can avert a catastrophe, aid organizations told NBC News.
And Venezuela is facing the COVID-19 outbreak with hospitals that at times lack the most basic necessities — like soap and water.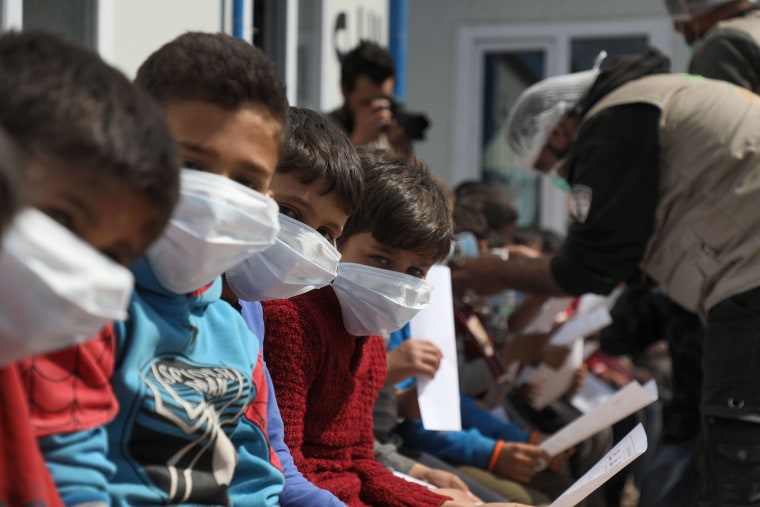 ---
Coronavirus shutdowns have unintended climate benefits: cleaner air, clearer water
Countries that have been under stringent lockdowns to stop the spread of the coronavirus have experienced some unintended climate benefits, including a noticeable drop in pollution and greenhouse gas emissions.
In Italy, which has been forced to seal its borders, the famously murky Venice canals recently began to get clearer, with fish visible in the water.
"I think there are some big-picture lessons here that could be very useful," one scientist said.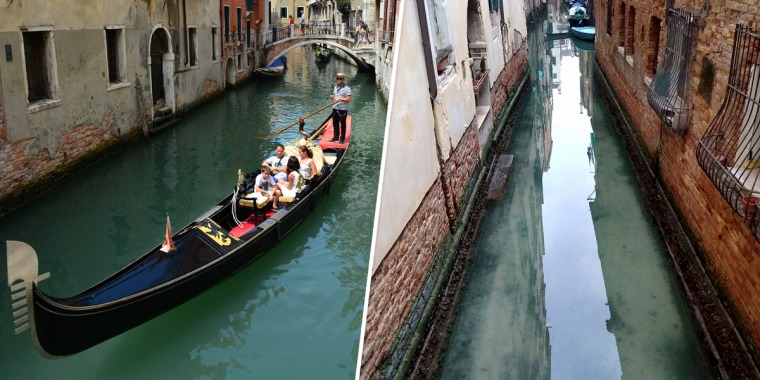 ---
Want to receive the Morning Rundown in your inbox? Sign up here.
---
Plus
---
THINK about it
Here's what to blame for the coronavirus testing chaos, Dr. Jeffrey A. Singer, a general surgeon and senior fellow at the Cato Institute, writes in an opinion piece.
---
Shopping
As many homes face increasing power usage home, here are the best surge protectors.
---
Quote of the day
"These are conversations that no one wants to have. But we need to have these conversations just in case."
— Dr. David Marcozzi, director of the coronavirus response for the University of Maryland Medical System, about hospitals across the country preparing to make excruciating decisions about how they would ration lifesaving care.
---
Trying to share some cheer, remotely
Across the nation people — including celebrities — are shutting themselves indoors.
But the show must go on.
Famous faces including singers Miley Cyrus, Justin Bieber, John Legend and his wife, model Chrissy Teigen, rapper Cardi B and others have flocked to Instagram Live to entertain fans while they isolate themselves from crowds amid the coronavirus outbreak.
Performers like Legend, Coldplay's Chris Martin and Death Cab for Cutie's Ben Gibbard have even used the hashtag #TogetherAtHome to promote their streams meant to entertain millions stuck at home.
---
Thanks for reading the Morning Rundown. Hope you are doing OK and holding up during these unprecedented times.
We are currently all hands on deck for coronavirus. Please send me any comments or questions you have so we address them in future stories: petra@nbcuni.com
If you find this newsletter useful, please forward it to your family and friends. They can sign-up here.
Be safe and stay healthy, Petra Cahill