Good morning, NBC News readers.
Democrats and the Trump administration expressed optimism that they were close to a deal on virus stimulus as China prepares to lift restrictions in the virus epicenter.
Here's what we're watching this Tuesday morning.
---
Democrats, Trump administration optimistic deal close on virus stimulus
Millions of more Americans have gone under lockdown, with Louisiana, New Mexico, Washington and West Virginia the issuing stay-at-home orders as the number of confirmed infections in the country top 46,000 and the death toll climbed to nearly 600, according to Johns Hopkins University.
The British government imposed a three-week national lockdown, to be enforced by police, in an attempt to contain the spiraling number of coronavirus cases that have emerged in the country.
But one bright spot emerged as China announced that travel restrictions in and out of Wuhan, the city in central China where the coronavirus is believed to have originated, will lift on April 8. Life in the city of 11 million has been grounded to a halt since January as China attempted to contain virus.
Here are some of the latest updates:
---
Trump claims 'normal life will return' soon. Doctors and scientists beg to differ
"The hardship will end, it will end soon. Normal life will return," President Donald Trump said Monday.
But other authorities, including governors in the hardest-hit states and medical professionals, largely do not see a speedy return to normalcy.
The nation's top infectious diseases expert, Dr. Anthony Fauci, said Friday that Americans will most likely have to continue staying at home and practicing social distancing for "at least several weeks."
"I cannot see that all of a sudden, next week or two weeks from now, it's going to be over. I don't think there's a chance of that," Fauci said.
And Surgeon General Jerome Adams warned Monday on "TODAY" that the coming week will show the crisis worsening.
"I want America to understand, this week, it's going to get bad," Adams said.
The divergence of opinion reflect some of the tensions brewing among the president, his advisers and public health experts over how long America needs to be shut down as they weigh the devastating economic cost of social isolation against the public health benefits.
Dan Patrick, Texas' Republican lieutenant governor went so far as to suggest that he and other grandparents would be willing to die to get the economy going again on Fox News' "Tucker Carlson Tonight."
---
Florida governor takes heat for state's slow response to coronavirus crisis
It was a jarring image from the coronavirus crisis: thousands of people frolicking on Clearwater Beach and seemingly thumbing their collective noses at the deadly pandemic sweeping across Florida and the rest of the country.
And the man who had the power to close the state's beaches and send everybody packing, Gov. Ron DeSantis, was refusing to do so.
Most of Florida's beaches have since been closed. But DeSantis' approach to managing the spread of coronavirus has not gone unnoticed and has been harshly criticized by some of the state's most powerful voices.
"Coronavirus is killing us in Florida," read the headline of a Miami Herald editorial on Sunday that blasted DeSantis' response. "Act like you give a damn."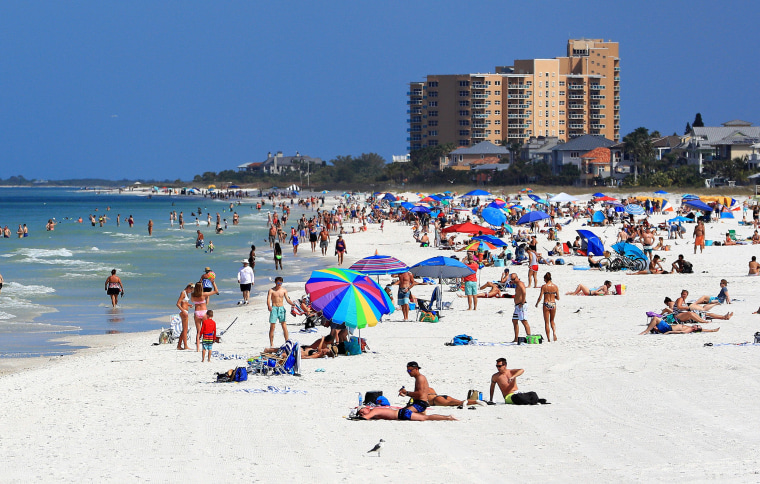 ---
'We were afraid of getting sick'
A woman's husband is dead after couple tried an unapproved drug for coronavirus related to one Trump has been promoting.
An Arizona man has died after ingesting chloroquine phosphate — believing it would protect him from becoming infected with the coronavirus.
The toxic ingredient the couple consumed was not the medication form of chloroquine, used to treat malaria in humans and touted recently by Trump as a potential help in the fight against the coronavirus. Instead, it was an ingredient listed on a parasite treatment for fish.
"I saw it sitting on the back shelf and thought, 'Hey, isn't that the stuff they're talking about on TV?'" the woman said.
Meantime, the drug that is actually lifesaving for people suffering from lupus is in short supply since Trump started touting it as a possible treatment for COVID-19.
"To affect lupus patients this way is irresponsible and dangerous," said Bonnie Lieberman, a preschool teacher in California who has suddenly found herself unable to refill a prescription for a drug she has taken for 30 years.
"This drug is lifesaving for me because it helps me function," she said.
---
As New York coronavirus cases skyrocket, health officials reach for a centuries-old weapon against the virus
New York health officials expect to receive FDA approval in a matter of days to begin collecting plasma from people who have recovered from the disease caused by the coronavirus and injecting the antibody-rich fluid into patients still fighting the virus.
Until more sophisticated treatments can be developed, which could take months, some experts say the antiquated blood therapy might be the best hope to save people now.
---
Want to receive the Morning Rundown in your inbox? Sign up here.
---
Plus
---
THINK about it
If doctors and nurses aren't shielded from COVID-19 now, they can't treat us later, write two health care experts in an opinion piece.
---
Live BETTER
How to set up a home office that won't hurt your back, wrists or neck.
---
Quote of the day
"The time has now come for us all to do more. ... You must stay at home."
— British Prime Minister Boris Johnson announcing the national lockdown Monday evening.
---
One fun thing
For better or worse, dogs and cats are not familiar with the term "social distancing."
And that's been a welcome relief to many stuck at home with their furry friends during this uncertain time.
---
Thanks for reading the Morning Rundown.
And thank you for all of your comments and questions on coronavirus. Please keep them coming. You can email me at: petra@nbcuni.com
If you find this newsletter useful, please forward it to your family and friends. They can sign-up here.
Be safe and stay healthy, Petra Cahill