Good morning, NBC News readers.
Americans just experienced a weekend like no other as the coronavirus pandemic continues to upend daily life.
Here are the latest developments and restrictions in the global effort to stop the spread of the virus.
---
Coronavirus latest: NYC schools closed; restaurants and bars across U.S. limited to takeout, delivery as virus shutdowns grow
As the coronavirus continued to spread across the United States — with over 3,700 confirmed cases and 69 deaths as of early Monday morning — officials announced some of the strictest measures yet Sunday to try to halt its spread.
Here are some of the latest developments in the U.S.:
---
Spain, France, Ireland announce major lockdowns
While the U.S. grapples the spread of COVID-19, Europe is now the epicenter of the outbreak.
Italy's death toll rose to 1,809 on Sunday, a jump of 368 people in one day, the biggest daily jump yet in any country, including China.
France, Spain, Denmark, Netherlands and Ireland all enacted severe country-wide lockdowns, placing more than 100 million people under similar orders across the continent. (Video)
Spanish police used drones to make announcements urging people to stay home during the outbreak. (Video)
Germany announced it would close it borders with five countries beginning Monday in an effort to to halt the spread.
The Irish government called on all pubs and bars to close as of Sunday in an effort to reduce the spread of illness, just days before the annual St. Patrick's Day festivities.
Meantime, the U.K. has yet to announce any restrictive measures on schools or public buildings, and is facing mounting pressure to do so.
See a map of where the virus has spread worldwide.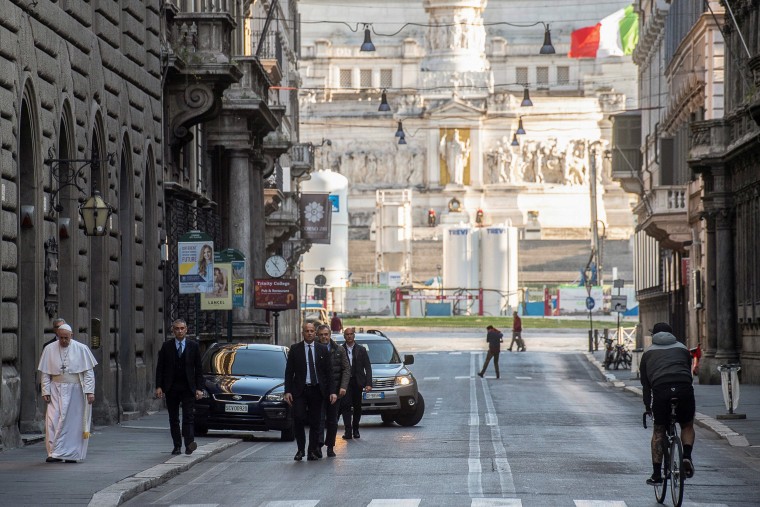 ---
Teaching kids at home due to coronavirus? Homeschooling moms share their tips
As the new coronavirus spreads, schools across the country are closing their doors and encouraging parents to help kids complete schoolwork at home until risk of catching or spreading COVID-19 have passed.
For parents, the question is, how?
Some veteran home-schooling parents kindly shared some of their tricks of the trade.
"Your 'school day' will not be perfect, and that's OK. Just try to remember you're adjusting to something new and there will be some bumps along the way," one sage parent said.
Meantime, you've probably heard a lot about "social distancing" in recent days. Here's why experts say giving each other "breathing space" is one of the best ways to slow the spread of the coronavirus.
But, that said, we need to be mindful that it could have a devastating effect on people who suffer from depression.
And is it safe to go to the gym? Experts say it depends and it's best to follow local guidance.
NBC News medical contributor Dr. Natalie Azar joined Sunday TODAY's Willie Geist to answer viewers' questions about the coronavirus pandemic — from should grandparents stay out of physical contact with their grandchildren to is it safe to bring your kids to the park. See below.
Are you self-quarantining? Working from home? Please share your experience with us.
---
5 takeaways from the Democratic debate: Joe Biden promises a woman VP
And then there were two.
Former Vice President Joe Biden and Vermont Sen. Bernie Sanders met last night for the first Democratic primary debate with just two candidates on stage.
The debate began as a genteel conversation over how to address the coronavirus and descended into a testy battle over records and who has the courage to do the right thing.
The candidates clashed over issues from bankruptcy policy and same-sex marriage to health care and immigration, highlighting their differing visions for the country.
Here are five key takeaways from the evening that began with an elbow-bump.
Get more of the play-by-play from last night here.
---
Want to receive the Morning Rundown in your inbox? Sign up here.
---
Plus
---
THINK about it
America's coronavirus sports blackout is likely worse than it seems, sports writer Will Leitch argues in an opinion piece.
---
Shopping
The healthiest plant-based foods to order from Amazon Fresh, according to nutritionist.
---
Quote of the day
"Americans should be prepared that they're going to have to hunker down significantly more than we as a country are doing."
— Dr. Anthony Fauci, director of the National Institute of Allergy and Infectious Diseases, said Sunday on NBC News' "Meet the Press."
---
Keeping the faith in difficult times
Houses of worship across the United States were empty Sunday in an attempt to help slow the spread of the coronavirus.
But, instead, the faithful tuned in online and even at a drive-in movie theater.
See a report from NBC News' Kerry Sanders below.
---
Thanks for reading the Morning Rundown.
We are currently all hands on deck for coronavirus. Please send me any comments or questions you have so we address them in future stories: petra@nbcuni.com
If you're a fan, please forward it to your family and friends. They can sign-up here.
Be safe and stay healthy, Petra Cahill