Good morning, NBC News readers.
After the roughest day on Wall Street in 11 years and Italy ordering a nationwide lockdown, coronavirus fears are inching closer to the White House with the incoming chief of staff and four other close Trump allies under self-quarantine.
Here's the latest on the global coronavirus outbreak.
---
Coronavirus: Quarantined congressman flew with Trump on Air Force One yesterday
President Donald Trump's incoming chief of staff, U.S. Rep. Mark Meadows, said Monday that he is under self-quarantine after possibly "coming into contact" with a person who tested positive for COVID-19, the disease caused by the coronavirus that is rapidly spreading around the world.
Meadows has tested negative for the disease but will remain at home until Wednesday "out of an abundance of caution," his staff said.
He joins several other Republican members of Congress who are also under self-quarantine, including Sen. Ted Cruz of Texas, Rep. Paul Gosar of Arizona, Rep. Doug Collins of Georgia and Rep. Matt Gaetz of Florida.
The lawmakers are self-quarantining after possibly "coming into contact" with a person who tested positive for COVID-19 after attending the recent Conservative Political Action Conference (CPAC).
Gaetz memorably wore a gas mask on the House floor last week during a vote on the $8 billion emergency funding bill to fight the coronavirus.
The Florida congressman flew with Trump on Air Force from Orlando to Washington on Monday.
White House Press Secretary Stephanie Grisham said Monday that the president has not been tested for the virus and that he remains in "excellent" health.
One other member of Congress, Rep. Julia Brownley, D- Calif., is also self-quarantining.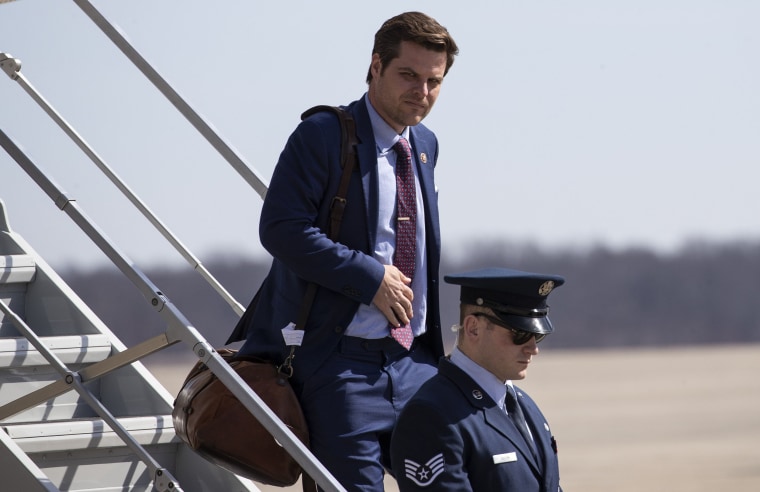 ---
Markets rally in early trading after worst day since financial crisis
Global markets appeared to be readjusting this morning after yesterday was declared Wall Street's worst day since the financial crash of 2008.
The Dow Jones Industrial Average closed the day with a loss of around 2,000 points Monday, part of a global market rout that saw spiraling sell-offs in the energy sector amid the biggest drop for crude oil since the Gulf War in 1991.
Oil prices jumped by five percent and stock futures rallied early Tuesday morning as investors eyed the possibility of economic stimulus.
Trump announced Monday that he is looking at a possible payroll tax cut and other measures to help American workers and boost the economy, which has been hit hard by the coronavirus outbreak.
The president said he'd announce the "dramatic" details of the proposed relief Tuesday. "They will be major," Trump said at a briefing with members of the coronavirus task force.
We asked NBC News Business Correspondent Ali Velshi for his take on where things stand after yesterday's rollercoaster ride. Here's what he sent in:
Markets overseas are stemming losses as investors consider the effect of government stimulus after Trump's announcement yesterday that he plans to meet with House and Senate Republicans to discuss possible emergency economic measures.
Tax cuts and other direct stimulus tend to cause people to spend if there is otherwise some reason that they aren't spending.
While investors tend to like tax cuts, it's unclear what they will do to solve the current market jitters.
Democrats are planning their own version of stimulus, including coverage for the cost of mass testing for coronavirus and emergency paid sick leave for those Americans who may not take off work or self-quarantine because they can't afford to.
If competing stimulus plans lead to more partisan gridlock, markets will continue to respond negatively.
But all the market upheaval could have a silver lining if it results in the massive coordinated global response — a term used widely in the Great Recession — that has been missing since the advent of COVID-19.
Watch this week to see if central banks, global leaders and Congress come up with a coordinated plan to deal with the fallout from the epidemic.
(You can catch Ali's analysis weekdays on his show "Velshi & Ruhle" on MSNBC at 1 p.m. ET).
---
Italy locks down entire country in bid to combat spread of coronavirus
Italy's prime minister announced Monday that the entire country would be placed on lockdown in an effort to curb the spread of COVID-19.
According to the unprecedented decree, the country's 60 million people are restricted from non-essential travel.
"There won't be just a red zone," Prime Minster Guiseppe Conte told reporters, referring to the previously designated lockdown areas in Lombardy. "There will be Italy."
Italy now has over 9,000 confirmed COVID-19 cases, making it the country with the second largest outbreak outside China.
As countries around the world grapple with the coronavirus, Taiwan may offer valuable lessons on how to curb its spread.
Check our live blog for the latest updates on the global outbreak.
See maps of where cases have been confirmed in the U.S. and worldwide.
---
Coronavirus is hard on older people — and scientists aren't sure why
Older adults appear to be more severely at risk from the new coronavirus, while young children seem to be largely spared — and understanding why could be crucial to treating people with the illness it causes, according to scientists.
People over age 60, and particularly those with pre-existing health conditions, appear to be most vulnerable to the virus, which has spread to more than 110,000 people in at least 97 countries.
"We're trying to figure out why age is a primary feature of this infection, but from a biological perspective, we don't have that answer," said Dr. Srinivas Murthy, a clinical associate professor in the department of pediatrics at the University of British Columbia in Vancouver.
---
Democratic primaries Tuesday in Michigan, 5 other states: Everything you need to know
Voters in six states will get to weigh in on the Democratic presidential primary campaign today for the first time since Joe Biden's Super Tuesday surge last week gave him a delegate lead over Bernie Sanders.
The contests are also the first since Sen. Elizabeth Warren of Massachusetts and billionaire Mike Bloomberg dropped out of the race.
Here's a look at what you need to know about today's primaries.
---
Want to receive the Morning Rundown in your inbox? Sign up here.
---
Plus
---
THINK about it
What happens after the "Bachelor" cameras turn off? A reality TV psychologist explains.
---
Shopping
13 sleep aids and bedroom products for better rest.
---
One fun thing
"We Can't Make This Stuff Up!"
That's how the Slidell, Louisiana, police department began a recent Facebook post as they shared a photo of a car with a license plate from 1997 they pulled over.
The driver of the vehicle, whose identity was not disclosed, told police: "Sorry, officer. I've been busy lately and totally forgot to renew my vehicle registration."
He promised to take care of it as soon as he got home, police said.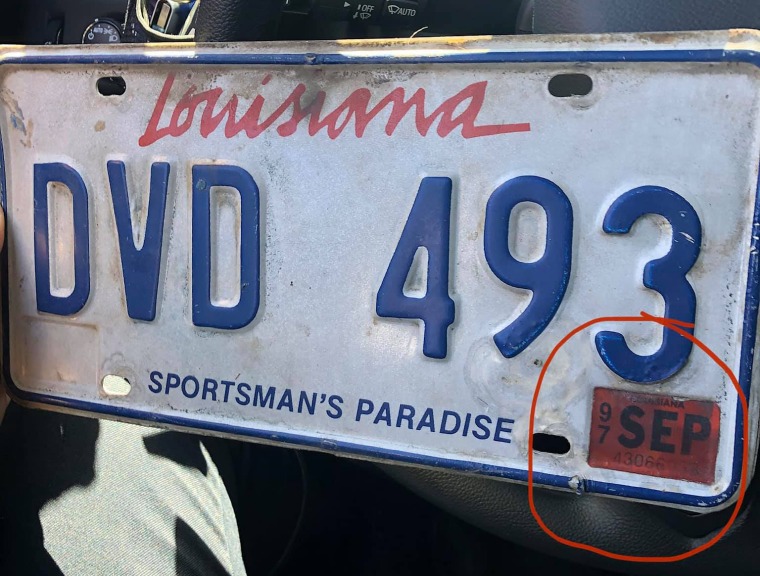 ---
Thanks for reading the Morning Rundown.
If you have any comments — likes, dislikes — drop me an email at: petra@nbcuni.com
If you'd like to receive this newsletter in your inbox Monday to Friday, please sign up here.
Thanks, Petra