Good morning, NBC News readers.
The coronavirus has now been reported in all 50 states, as the U.S. death toll passed 100, and the number of cases globally passed 200,000.
We're following the latest developments as America shuts down in an effort to blunt the spread of the illness.
---
White House proposes injecting billions into U.S. economy as virus spreads
The White House announced Tuesday that it is pitching a $1 trillion stimulus package to help American households and businesses hit by the sudden economic downturn triggered by the coronavirus pandemic.
The Trump administration even floated the idea of sending checks directly to Americans to offset the economic pain created by the pandemic.
Here are some of the latest developments:
---
DHS faces coronavirus with scores of vacancies and a leadership vacuum
As President Donald Trump imposes sweeping entry restrictions in a bid to stop the spread of the coronavirus — and considers still more — he's relying on an agency to help implement them that has been hollowed out at the top ranks in a revolving door of leadership, potentially hampering his administration's response to the crisis.
It has been nearly a year since the Department of Homeland Security has had a Senate-confirmed leader. Acting Homeland Security Secretary Chad Wolf, the fourth person to lead the agency in three years, has been on the job less than six months.
In addition, roughly two-thirds of the top jobs in the department are vacant or filled with acting appointees, more than in any other federal agency.
"You have the vacancies, the musical chairs with positions throughout the organization and policies that come down without a lot of forethought putting added stress on a workforce that already has an extremely crucial job to protect the homeland," said David Lapan, who was a spokesman for DHS during Trump's first year in office. "So at what point do we break them?"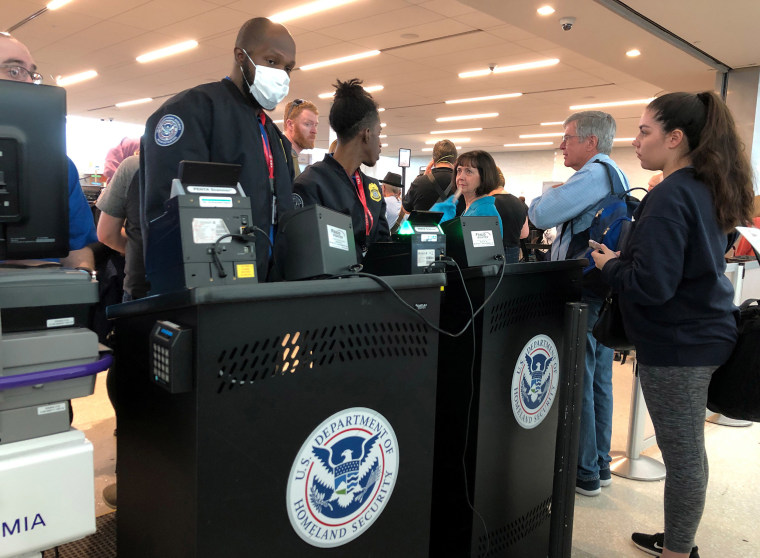 ---
'Limited Supplies': U.S. hospital association warns of possible ventilator shortage
The largest national hospital organization is pleading with Americans to abide by precautions to prevent the spread of the coronavirus, warning it's the only way to avoid running out of ventilators or otherwise overwhelming the health care system.
"There are limited supplies of ventilators and hospital beds, which is why hospitals and public health officials all across the country are urging the public to follow the guidance of the CDC and other public health leaders on social distancing and other actions," said a leader at the American Hospital Association, which represents nearly 5,000 hospitals.
"The best way not to overtax the health care system is to keep more people healthy."
And the U.S. is not alone.
Ventilators have quickly become the most sought-after medical device in the world because of their ability to help save the lives of some of the sickest coronavirus patients.
But experts in the U.S. and Europe are worried that they don't have nearly enough of them to keep pace with a pandemic.
---
Biden sweeps three states, doubles delegate lead over Sanders
Joe Biden doubled his delegate lead over Bernie Sanders in Tuesday's primaries, giving him a nearly insurmountable advantage after sweeping Florida, Illinois and Arizona, according to NBC News projections.
The former vice president now has 315 more delegates than the senator from Vermont — 1,132 to Sanders' 817.
Here are the key takeaways from Biden's big night. Spoiler alert: Biden seems to be cruising to the Democratic presidential nomination.
And NBC News' Jonathan Allen writes in a news analysis that Sanders' coronavirus pitch flopped. Was it the message or the messenger?
---
Want to receive the Morning Rundown in your inbox? Sign up here.
---
Plus
---
THINK about it
Social distancing is not a joke. One of our THINK editors shares her own story from the coronavirus frontlines: How I got my stubborn boomer dad to stop bowling.
---
Shopping
Are you working remotely? (I am). These last-minute tech accessories might help.
---
One kind thing
Sometimes it's the little gestures that say so much.
Taran Tien, 9, and his sister, Calliope, 6, are home from school because of the coronavirus outbreak.
Their neighbor 78-year-old Helena Schlam is also home, self-isolating as a precaution.
But the kids still need to practice the cello. So they decided to perform a concert on Schlam's front porch because they knew she loves music.
"She was stuck inside of her house, so we decided to do something for her," Taran said.
"We just wanted to make her happy," chimed in Calliope.
Judging by the smile on Schlam's face in the video below, it worked.
---
Thanks for reading the Morning Rundown. Hope you are holding up wherever you are.
We are currently all hands on deck for coronavirus. Please send me any comments or questions you have so we address them in future stories: petra@nbcuni.com
If you're a fan, please forward it to your family and friends. They can sign-up here.
Be safe and stay healthy, Petra Cahill