Good morning, NBC News readers.
The number of confirmed coronavirus cases in the U.S. is continuing to grow as China is beginning to see a slowdown.
NBC News Chief Foreign Correspondent Richard Engel reports from the front lines in the battle to contain the global virus and we hear from a patient bingeing on Gatorade in quarantine.
Here's what we're watching this Friday morning.
---
'Just my hunch': Trump misinformation on coronavirus comes under fire
As cases of the coronavirus continue to spread around the world and the U.S., President Donald Trump is not backing away from spreading personal beliefs about the virus that contradict veteran health officials and experts.
For instance, the World Health Organization said this week that about 3.4 percent of coronavirus patients have died.
But during an interview with Fox News host Sean Hannity on Wednesday night, Trump claimed that the WHO estimate was "false," citing a "hunch" he had.
We take a look at the gap between what Trump has said and what health experts say about significant facts and advice regarding coronavirus.
If you think you may have coronavirus, here's what you should do.
Washing your hands is key to prevention. Here's how to do it properly, according to doctors.
And check the Centers for Disease Control and Prevention website for their latest guidance.
---
Number of cases across U.S. continues to tick up
The coronavirus has grown more deadly in the U.S., with the death toll rising to 14 as of Friday morning. More than 225 cases have been confirmed across the country from California to New Hampshire.
The number of people infected with the new coronavirus globally looked set to reach the 100,000 mark on Friday as the confirmed cases passed 98,000.
China, however, has begun to see a slowdown, reporting 143 new cases Friday. A month ago, China was reporting several thousand new cases a day, outnumbering infections elsewhere in the world about 120 to 1.
Check our live blog for the latest updates. And see where cases have been confirmed in the U.S. and worldwide.
The stock market took another hammering Thursday amid outbreak fears, with the Dow Jones Industrial Average plunging by more than 1,000 points.
And with schools closing across the country, working parents are struggling to cope.
In a glimmer of good news, there was at least bipartisan agreement in Washington: The Senate approved an $8.3 billion House-passed emergency spending package to combat the coronavirus. The Senate passed the legislation in a 96-1 vote and it now goes to Trump's desk.
Are coronavirus diseases equally deadly? We compare COVID-19, SARS and MERS by the numbers.
---
Tests, hazmat suits, lots of Gatorade: Life inside a coronavirus quarantine
For a dozen days, Carl Goldman's world was reduced to a 20- by 30-foot containment room, and his only visitors came bearing coronavirus testing kits and bottles of Gatorade while dressed head to toe in hazmat suits.
Goldman contracted COVID-19, the disease caused by the coronavirus, on board the Diamond Princess cruise ship, and while he's now in lower-level housing at the Nebraska Biocontainment Unit in Omaha, he remains quarantined.
And he has no idea when he'll be allowed to go home to Santa Clarita, California.
While Goldman waits to go home, he's been biding his time by blogging about his unwanted adventure, riding an exercise bicycle and downing copious amounts of ginger tea and Gatorade.
"I've been through every color of the rainbow with Gatorade," he said. "The light blue is the bomb."
---
From Hong Kong to Washington, D.C.: On the front lines in the global fight against coronavirus
NBC News Chief Foreign Correspondent Richard Engel has been on assignment from Asia to Washington, D.C., talking to scientists and medical professionals on the front lines in the fight against coronavirus as the world seeks the answer to the question: What happens when a dangerous disease goes global?
Here are Richard's thoughts on his reporting:
"When I went to Hong Kong, which is one of the busiest financial centers in the world, to see the airport there effectively empty – counter after counter with nobody checking in, nobody getting on flights – it was striking.
Then walking through the city's main streets, to see everybody wearing masks, having their temperature taken every time they went into a public building, the city felt dramatically different than past visits.
We met Dr. Alfred Wong one of the doctors treating people who are sick with COVID-19. Talking to Dr. Wong, I was immediately struck by the personal choices he made. His wife is pregnant, but he's hoping can do his work and put himself in quarantine, all before her due date.
We went with Dr. Wong as he went out to dinner with his wife. But it wasn't a traditional date night. Instead, they walked to a restaurant and stood about 10 to 15 feet apart while they ordered takeout. Then they walked to a park, sat on opposing benches and texted back and forth. It was a time for them to be together, while also not putting her or the child at risk.
From Singapore to Washington, D.C., I was most impressed with how quickly the scientists are responding to this, impressed at how much they talk to each other, impressed with how collaborative they are. You truly sense there's an international effort to solve this."
Tune into MSNBC this Sunday at 10 p.m. ET to watch a special episode of "On Assignment with Richard Engel: OUTBREAK."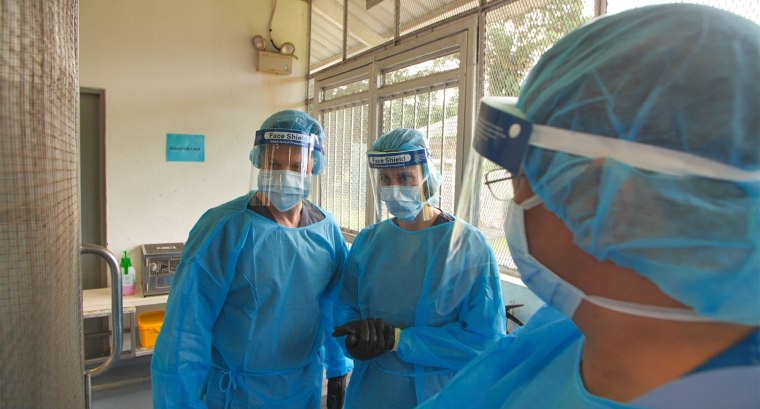 ---
And then there were two. Who will Warren endorse?
Elizabeth Warren may have dropped out of the presidential contest yesterday, but she still looms large over the race between moderate Joe Biden and progressive Bernie Sanders, holding the power to shape it with her endorsement.
Warren offered no hints Thursday regarding whom she'll throw her support to, saying she wants to "take a deep breath and spend a little time on that" as both candidates showered praise on their former rival in hope of winning her over.
Meantime, black voters know what they want. On Tuesday, it was Joe Biden. Here's why.
---
Want to receive the Morning Rundown in your inbox? Sign up here.
---
Plus
---
THINK about it
Trump's feud with New York isn't going away soon. But here's who will suffer as a result, writes NBC News legal analyst Maya Wiley.
---
Live BETTER
Here's why you shouldn't panic when the stock market gets hammered.
---
Shopping
The best way to sanitize your phone and other tech, according to doctors.
---
The Week in Pictures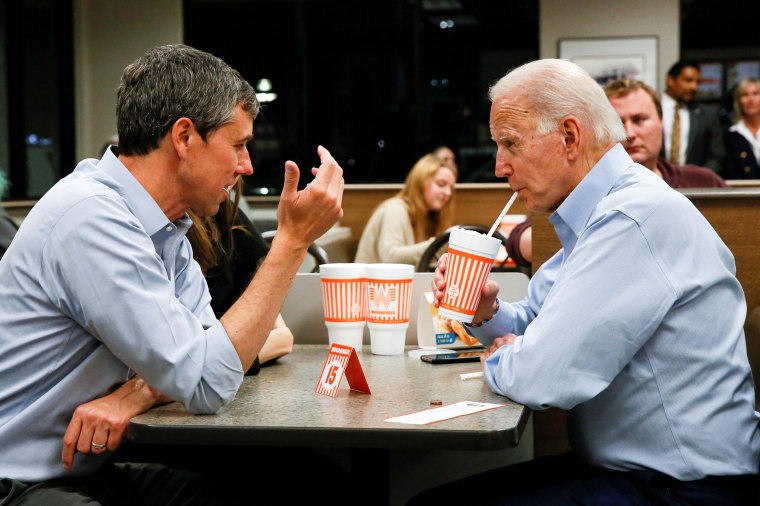 From a big week for Biden to a governor's elbow bump greeting, check out the week in pictures.
---
Thanks for reading the Morning Rundown.
If you have any comments — likes, dislikes — drop me an email at: petra@nbcuni.com
If you'd like to receive this newsletter in your inbox Monday to Friday, please sign up here.
Thanks, Petra