Good morning, NBC News readers.
House Democrats released documents that reveal new details about Trump's pressure campaign on Ukraine, including ominous efforts to track the U.S. ambassador posted there. Plus frenemies Sens. Bernie Sanders and Elizabeth Warren faced off in the Iowa debate, and another firing in the Astros scandal.
Here's what we're watching this Wednesday morning.
---
New revelations in Trump's Ukraine saga ahead of impeachment vote
House Democrats released a new cache of documents related to President Donald Trump's impeachment probe that show a letter from his personal lawyer Rudy Giuliani requesting a private meeting with the president-elect of Ukraine with Trump's "knowledge and consent."
The letter was part of evidence turned over to House impeachment investigators by lawyers for Lev Parnas, the Giuliani associate who is awaiting trial on campaign finance charges.
It bolsters Democrats' argument that Giuliani was doing Trump's bidding in Ukraine by trying to dig up dirt on political rival Joe Biden and the Democratic National Committee.
The evidence also includes menacing text messages that suggest there was an operation tracking Marie Yovanovitch, then the U.S. ambassador to Ukraine. She was later removed from her post at Giuliani's urging.
The new documents were released just before the impeachment is expected to proceed full steam ahead.
Speaker Nancy Pelosi said that the House will vote Wednesday to send the two articles of impeachment against Trump to the Senate.
If that happens, Senate Majority Leader Mitch McConnell said he expects the Senate's trial of Trump to begin Tuesday.
---
'Bernie is my friend': Warren and Sanders de-escalate feud during debate — but not after it
Tuesday night's CNN/Des Moines Register Democratic presidential primary debate was the smallest one yet — with just six candidates on stage, laying their policy differences bare.
A big focus ahead of the debate was the tension between Sen. Bernie Sanders of Vermont and Sen. Elizabeth Warren of Massachusetts over the charged issues of gender and electability.
The two progressive senators seemed to de-escalate the tension Tuesday. At least until it came time to shake hands.
The icy moment at the end of the debate suggests the wound may not have healed yet, even if both campaigns believe it is in their strategic interest to strike a détente.
So who won?
With less than a month before Iowa voters weigh in on the 2020 Democratic contest, we take a look at who held their ground — and who didn't.
---
Iran threatens European troops but admits protesters 'were lied to' over plane downing
Iranian President Hassan Rouhani warned Wednesday that European troops in the Middle East "could be in danger" after three countries challenged the country over breaches of its nuclear deal.
But remarkably, Iran's foreign minister also acknowledged that the population "were lied to" for days about their military accidentally shooting down a Ukrainian passenger jet.
"Today, the American soldier is in danger, tomorrow the European soldier could be in danger," Rouhani said, according to a translation by The Associated Press. He did not elaborate on what this could mean in practical terms.
---
Want to receive the Morning Rundown in your inbox? Sign up here.
---
Plus
---
THINK about it
Major League Baseball has lost its mind over sign stealing. But it's always been a part of baseball, Corbin Smith writes in an opinion piece.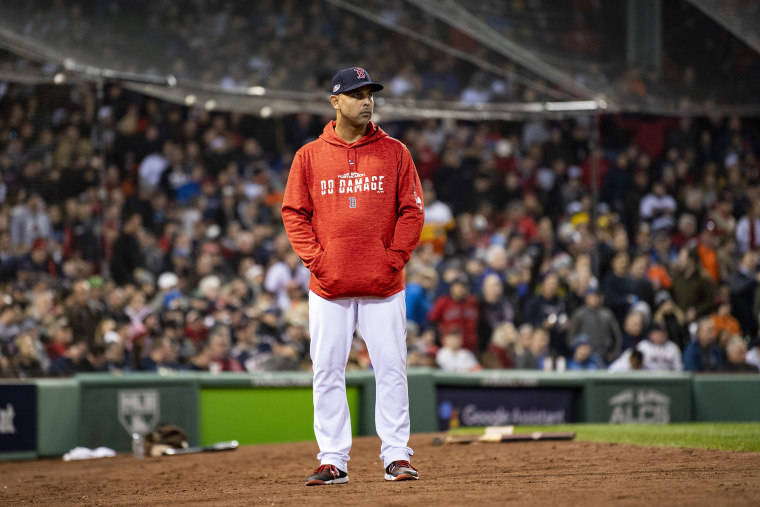 ---
Live BETTER
So it's the middle of January and we are all still committed to our weight loss resolutions, right?
Just in time to help, a doctor shares his 12-step daily routine for healthy weight loss.
And since cooking at home tends to result in healthier eating, here are the best kitchen tools to make it happen.
---
One useful tip
Don't try this at home.
Yamaha has warned people not to try and squeeze inside musical instrument cases after reports that former Nissan Motor boss Carlos Ghosn fled Japan concealed inside in one.
"We won't mention the reason, but there have been many tweets about climbing inside large musical instrument cases. A warning after any unfortunate accident would be too late, so we ask everyone not to try it," the Japanese company said in a post on its Twitter account.
Sage advice by any standard...
---
Thanks for reading the Morning Rundown.
If you have any comments — likes, dislikes — drop me an email at: petra@nbcuni.com
If you'd like to receive this newsletter in your inbox Monday to Friday, please sign up here.
Thanks, Petra