Good morning, NBC News readers.
Dreamers will get their day in court today, tensions flare in the Middle East after Israel is hit by 50 rockets from Gaza, and "Jeopardy!" host Alex Trebek chokes up over a contestant's sweet gesture.
Here's what we're watching today.
---
Supreme Court to hear DACA arguments
The U.S. Supreme Court on Tuesday will take up one of the most important cases of the term — the fate of DACA, the federal program that has allowed nearly 800,000 young people, known as Dreamers, to avoid deportation and remain in the country.
The court must decide whether the Trump administration improperly tried to shut the Deferred Action for Childhood Arrivals program down by simply declaring it to be illegal while offering no detailed explanation or analyzing the effect on the immigrant population. No such analysis was necessary, the Department of Justice insists.
The DACA initiative was launched in 2012 and allows children of illegal immigrants to remain here if they were under 16 when their parents brought them to the United States and if they arrived by 2007.
Hundreds of young adults who are DACA recipients are expected to rally in front of the Supreme Court on Tuesday to express support for the program they say has transformed their lives.
The Supreme Court will hear oral arguments in the case Tuesday, but a ruling in the contentious case isn't likely until the spring of 2020. That all but assures that DACA will figure in the presidential campaign, NBC News' Justice Correspondent Pete Williams points out.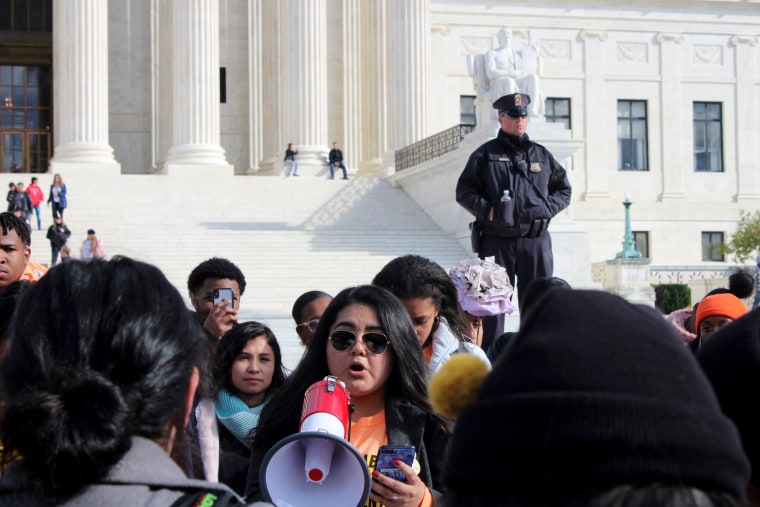 ---
President Carter hospitalized for brain procedure
Former President Jimmy Carter was admitted to a Georgia hospital Monday and is scheduled to undergo a procedure to relieve pressure on his brain caused by bleeding from recent falls, The Carter Center said.
The 95-year-old, who was awarded the Nobel Peace Prize in 2002 and has spent his post-presidential years as a highly visible advocate for the poor worldwide, has fallen at home at least twice in recent months.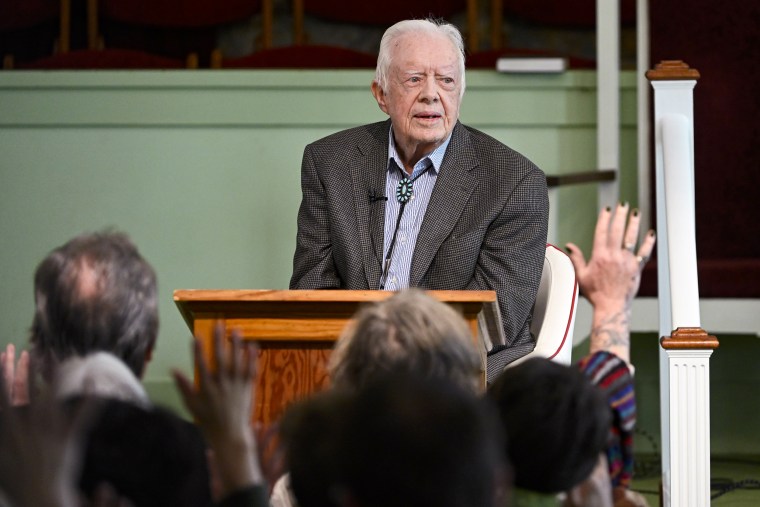 ---
Nikki Haley grilled on claim Kelly, Tillerson tried to get her to undermine Trump
The "Today" show's Savannah Guthrie held former UN ambassador Nikki Haley's feet to the fire over her claims in her new book about former White House insiders pressuring her to undermine Trump. Watch the interview below.
---
Israel hit by 50 rockets from Gaza after airstrike kills Islamic Jihad leader
Palestinian militants in the Gaza Strip launched around 50 rockets at Israel Tuesday in response to the killing of Islamic Jihad leader Bahaa Abu el-Atta in an Israeli airstrike.
The Israeli military described el-Atta as the mastermind of recent attacks against it, while Islamic Jihad said his killing was a declaration of war.
Hamas, the militant group controlling Gaza, called the strike "a dangerous escalation."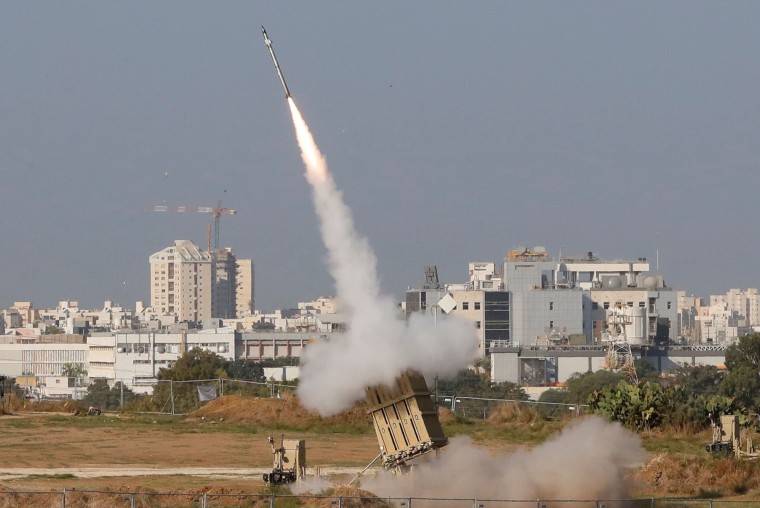 ---
Bone-chilling temperatures arrive for tens of millions across U.S.
An arctic blast that is expected to bring snow, ice and bone-chilling temperatures to tens of millions of people across the United States this week has already proven fatal.
The weather was blamed in at least four deaths Monday in the Midwest.
The National Weather Service expects temperatures to plunge Wednesday.
"This will make it feel like in the middle of winter rather than in November for much of the eastern two-thirds of the country for the next few days."
---
Want to receive the Morning Rundown in your inbox? Sign up here.
---
Plus
---
THINK about it
Trump staffers have a choice: Loyalty and maybe prison, or betrayal and derision. Michael Conway, who served as counsel for the U.S. House Judiciary Committee during the impeachment inquiry of Nixon, writes in an opinion piece.
---
Live BETTER
Make these four money moves today for a financially healthier 2020.
---
One sweet thing
Longtime "Jeopardy!" host Alex Trebek was almost moved to tears after a contestant made a sweet gesture during the final moments of the show Monday night.
Contestant Dhruv Gaur, a student at Brown University, was stumped during the "Final Jeopardy!" question. So instead, he wrote "We [love] you, Alex."
The word love was actually represented by a heart shape.
"That's very kind, thank you," Trebek said, before continuing on. The move cost Gaur $1,995 and left him with just $5.
The 79-year-old host announced earlier this year he had been diagnosed with stage 4 pancreatic cancer, but despite chemotherapy treatments he has continued working.
"I'm not afraid of dying," Trebek said in October. "I've lived a good life, a full life, and I'm nearing the end of that life … if it happens, why should I be afraid of that?"
---
Thanks for reading the Morning Rundown.
If you have any comments — likes, dislikes — drop me an email at: petra@nbcuni.com
If you'd like to receive this newsletter in your inbox Monday to Friday, please sign up here.
Thanks, Petra