Good morning, NBC News readers.
After months of political wrangling, Speaker Nancy Pelosi announced Tuesday that House Democrats were beginning a formal impeachment inquiry into President Donald Trump.
Here's what we know.
---
'No one is above the law': House Democrats launch impeachment inquiry
Speaker Nancy Pelosi said the House would proceed with a formal impeachment inquiry amid the growing Ukraine scandal engulfing President Donald Trump.
Trump withheld millions of dollars in U.S. military aid to Ukraine just days before a call in which the Wall Street Journal reported he repeatedly pressured the country's leader to investigate a potential 2020 rival, former Vice President Joe Biden.
"This week the president has admitted to asking the president of Ukraine to take actions which would benefit him politically," Pelosi said.
She called Trump's actions a betrayal of his oath of office and national security.
"The president must be held accountable," she said. "No one is above the law."
Pelosi's move will likely further polarize a divided nation as we move headlong into a contentious election year.
Here's what else we know:
---
'The future does not belong to globalists': Trump pushes nationalism in U.N. speech
Meantime, President Trump used his speech at the United Nations General Assembly Tuesday to push his "America First" foreign policy agenda — and urged his fellow heads of state to follow suit.
"Wise leaders always put the good of their own people and their own country first," Trump continued. "The future does not belong to globalists. The future belong to patriots."
---
For people with Asperger's, a role model emerges in Greta Thunberg
In the past year, as teen environmental activist Greta Thunberg has launched an international movement to address climate change, the 16-year-old from Sweden has notched another accomplishment, say those on the autism spectrum.
By being open about her own diagnosis of Asperger's — even calling it her "superpower" — Thunberg has emerged as a role model to those on the spectrum, and has educated others about what autism can look like.
"For somebody who has Asperger's or is on the autism spectrum, her ability to be honest and disclose it in such an empowering way is what's inspirational," said Erica Remi, director of development for the Asperger/Autism Network, which helps those who have been diagnosed live meaningful lives and promotes awareness.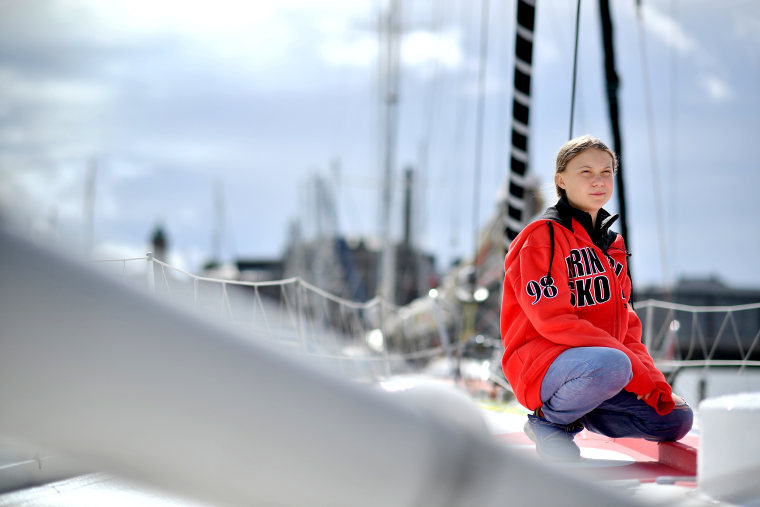 ---
Want to receive the Morning Rundown in your inbox? Sign up here.
---
Plus
---
THINK about it
Trump won't be prosecuted for the Ukraine call about Biden. But Rudy Giuliani could be, former assistant U.S. attorney and NBC/MSNBC legal analyst Mimi Rocah writes in an opinion piece.
---
Science + Tech = MACH
Venus may have been habitable for 3 billion years, before there was a mysterious climate shift.
---
Live BETTER
Pumpkins, fennel, persimmons: How to cook with the most intimidating fall produce.
---
One fun thing
As the country dives deep into yet another polarizing political crisis, the late night hosts are here to perform an important civic service: To make sure we don't lose our national sense of humor.
Check out how comedians Seth Myers, Stephen Colbert, Trevor Noah and others took on the impeachment inquiry last night.
---
Thanks for reading the Morning Rundown.
If you have any comments — likes, dislikes — drop me an email at: petra@nbcuni.com
If you'd like to receive this newsletter in your inbox Monday to Friday, please sign up here.
Thanks, Petra