Good morning, NBC News readers.
Floridians are preparing for a potential Category 4 storm as Hurricane Dorian gains strength, Joe Biden defends his telling of a harrowing war story and NASA's chief rekindles the emotional debate over Pluto's status.
Here's what we're watching today.
---
Farmers hit hard by Trump EPA's new ethanol rules are fuming
President Donald Trump won the Midwest in 2016, thanks in no small part to farmers.
But now many are furious at his administration after the Environmental Protection Agency exempted 31 small oil refineries from rules that would require them to blend corn-based ethanol into their fuel supplies.
The move further depressed the corn market, already hampered by Trump's trade war with China.
"Hopefully he'll take care of us and do things right: Just uphold the laws for the ethanol industry that Congress put into place," said Duane Aistrope, a corn and soybean farmer in Randolph, Iowa.
---
Florida gets ready for a potential doozy with Hurricane Dorian
Florida has begun aggressive preparations to brace for Hurricane Dorian, which may intensify into a Category 4 storm by the time it makes landfall.
Gov. Ron DeSantis declared a state of emergency in all 67 counties Thursday. Forecasters are projecting the storm could hit Florida by early next week.
"As it increases strength, this storm has the potential to severely damage homes, businesses and buildings, which is why all Floridians should remain vigilant," DeSantis said.
Floridians were wasting no time preparing.
Jen Legil, 33, and her mother, Vicky Legil, 53, were already on their second trip to the supermarket on Thursday when they spoke to NBC News.
"We're buying protein bars and anything else that can stay unrefrigerated," said Legil, who is eight-months pregnant.
Track Dorian's path with our interactive map.
Video: Florida residents on high alert as Hurricane Dorian approaches
---
Hong Kong activists arrested, protest march banned
Hong Kong police arrested and released three prominent activists on Friday in a deepening crackdown on protest organizers ahead of expected illegal demonstrations this weekend.
Official protest organizers confirmed to NBC News that they were pulling out of demonstrations initially planned for Saturday after police turned down a permit for the rally.
Both protest organizers and police told NBC News an illegal assembly of extreme activists was still expected and could lead to clashes as officials tried to prevent demonstrations at China's Liaison Office in Hong Kong.
---
'I don't know what the problem is': Biden defends his telling of a harrowing war story
Former Vice President Joe Biden on Thursday defended the "central point" of a war story he told on the campaign trail last week as "absolutely accurate" after a report exposed a slew of incorrect details.
According to the Washington Post, Biden appeared to have "jumbled elements of at least three actual events into one story of bravery, compassion and regret that never happened."
"I was making the point how courageous these people are, how incredible they are, this generation of warriors, these fallen angels we've lost," he later told the Post's Jonathan Capehart. "I don't know what the problem is. What is it that I said wrong?"
---
The Week in Pictures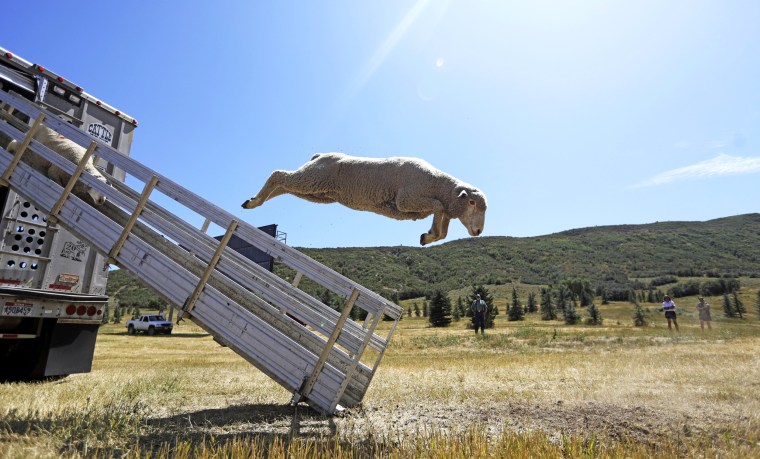 See more of the most compelling images from the last week here.
---
Want to receive the Morning Rundown in your inbox? Sign up here.
---
Plus
---
THINK about it
Jeffrey Epstein's accusers got a day in court because of a judge. Every victim deserves the same, Judge Rosemarie Aquilina writes in an opinion piece.
---
Science + Tech = MACH
Is Pluto a planet? NASA chief rekindles emotional debate.
---
Live BETTER
Can you actually learn to be happier? A Yale professor believes the answer is: yes.
---
Quote of the day
"I will do all I can — going forward — to help show the nation that the Alabama of today is a far cry from the Alabama of the 1960s."
— Alabama Gov. Kay Ivey apologizing for wearing blackface during a skit while she was in college in the 1960s.
---
One inspiring thing: 'What you're born with is what you're born with'
Twenty-one-year-old Zion Clark is like many young wrestlers: Lean, chiseled and full of grit.
But it's what he doesn't have that sets him apart.
Clark was born with a rare birth defect and has no legs.
But that hasn't stopped him from pursuing his dream on the mat.
"You're gonna have your trials, you're gonna have your tribulations," says Clark, who won 33 matches during his senior year of high school. "But the end results gonna be worth it if you stay with it."
---
One fun thing
A growing number of Americans over 50 are playing video games as a way to remain socially connected and cognitively sharp in a world that continues to expand into the digital realm.
"I don't have too much of a social life. I'm mostly stuck at home, and I don't know," Audrey Buchanan, 88, told NBC News. "It feels like company."
---
Thanks for reading the Morning Rundown.
If you have any comments — likes, dislikes — drop me an email at: petra@nbcuni.com
If you'd like to receive this newsletter in your inbox Monday to Friday, please sign-up here.
Thanks, Petra