Good morning, NBC News readers.
The White House is expected to urge Americans to wear cloth masks as the global number of coronavirus COVID-19 infections tops 1 million — with almost a quarter of them in the United States.
Here's what we're watching this Friday morning.
---
White House expected to announce new mask guidance
The White House is expected to urge Americans who live in coronavirus hot spots to wear cloth face coverings to prevent the spread of the virus, a senior administration official told NBC News on Thursday night.
Vice President Mike Pence said during Thursday's briefing on the pandemic that new guidance, based on "consultation and advice from the CDC and top health experts," would come "in the days ahead."
Any new public guidance comes after weeks of debate over the efficacy of masks in terms of preventing the spread of the illness.
Health officials have also been reluctant to tell people to cover their faces in order to prevent a run on masks desperately needed by medical workers on the frontlines in the battle against the virus.
Dr. Deborah Birx, the White House coronavirus coordinator, cautioned during Thursday's briefing that any recommendation on masks must be "additive" and not a substitute for existing social distancing guidelines.
The expected new guidance comes as the number of infections in the United States continues to grow at a staggering rate with over 245,000 confirmed COVID-19 cases, and nearly 6,000 deaths.
Check out our live blog for the latest updates.
Listen to NBC News' "Into America" podcast. This week's episode is focused on how coronavirus is changing how people prepare for birth and say goodbye in death.
---
NYC first responders reeling from 'unprecedented' call volume amid coronavirus
New York City first responders are handling "tremendously high" call volumes, working multiple double shifts with back-to-back cases and suspected coronavirus patients going into cardiac arrest as the disease continues to sweep the city.
"Everybody's overworked. There're people who are working five doubles, five 16-hour tours," in one week, said one emergency medical technician.
As of Thursday evening, there were more than 49,000 known coronavirus cases in New York City, with more than 1,550 deaths, according to the city's health department.
Gov. Andrew Cuomo warned on Thursday that the state has less than a week until it runs out of ventilators.
In order to help with the crush of coronavirus cases overwhelming New York City's hospitals, Cuomo said the U.S. Army-run facility at the Javits Center will now be used to treat COVID-19 patients.
Initially, the plan was for the 2,500-bed emergency facility to be used for non-coronavirus patients. But given the dramatic increase in the number of coronavirus cases, Cuomo asked President Donald Trump if it could accept COVID-19 patients and the president agreed.
The USNS Comfort hospital naval ship, the 1,000-bed vessel sent to New York City with great fanfare earlier in the week to help alleviate pressure on hospitals, had just 19 patients Thursday night, a Navy spokesperson said. It is only accepting non-COVID-19 patients.
Meantime, funeral directors in the state say they have been overwhelmed by the death toll.
---
Banks warn of 'utter chaos' in new small business lending program
The U.S. economy lost a total of 701,000 jobs in March, bringing a record 10-year streak of employment gains to a halt as the coronavirus pandemic continues to hammer the workforce and shatter economic growth.
On top of that, a record 6.6 million Americans filed for unemployment benefits last week.
Help was meant to be on the way for the millions of small businesses who have been anxiously awaiting their slices of a $350 billion relief program that is part of the government's $2 trillion economic stimulus package.
But banks are warning about "utter chaos" in the new small business lending program that was supposed to begin at midnight.
The banks say there is so little guidance from the Trump administration that they may not be able to start lending as planned as of today.
It wasn't until Thursday night that banks received their 31 pages of guidance from the Treasury Department on how to lend the money.
---
Trump administration's lack of a unified coronavirus strategy will cost lives, say a dozen experts
The Trump administration's decision to let states chart their own responses to the coronavirus crisis rather than impose a national strategy will cost thousands of lives and is likely to result in an open-ended outbreak rolling across the country, a dozen public health experts told NBC News.
The only way to win what President Donald Trump has called a war against an "invisible enemy" is to establish a unified federal command, the experts insist — something Trump has yet to do.
"This is a problem that we should be dealing with over the entire nation," said William Haseltine, a biologist famed for his work on HIV and AIDS. "This is a national problem — it needs a national response."
Trump continues to assert that the federal government's role is supporting states, not leading. He tweeted Thursday that some states: "have insatiable appetites & are never satisfied (politics?). Remember, we are a backup for them."
---
Want to receive the Morning Rundown in your inbox? Sign up here.
---
Plus
---
The Week in Pictures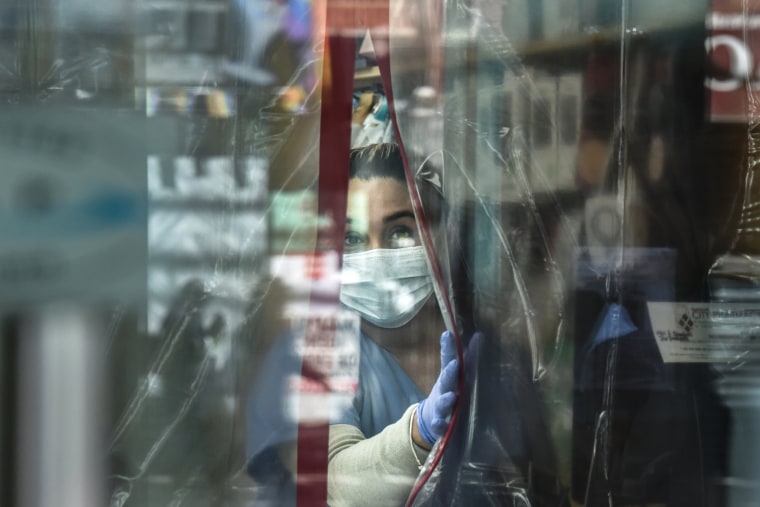 A pharmacist in the Elmhurst neighborhood of Brooklyn, New York, peeks out of her protective space on Wednesday. on April 1. See compelling images of how coronavirus is impacting people around the globe.
---
THINK about it
Trump's quarantine quandary is just the beginning — and Rhode Island proves it, law professor Jessica Levinson writes in an opinion piece.
---
Live BETTER
Put the next month stuck at home to go work: Here's a 30-day workout to tone your core.
---
Shopping
Brewing more coffee at home these days? We've got tips from experts on the best grinders and coffee makers to make an excellent cup at home.
---
Quote of the day
"Don't go into this thinking it's going to be over in a few weeks."
— Benjamin Wilson, an American who has been in lockdown in Wuhan, China, for more than two months offers some sage advice to people back home.
---
One happy thing
Sometimes a big hug makes it all worth it.
NBC News' Janis Mackey Frayer has covered the coronavirus from the very beginning. She started reporting on the outbreak in January from Wuhan, China, then Japan and then the U.K.
After all that, she returned home to Beijing, China, and was faced with 14 days of quarantine, where she could only see her husband and 6-year-old son from an apartment window.
All told, she was separated from them for 49 days. Boy, are they glad to be back together.
---
Thanks for reading the Morning Rundown.
I hope you get a hug like that from someone this weekend!
If you have any comments on the Morning Rundown, please email me: petra@nbcuni.com
If you would like to get receive it in your inbox Monday to Friday, please sign-up here.
Be safe and stay healthy, Petra Cahill