Good morning, NBC News readers.
A major character in the Ukraine saga says President Donald Trump was fully aware of the pressure campaign as impeachment enters a new and critical phase.
Here's what we're watching this Thursday morning.
---
Exclusive: Parnas says Trump, Pence, Barr, Bolton, Nunes all knew about Ukraine pressure campaign
"President Trump knew exactly what was going on," says Lev Parnas, the indicted associate of Rudy Giuliani who has been implicated in an alleged attempt to pressure the Ukrainian government to dig up dirt on former Vice President Joe Biden and his son.
"He was aware of all my movements. I wouldn't do anything without the consent of Rudy Giuliani or the president," Parnas, who faces campaign finance charges, told MSNBC's Rachel Maddow in an interview that aired Wednesday night. "I was on the ground doing their work," Parnas said.
In the wide-ranging interview, Parnas said that Vice President Mike Pence, Attorney General William Barr, former national security adviser John Bolton and ranking member on the House Intelligence Committee Rep. Devin Nunes, R-Calif., were all aware of the effort to push Ukraine to investigate the Bidens and the 2016 election.
He said the administration's efforts in Ukraine were "never about corruption," but were focused on digging up dirt on the Bidens.
When asked about Trump denying that he even knew him, Parnas replied: "He lied."
Maddow will air more of her interview with Parnas on Thursday evening.
---
House delivers articles of impeachment to Senate, setting stage for trial
The Parnas interview aired on the same day the House formally delivered the articles of impeachment against Trump to the Senate.
The formal procession marked the start of the third presidential impeachment trial in U.S. history.
Senate Majority Leader Mitch McConnell said that the "trial will commence in earnest on Tuesday."
Chief Justice John Roberts, who will preside over the trial, will swear in all the senators as jurors on Thursday afternoon at 2 p.m.
But some major details of the trial remain undecided — in particular the contentious issues of whether or not witnesses will be called to testify.
The Senate is also weighing significant restrictions on reporters covering the impeachment trial, including limiting the movements of reporters and upping security screenings for the press.
Meantime, Pelosi announced the seven Democratic lawmakers who will prosecute the House's case against the president in the Senate on Wednesday.
---
Doomsday scenario on the left: Warren, Sanders destroy each other while Biden skates in
Sens. Bernie Sanders and Elizabeth Warren have once again concluded they're better off together than apart, continuing a decadelong alliance even as they vie with each other for the Democratic presidential nomination.
That doesn't mean they — or their supporters — are happy about it, writes NBC News' Alex Seitz-Wald.
Supporters in both camps are still fuming after this week's dustup on gender and electability, which seeped into public view after Tuesday night's debate when Warren didn't shake Sanders' hand and accused him of calling her a "liar on national TV."
But progressive strategists are determined not to let the spat damage both campaigns – and allow a moderate like Joe Biden to win.
"We cannot allow what was a nonaggression pact to transform into a suicide pact," one progressive activist said.
---
Faced with aftershocks and uncertainty, Puerto Rico confronts another crisis
More than 1,000 quakes have jolted Puerto Rico over the past two weeks, killing at least one person and damaging at least 800 homes across the island.
"Our home is not habitable, because it might collapse if there is a bigger one," one woman said.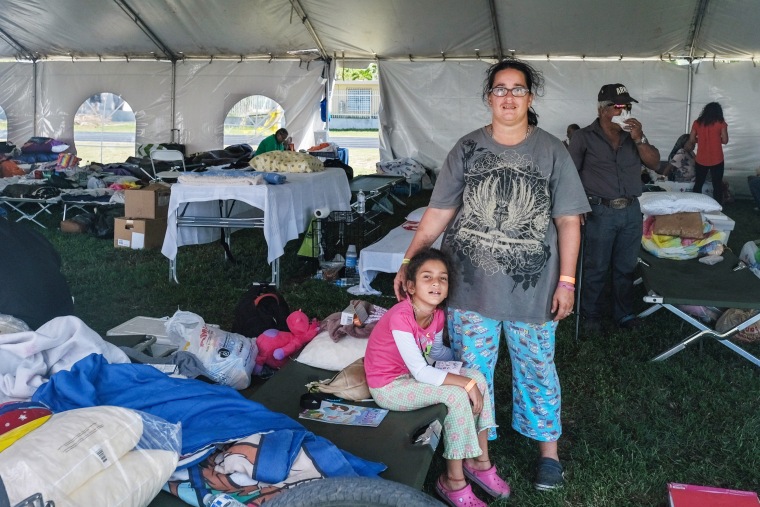 ---
Want to receive the Morning Rundown in your inbox? Sign up here.
---
Plus
---
THINK about it
States shouldn't force Americans to forfeit freedom of speech to support Israel, Jeremy Ben-Ami, president and founder of J Street, and Rabbi Jill Jacobs, executive director of T'ruah, write in an opinion piece.
---
Live BETTER
A napkin helped this money expert visualize her way to financial success.
---
Quote of the day
"Yeah, it was all about Joe Biden, Hunter Biden, and also Rudy had a personal thing with the Manafort stuff. The black ledger."
— Lev Parnas, the indicted associate of Rudy Giuliani, during his interview with MSNBC's Rachel Maddow.
---
One wacky thing
Police are on the hunt for a man wearing hover shoes who glided out of a Florida Walmart without paying for the items he had collected in his cart.
The bold thief managed to float out of the Winter Haven, Fla., store with a television and flowers. Wow.
---
Thanks for reading the Morning Rundown.
If you have any comments — likes, dislikes — drop me an email at: petra@nbcuni.com
If you'd like to receive this newsletter in your inbox Monday to Friday, please sign up here.
Thanks, Petra