Good morning, NBC News readers.
A divided House voted to condemn the president last night, and the country says goodbye to a Supreme Court justice who was considered a "model jurist."
Here's what we're watching today.
---
House votes to condemn Trump's 'racist comments'
The House of Representatives passed a resolution on Tuesday night condemning President Donald Trump for his "racist comments" about four Democratic congresswomen of color. The measure passed largely along party lines, with only four Republicans and one independent voting with the Democrats. The vote came after hours of back-and-forth and political gamesmanship on the House floor.
After the vote, Rep. Al Green, D-Texas, introduced articles of impeachment against Trump in a bid to force a vote on the issue, which Democratic leaders have opposed.
The resolution was not taken up Tuesday night.
Speaking out publicly for the first time since the president's weekend tweets sparked controversy, Senate Majority Leader Mitch McConnell, R-Ky., said everyone involved needed to "lower the incendiary rhetoric."
"The president's not a racist. And I think the tone of all of this is not good for the country," he said.
---
John Paul Stevens, third-longest serving justice in Supreme Court history, dies at 99
At first perceived to be a moderate conservative, during his 35 years on the bench Stevens emerged as the de facto leader of the court's liberal wing, supporting abortion rights, gay rights and the environment.
Stevens was nominated to the Supreme Court by President Gerald Ford in the wake of the Watergate scandal in 1975. A prominent antitrust lawyer in Chicago who was an appeals court judge at the time, Stevens was praised by Republicans and Democrats alike and confirmed to the court on a 98-0 vote.
"He brought to our bench an inimitable blend of kindness, humility, wisdom and independence," Chief Justice John Roberts said. "His unrelenting commitment to justice has left us a better nation."
---
Tape shows Trump and Jeffrey Epstein discussing women at 1992 party
The footage shows two wealthy men laughing and pointing as they appear to discuss young and beautiful women dancing at a party.
Today, one of the men is president of the United States. The other is in federal lockup awaiting a bail decision as he fights sex trafficking and conspiracy charges.
The November 1992 tape from the NBC archives shows Donald Trump partying with Jeffrey Epstein at Trump's Mar-a-Lago estate, now a private club, more than a decade before Epstein pleaded guilty to felony prostitution charges in Florida.
---
Civil rights groups file lawsuit challenging new Trump asylum restrictions
Three civil rights and advocacy groups filed a federal lawsuit Tuesday challenging the Trump administration's latest move to widely restrict asylum for migrants coming to the southern border.
"This is the Trump administration's most extreme run at an asylum ban yet," Lee Gelernt, deputy director of the Immigrants' Rights Project at the American Civil Liberties Union, said in a statement announcing the lawsuit.
The ACLU was joined by the Southern Poverty Law Center and the Center for Constitutional Rights in the lawsuit, which was filed in the U.S. District Court for the Northern District of California.
---
Washington Monument rockets to the moon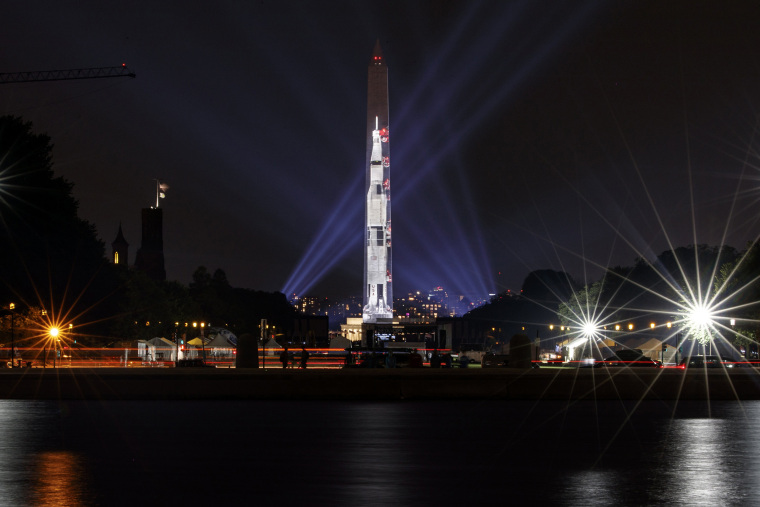 From launch to lunar landing: See photos from 1969 that show NASA's historic mission.
---
Want to receive the Morning Rundown in your inbox? Sign up here.
---
Plus
---
THINK about it
Mr. President, please don't use Israel to wage your racist war on Democratic congresswomen, Jonathan A. Greenblatt, CEO and national director of the Anti-Defamation League, writes in an opinion piece.
---
Science + Tech = MACH
Elon Musk wants to implant a chip in your brain — starting next year.
---
Live BETTER
Want your vacation to be more meaningful? Experts say try "deep travel."
---
Quote of the day
"I don't think of myself as a liberal at all."
— Retired Justice John Paul Stevens who died on Tuesday at 99 years old.
---
One fun thing
Later, gator.
An alligator that had been prowling Chicago's Humboldt Park Lagoon was captured early Tuesday morning after a weeklong search, officials said.
The freshwater predator, dubbed "Chance the Snapper," had eluded Chicago wildlife officials, who imported a Florida alligator trapper, Frank Robb, for the Windy City search.
"It went down pretty fast once we finally saw him," Robb said. "One cast and done."
---
Thanks for reading the Morning Rundown.
If you have any comments — likes, dislikes — drop me an email at: petra@nbcuni.com
If you'd like to receive this newsletter in your inbox Monday to Friday, please sign up here.
Thanks, Petra