Good morning, NBC News readers.
From new revelations to analysis, we've got full coverage of the first public hearings of the impeachment inquiry into President Donald Trump.
---
Impeachment hearings Day 1: Here's what we learned
Bill Taylor and George Kent, the first two witnesses in the House impeachment inquiry into Trump's dealings with Ukraine, testified for more than five hours Wednesday.
The most significant new development came from Taylor, the top U.S. diplomat in Ukraine, when he testified about a previously undisclosed phone call between Trump and U.S. Ambassador to the E.U. Gordon Sondland.
In the phone call, overheard by one of Taylor's staffers, Trump asked Sondland about "the investigations" into the Bidens and the 2016 election, Taylor testified.
Taylor said that he only learned about the conversation that puts the president more squarely in the center of the swirling scandal recently and did not name the staffer who reported the call.
But two sources familiar with the matter told NBC News that it was David Holmes, a State Department official whose name was recently added to the calendar to testify in a closed deposition on Friday.
Here are some of the other key things we learned from the first day of public testimony.
Trump, meanwhile, largely sought to appear above impeachment drama — sticking to his scheduled counter-programming schedule of White House events.
The president claimed he was "too busy" to watch the proceedings, spending much of the day in meetings with Turkey's President Recep Tayyip Erdogan.
In a news analysis, NBC News' Jonathan Allen argues that the first day of hearings offered plenty of substance, but little of the "pizazz" necessary to capture public attention.
The next public impeachment hearings will happen on Friday when the former ambassador to Ukraine Marie Yovanovitch is expected to testify.
---
Democrats are calling for Stephen Miller to resign after leak of xenophobic emails
Several prominent Democrats have called for White House senior adviser Stephen Miller to resign following the release of emails in which he purportedly linked to white nationalist websites.
The Southern Poverty Law Center released a cache of hundreds of emails Tuesday leaked by a former Breitbart writer who corresponded with Miller between 2015 and 2016.
In the correspondence, Miller urged Breitbart's increased coverage of crimes by Hispanic and nonwhite people.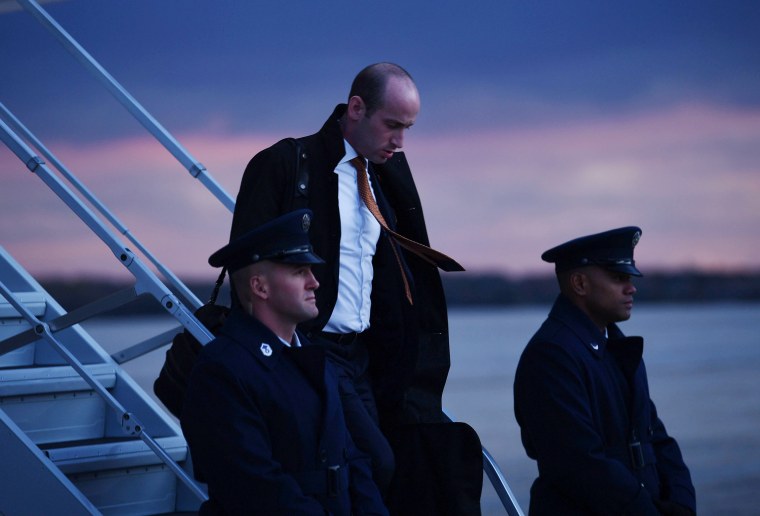 ---
On Facebook, fears of parasites push people to pursue dangerous remedies
Fear of parasites has led thousands of people to post pictures of their own feces in a private Facebook group and then pursue a range of remedies proposed by other group members that medical experts consider unsubstantiated by scientific research and potentially dangerous.
The posts are another example of the wide variety of health misinformation that can be found on Facebook, and add to the pressure on the social media giant to rein in such misinformation, if not ban it outright.
---
Want to receive the Morning Rundown in your inbox? Sign up here.
---
Plus
---
THINK about it
The impeachment hearing eviscerates Trump and shows how he broke the rules of diplomacy, former diplomat Brett Bruen writes in an opinion piece.
---
Live BETTER
These are the most "just" and fair companies to work for. Is yours on the list?
---
Quote of the day
"It made no sense. It was counterproductive to all of what we had been trying to do. It was illogical. It could not be explained. It was crazy."
— Bill Taylor explaining what he meant when he used the word "crazy" in a text message to describe withholding security assistance to Ukraine for help with a political campaign. (About 6:30 into video)
---
One fun thing
Fans of "The Crown" are anxiously awaiting the return of Netflix royal drama on Sunday.
A lucky few mobbed Olivia Colman and Helena Bonham Carter, the new stars of the show's third season, at its world premiere in London last night.
---
Thanks for reading the Morning Rundown.
If you have any comments — likes, dislikes — drop me an email at: petra@nbcuni.com
If you'd like to receive this newsletter in your inbox Monday to Friday, please sign up here.
Thanks, Petra