Good morning, NBC News readers.
Brexit is now someone else's problem.
Here's what we're watching today.
---
British PM May throws in the towel
Brexit finally got the better of her.
Theresa May announced that she will step down as the U.K. Conservative Party's leader on June 7 — just days after President Donald Trump's state visit.
She will continue as a caretaker prime minister until a successor is chosen, a contest expected to take several weeks.
She leaves after months of trying, but failing, to win support for her plan to withdraw from the European Union.
"It is and will always remain a matter of deep regret to me that I have not been able to deliver Brexit," she said speaking outside 10 Downing Street on Friday. "It will be for my successor to seek a way forward that honors the result of the referendum."
---
Trump, Pelosi spar over fitness for office
The spat between President Donald Trump and Speaker Nancy Pelosi got personal on Thursday.
The president repeatedly labeled her "Crazy Nancy" during a wild press conference and later tweeted out a heavily edited video of Pelosi that appeared to show her stumbling over her words.
"When the 'extremely stable genius' starts acting more presidential, I'll be happy to work with him on infrastructure, trade and other issues," Pelosi shot back on Twitter.
She told her Democratic colleagues earlier Thursday that Trump is "villainous" and "wants to be impeached" so that he can be vindicated by the Senate.
---
Assange indictment poses First Amendment threat, advocates warn
The indictment charging Wikileaks co-founder Julian Assange with obtaining and publishing classified material represents a grave threat to all Americans' First Amendment rights, advocates across the political spectrum said Thursday.
"This is an extraordinary escalation of the Trump administration's attacks on journalism, and a direct assault on the First Amendment," said Ben Wizner, director of the Speech, Privacy and Technology Project of the American Civil Liberties Union.
---
The Week in Pictures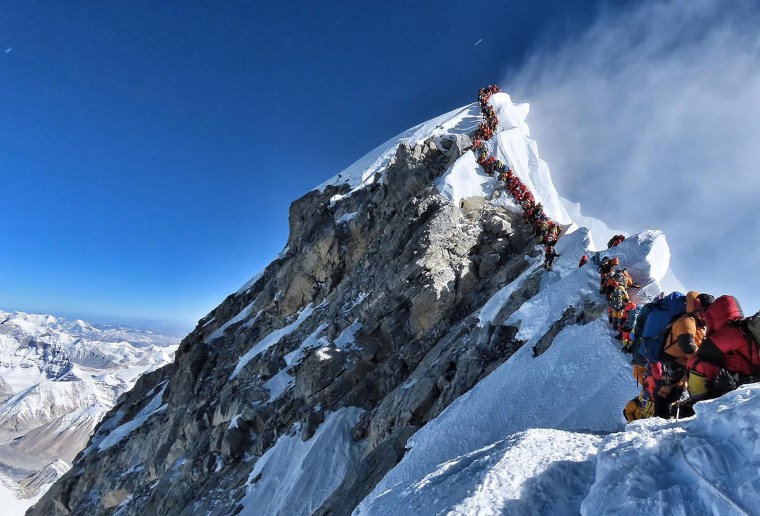 The deaths of three more climbers on Mount Everest this week have raised concerns that a traffic jam of mountaineers near the summit is making the ascent even more treacherous.
An American whose lifelong goal was to join the "Seven Summits Club" by climbing the tallest mountain on every continent died after reaching the top of Everest this week. Don Cash, 55, left behind a wife and four children.
"He taught us that nothing was impossible," his daughter said.
See more of the most compelling images from the last week here.
---
Want to receive the Morning Rundown in your inbox? Sign up here.
---
Plus
---
Parents' screen time comes under scrutiny
If you're a parent, you know the scene at any playground. Kids going wild while more than half the parents are glued to their phones.
Researchers are increasingly concerned about the toll all that parental screen time is having on kids behavior.
---
THINK about it
Netflix's "What/If" would be better if they axed everyone but Renee Zellweger, critic Mikki Kendall writes in an opinion piece.
---
Science + Tech = MACH
A mile-wide asteroid and its tiny moon will zoom past Earth this weekend.
---
Quote of the day
"I will shortly leave the job that's been the honor of my life to hold. The second female prime minister, but certainly not the last."
— British Prime Minister Theresa May
---
One fun thing
Most Americans probably know Matthew Boyd as a pitcher for the Detroit Tigers, but he has passion in life far away from the ballpark.
Matthew and his wife Ashley focus much of their time on "Kingdom Home," a refuge for Ugandan girls who are rescued from sex trafficking.
---
Thanks for reading the Morning Rundown.
Hope you have a fun and restful Memorial Day weekend wherever you spend it.
If you have any comments — likes, dislikes — feel free to drop me an email at: petra@nbcuni.com
If you'd like to receive the Morning Rundown in your inbox Monday to Friday, please sign up here.
Thanks, Petra