Good morning, NBC News readers.
McConnell's impeachment dilemma, Brits head to the polls in crucial election and a possible Weinstein settlement.
Here's what we're watching this morning.
---
McConnell's dilemma: Senate trial with Trump witnesses, or a quick vote
As the Senate begins preparations for an impeachment trial, many Republicans are questioning the wisdom of President Donald Trump calling witnesses and are instead discussing a speedy process.
Trump has indicated that he wants former Vice President Joe Biden, his son Hunter, the whistleblower and House Intelligence Committee Chair Adam Schiff, D-Calif., to testify.
Some Senate Republicans are fearful that the benefits of a defense filled with contentious testimony that may not necessarily exonerate the president could backfire and just want to get on with a Senate vote as quickly as possible.
It's going to be up to Senate Majority Leader Mitch McConnell to figure out how to thread that needle.
The House Judiciary Committee is expected to vote today on whether to send the two articles of impeachment to the full House for final passage — possibly as soon as next week.
Ahead of the vote, Democrats and Republicans on the committee debated the merits of impeachment well into the night.
During the course of the debate, Rep. Louie Gohmert publicly named the person some Republicans say is the whistleblower.
---
'Why this small bodega?': Jersey City Jewish community mourns deadly grocery attack
One of the two suspects in Tuesday's shooting at a kosher grocery store in Jersey City pushed anti-Semitic conspiracy theories and praised past attacks on Jewish people in New York and killings of police officers, according to social media posts seen by NBC News.
Jersey City Mayor Steven Fulop called the attack a hate crime on Wednesday.
"We shouldn't parse words," Fulop said. "To stop hate and anti-Semitism, we need to call it out quickly for what it is."
Members of the small but growing Hasidic community in Jersey City were reeling from the attack on the only kosher grocery store in the area.
"It's such a nice, tight-knit community," said Rabbi Shmully Levitin of the Jersey City Chabad. "It's devastating that something like this happened to them."
---
Weinstein reaches tentative $25 million settlement; some accusers object
The disgraced Hollywood heavyweight Harvey Weinstein and the board of his bankrupt film studio have reached a tentative global settlement with dozens of women who accuse him of having preyed on them, two of his accusers and an attorney for a third said Wednesday.
Under terms of the proposed deal, Weinstein wouldn't have to admit wrongdoing, and his studio's insurance companies would pick up the tab.
Some of his accusers already say they object.
"This settlement breaks my heart," model Zoë Brock, one of the first women to accuse Weinstein of sexual misconduct, said in a statement.
---
Why New Zealand's deadly volcano eruption took people by surprise
The volcano in New Zealand that is feared to have killed up to 16 people when it erupted with little warning is notoriously difficult to predict, making it one of the most dangerous in the world, according to scientists.
While some warning signs were reported, scientists familiar with the area say they were not enough to halt public tours.
"It's not the first time this volcano has behaved like that, where there was an explosion with no warning," said David Phillips, head of the School of Earth Sciences at the University of Melbourne in Australia.
New Zealand police said Thursday they are finalizing plans to begin recovering bodies Friday morning from White Island. Previously, conditions had made it too dangerous to start the recovery process, officials said.
---
Want to receive the Morning Rundown in your inbox? Sign up here.
---
Plus
---
THINK about it
Trump's new NAFTA deal was bad, but got better because of Democrats, New York City Mayor Bill de Blasio writes in an opinion piece.
---
Live BETTER
Wine bottles, wrapping paper, empty boxes. It's all a bit much. Cut down on holiday waste with these recycling tips.
---
One fun thing
It might be news to you, but we're about to round out another decade. (I'll admit the revelation took me by surprise a few weeks ago, despite having written 2020 at least a thousand times).
What do you think was the biggest story of the 2010s?
We'll be rounding up your responses ahead of the New Year and sharing them on NBCNews.com. So stay tuned...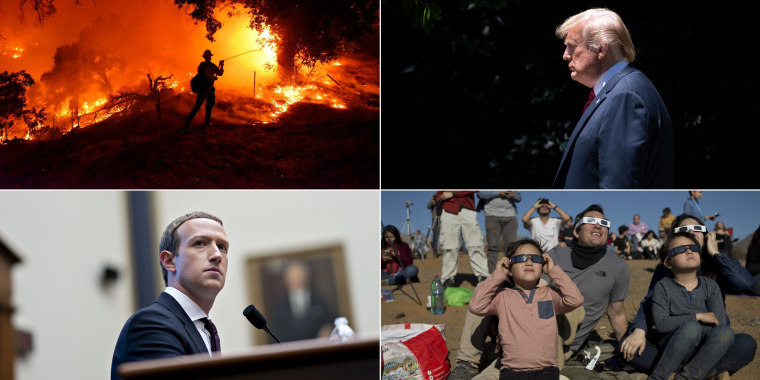 ---
Thanks for reading the Morning Rundown.
If you have any comments — likes, dislikes — drop me an email at: petra@nbcuni.com
If you'd like to receive this newsletter in your inbox Monday to Friday, please sign up here.
Thanks, Petra