Good morning, NBC News readers.
Today we have details on new Trump administration plans to detain migrants for longer, Amazonian rainforest fires and a 100-year-old nun.
Here's what we're looking at this morning:
---
Migrant children face more serious health risks due to longer detentions, groups warn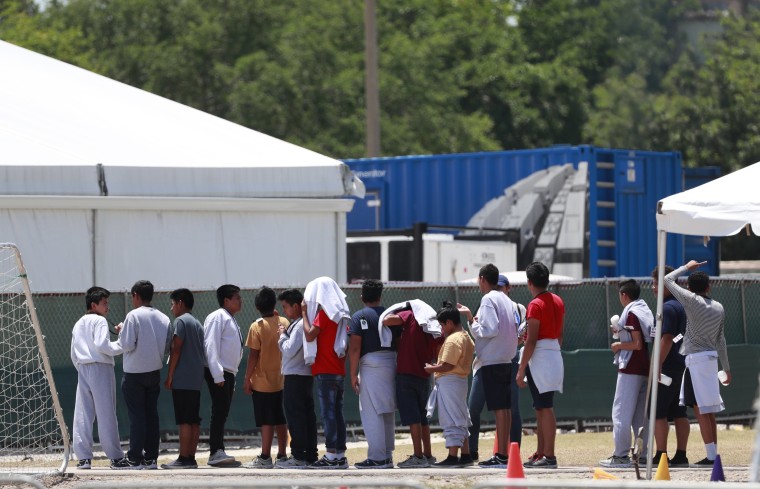 Government plans to hold migrants in detention for longer periods will increase health risks, immigrants' rights advocates have warned.
The White House said on Wednesday it intends to hold migrant families in detention for the length of their immigration proceedings, with no upper limit on the length of time they can be detained.
"Already, we have seen the harmful effects of the cruel conditions that resulted from the Trump administration illegally holding children in overcrowded and unsanitary border patrol facilities without access to basic needs and care," said Katie Hamm, vice president for Early Childhood Policy at The Center for American Progress.
At least seven migrant children have died in immigration custody under the Trump administration.
The government is also considering a new policy that would allow state and local jurisdictions to deny entry to refugees who have been approved for resettlement in the U.S., NBC News revealed on Wednesday.
---
Police avert possible mass shooting after hotel worker raised the alarm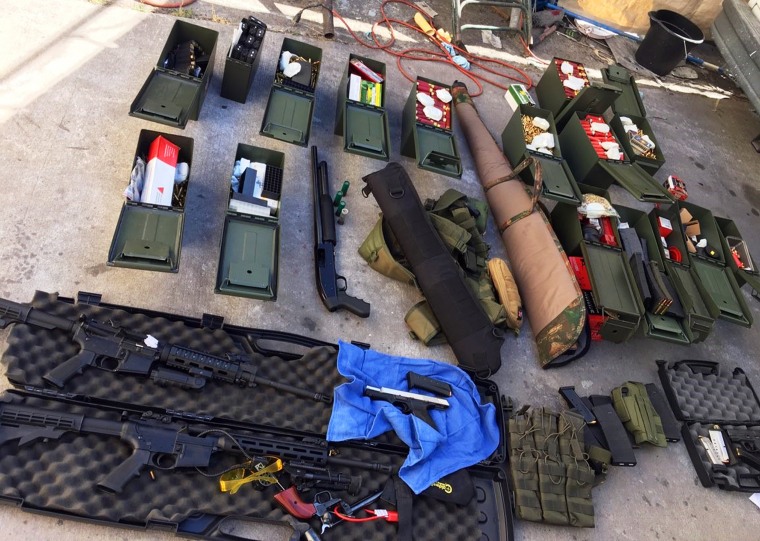 Police said a mass shooting may have been averted after a California hotel worker was arrested following a tip-off that he had threatened to shoot colleagues and customers.
Rodolfo Montoya, 37, was arrested at his home in Huntington Beach after an employee at the Marriott hotel in Long Beach raised the alarm. Officers said the warning likely saved lives.
Police seized high-powered weapons and hundreds of rounds of ammunition. Police chief Robert G. Luna said Montoya "had clear plans, intent and the means to carry out an act of violence."
---
Young, tech-savvy Iranians find ways to connect online despite restrictions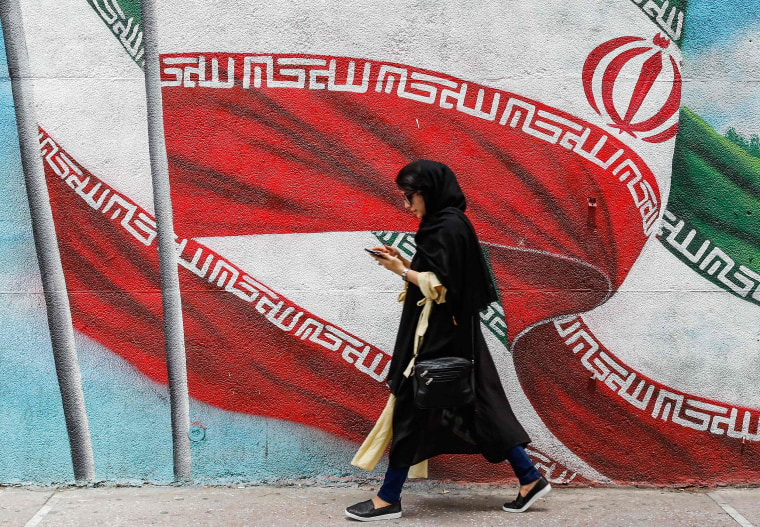 Iranians use social media to stay connected to the world, chat with friends and manage their businesses, just like millions of people across the world.
But they are doing it in the face of U.S. economic sanctions and strict regime rules that officially ban Twitter, Facebook and Telegram.
Iranians instead use virtual private networks to get around the ban, or use Instagram, which is allowed.
NBC News' Lester Holt heard stories from citizens and the country's communications minister on what social media means to them.
---
UPS employees suffer heat-related illnesses while working this summer
UPS workers convulsed, fainted and ended up in the ER during the hot weather this summer, according to interviews and medical records.
Sixteen employees of the delivery company told NBC News they have suffered heat illnesses so far this summer, highlighting the continued hazards UPS workers face as workloads ramp up in record temperatures.
Last month, NBC News revealed that more than 100 UPS employees had been hospitalized for serious heat-related injuries between 2015 and 2018.
A UPS spokesman said: "We care deeply about the health and safety of all our people."
---
Rainforest fires darken skies in Brazil, inspiring people to #prayforamazonia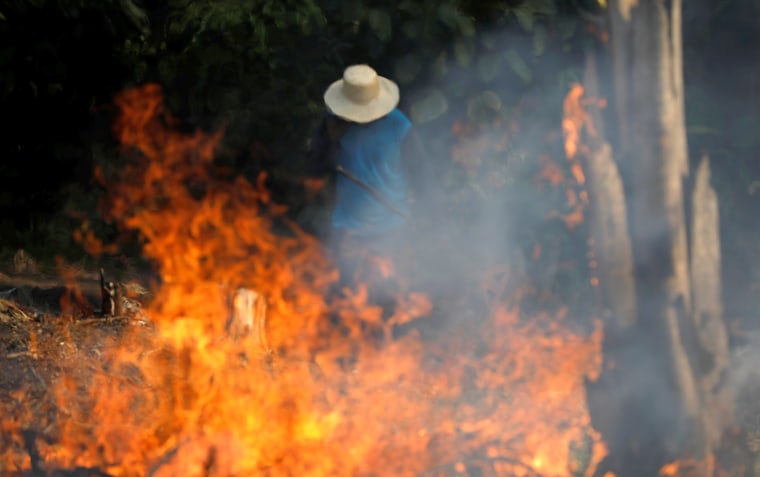 The fires burning in the Amazon rainforest are so large they can be seen from space.
The fires have come to worldwide attention in the last few days, fueled by the social media campaign #prayforamazonia.
Brazil's National Institute for Space Research said there had been an 84 percent increase in wildfires compared to the same period last year, a trend linked to deforestation.
---
Want to receive the Morning Rundown in your inbox? Sign up here.
---
Plus
---
THINK about it
The 2019 cast of "Dancing with the Stars" is revealed, including Sean Spicer, on "Good Morning America" (Lou Rocco / Walt Disney TV)
Dancing With the Stars has long been a popular place for well-known faces to rehabilitate their reputations or boost their images.
But former White House Press Secretary Sean Spicer, one of the contestants announced for the new season Wednesday, shouldn't get that chance, argues NBC News THINK contributor Kurt Bardella.
"The idea that someone who in six months made lying from the White House podium routine should be rewarded with a spot on one of the most watched programs on network television is an embarrassment to ABC and a slap in the face to journalists, many of whom work for that very network," he writes.
---
Science + Tech = MACH
The search for extraterrestrial life is one of humankind's biggest and most elusive quests.
And scientists hope a new mission to send a spacecraft to Jupiter's moon, Europa, could bring us closer to an answer.
NASA said on Wednesday it would move forward with its Europa Clipper mission, which aims to put a robotic spacecraft in orbit around the icy moon, which is considered one of the most likely places in the solar system to harbor alien life.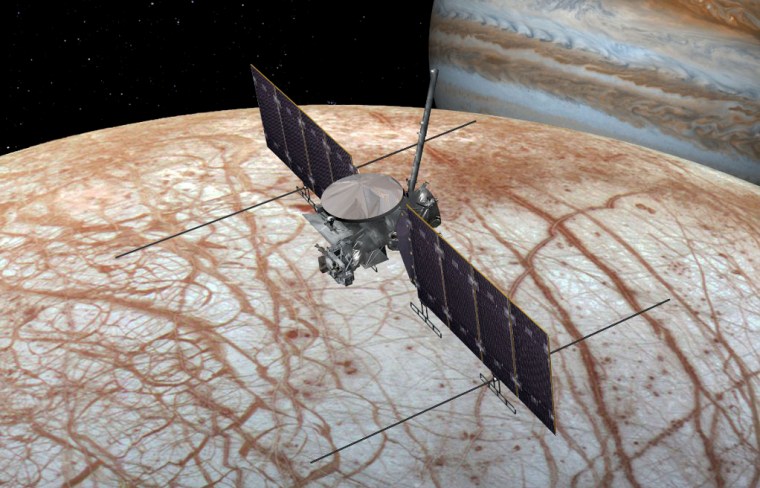 ---
Quote of the day
"Thank God that employee decided to bring that information forward."
— Long Beach Police Chief Robert G. Luna, on the tip-off that allowed police to seize a cache of weapons from a man suspected to be planning a mass shooting.
---
One fun thing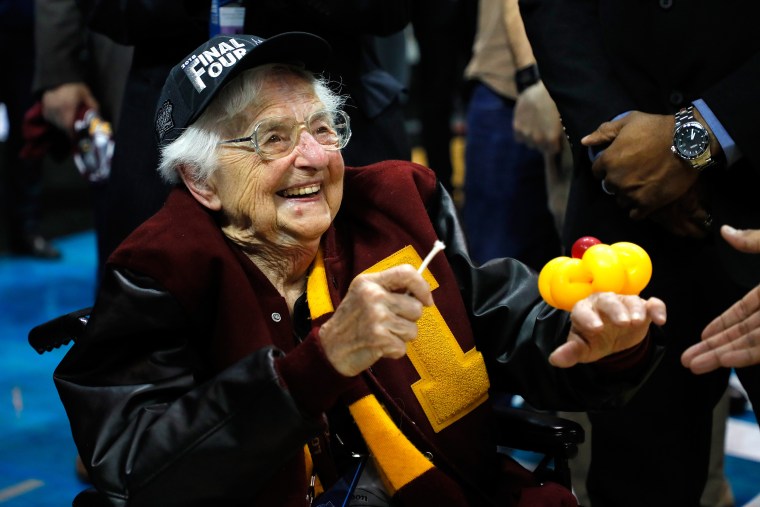 She's become an icon for fans of the Loyola Ramblers basketball team, of Loyola University Chicago, for her support and pre-game prayers.
And now Sister Jean Dolores Schmidt, popularly known as Sister Jean, is being celebrated for turning 100 on Wednesday.
Sister Jean found fame as the Ramblers' chaplain during the team's surprise run to the NCAA final four in 2018. Her sayings, such as "worship, work and win!" have been printed on officially licensed t-shirts.
"It's always a joy for to me to get up in the morning and say 'here's another day, thank God,'" she said.
---
Thanks for reading the Morning Rundown.
If you have any comments — likes, dislikes — drop me an email at: patrick.smith@nbcuni.com.If you'd like this newsletter sent to your inbox every week day, you can sign up here.
Thanks, Patrick Smith.