Good morning, NBC News readers.
Intel officials brief Congress that Russia will interfere again, some Democrats are torn on the eve of the Nevada caucuses, and Roger Stone is sentenced to prison.
Here's everything we're watching this Friday:
---
Trump angry after House briefed on Russia meddling in 2020 election on his behalf
Russia is seeking to meddle in the 2020 election to help President Donald Trump win again. That's what the the top U.S. intelligence official on election security told House lawmakers last week, according to one former official briefed on the matter.
Trump was so angry about the briefing to the House Intelligence Committee that he pushed aside his acting director of national intelligence, Joseph Maguire, the former official said.
These developments have caused serious concern among intelligence officials, one of whom said that the Office of the Director of National Intelligence "is nearing a meltdown."
On Wednesday the president announced that Richard Grenell would serve as his acting director of national intelligence, making him the first openly gay person in a Cabinet-level position.
Grenell is the architect of a U.S.-led effort to decriminalize homosexuality in the 68 countries where it is still illegal. But that effort has yielded little progress, according to advocates around the world.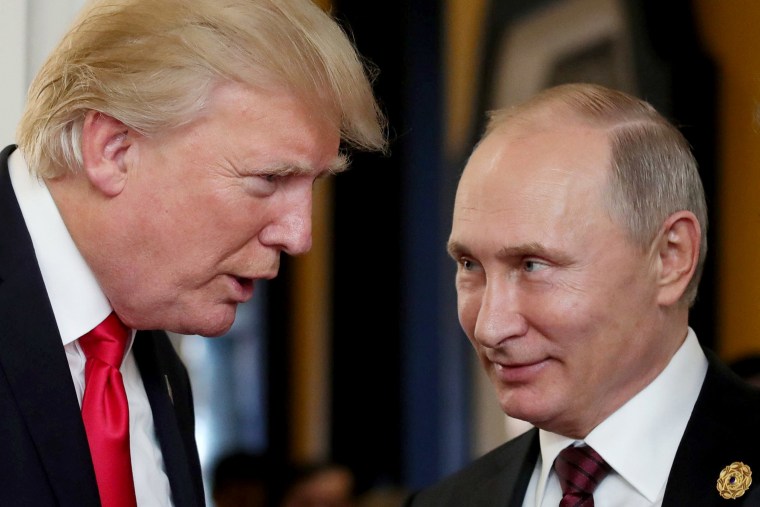 ---
Roger Stone has 'very good chance' of exoneration, Trump says after sentencing
Meanwhile the fallout from Russia's meddling in the 2016 presidential election continues, as longtime GOP operative and Trump ally Roger Stone was sentenced to 40 months in prison Thursday for obstructing a congressional investigation into the matter.
During a speech in Las Vegas after the sentencing, Trump said that Stone "has a very good chance of exoneration."
Stone's lawyers have filed a motion asking for a new trial.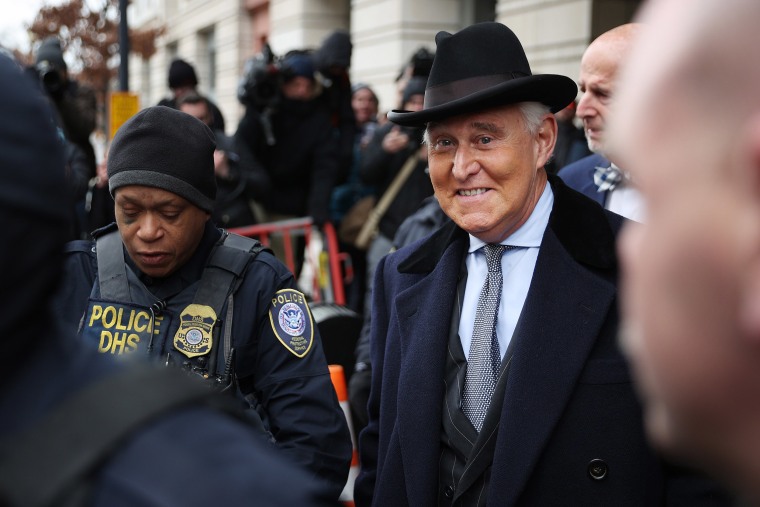 ---
Nevada voters torn between head and heart
The Nevada caucuses are almost upon us, as Democratic presidential hopefuls face their first test in a state with a significant non-white segment of its electorate. Here's everything you need to know about Saturday's battle.
According to almost two dozen interviews by NBC News on the ground, many caucusgoers find themselves torn: between choosing a candidate whose policies on key issues such as healthcare match their own, or simply going for who they see as the best person to beat Trump.
Mike Bloomberg, the billionaire former New York mayor, has positioned himself in the latter camp. He entered the race to consolidate votes among opponents of front-runner Sen. Bernie Sanders. But Bloomberg may have ended up fracturing that opposition instead, while reviving another progressive rival, Sen. Elizabeth Warren, by serving as her perfect foil.
Nevertheless, the latest filings show just how much money Bloomberg is spending on the race — some $7 million per day — dwarfing any comparable amount over such a short span during a presidential primary season.
Meanwhile Trump — whose supporters appeared to glue Make America Great Again hats to pigeons in Las Vegas — weighed in again on the Democratic race. "It looks like Bernie, doesn't it? It looks like Crazy Bernie," he said.
---
Want to receive the Morning Rundown in your inbox? Sign up here.
---
Plus
---
The week in pictures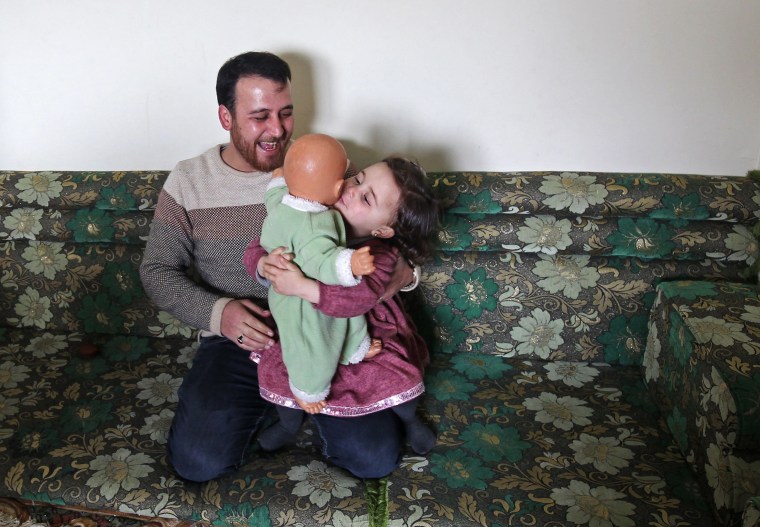 Video journalist Abdullah al-Mohammed sits with his 3-year-old daughter Salwa at their home in Syria's last rebel pocket in the Idlib province. In an attempt to shield her from the trauma of air strikes, Abdullah invented a game in which he teaches Salwa to laugh, rather than be terrified, at the noise. His video of the game went viral online this week.
---
THINK about it
Rosario Dawson coming out as LGBTQ is a chance to talk about what queerness really means, says writer Trish Bendix in an opinion piece.
---
Live BETTER
NBC News' Stephanie Ruhle explains why couples should consider a prenuptial agreement and how it could protect your financial future.
---
Shopping
These are the 40 best African American books, according to the NAACP.
---
Quote of the day
"And the winner is a movie from South Korea — what the hell was that all about? ... You know, I'm looking for like — let's get 'Gone with the Wind.'"
— At a rally in Colorado, Trump takes issue with the widely acclaimed South Korean movie "Parasite" winning best picture and a slew of other awards at the Oscars this year.
---
One inspirational thing
Meet Honorary Officer Carter Escobar of the Fort Worth Police Department. The 9-year-old was sworn into the force, checking another item off his bucket list as he fights a rare cancer. Also on the list: He's ridden in a Ferrari and got a shout-out from NBA legend Shaquille O'Neal.
---
Thanks for reading the Morning Rundown.
If you have any comments — likes, dislikes — drop me an email: alexander.smith@nbcuni.com. If you would like to receive the Morning Rundown in your inbox Monday to Friday, please sign up here.
Thanks, Alexander Smith
Good morning, NBC News readers.Intel officials brief Congress that Russia will interfere again, some Democrats are torn on the eve of the Nevada caucuses, and Roger Stone is sentenced to prison.Here's everything we're watching this Friday:Trump angry after House briefed on Russia meddling in 2020 election on his behalfRussia is seeking to meddle in the 2020 election to help President Donald Trump win again. That's what the the top U.S. intelligence official on election security told House lawmakers last week, according to one former official briefed on the matter.Trump was so angry about the briefing to the House Intelligence Committee that he pushed aside his acting director of national intelligence, Joseph Maguire, the former official said.These developments have caused serious concern among intelligence officials, one of whom said that the Office of the Director of National Intelligence "is nearing a meltdown."On Wednesday the president announced that Richard Grenell would serve as his acting director of national intelligence, making him the first openly gay person in a Cabinet-level position.Grenell is the architect of a U.S.-led effort to decriminalize homosexuality in the 68 countries where it is still illegal. But that effort has yielded little progress, according to advocates around the world.Trump chats with Russia's President Vladimir Putin in the central Vietnamese city of Danang in November 2017.Mikhail Klimentyev/AFP - Getty Images fileRoger Stone has 'very good chance' of exoneration, Trump says after sentencingMeanwhile the fallout from Russia's meddling in the 2016 presidential election continues, as longtime GOP operative and Trump ally Roger Stone was sentenced to 40 months in prison Thursday for obstructing a congressional investigation into the matter.During a speech in Las Vegas after the sentencing, Trump said that Stone "has a very good chance of exoneration."Stone's lawyers have filed a motion asking for a new trial.Stone leaves the Federal District Court for the District of Columbia after being sentenced Thursday.Chip Somodevilla/GettyNevada voters torn between head and heartThe Nevada caucuses are almost upon us, as Democratic presidential hopefuls face their first test in a state with a significant non-white segment of its electorate. Here's everything you need to know about Saturday's battle.According to almost two dozen interviews by NBC News on the ground, many caucusgoers find themselves torn: between choosing a candidate whose policies on key issues such as healthcare match their own, or simply going for who they see as the best person to beat Trump.Mike Bloomberg, the billionaire former New York mayor, has positioned himself in the latter camp. He entered the race to consolidate votes among opponents of front-runner Sen. Bernie Sanders. But Bloomberg may have ended up fracturing that opposition instead, while reviving another progressive rival, Sen. Elizabeth Warren, by serving as her perfect foil.Nevertheless, the latest filings show just how much money Bloomberg is spending on the race — some $7 million per day — dwarfing any comparable amount over such a short span during a presidential primary season.Meanwhile Trump — whose supporters appeared to glue Make America Great Again hates to pigeons in Las Vegas — weighed in again on the Democratic race. "It looks like Bernie, doesn't it? It looks like Crazy Bernie," he said.Want to receive the Morning Rundown in your inbox? Sign up here.Plus A seven-day reduction in violence between U.S. and Afghan forces and the Taliban will begin later today, leading to a broader agreement if it holds. The mayor of a South Korean city said it was facing an "unprecedented crisis" after a series coronavirus infections linked to a single church service.A Michigan man was arrested for sending an email threatening to hunt down an attorney for the whistleblower whose complaint was at the heart of Trump's impeachment trial.The Pentagon's communications hub suffered a potential breach of service members' personal data.Apple has won a restraining order against a man it accuses of being an "aggressive" stalker, harassing CEO Tim Cook and other executives.The University of Southern California plans to offer free tuition to students whose family incomes are less than $80,000 a year.The mother of two missing children was arrested in Hawaii on a $5 million warrant from Idaho.The week in pictures— Abdulaziz Ketaz / AFP - Getty ImagesVideo journalist Abdullah al-Mohammed sits with his 3-year-old daughter Salwa at their home in Syria's last rebel pocket in the Idlib province. In an attempt to shield her from the trauma of air strikes, Abdullah invented a game in which he teaches Salwa to laugh, rather than be terrified, at the noise. His video of the game went viral online this week.THINK about it Rosario Dawson coming out as LGBTQ is a chance to talk about what queerness really means, says writer Trish Bendix in an opinion piece.Live BETTER NBC News' Stephanie Ruhle explains why couples should consider a prenuptial agreement and how it could protect your financial future.ShoppingThese are the 40 best African American books, according to the NAACP.Quote of the day"And the winner is a movie from South Korea — what the hell was that all about? ... You know, I'm looking for like — let's get 'Gone with the Wind.'"— At a rally in Colorado, Trump takes issue with the widely acclaimed South Korean movie "Parasite" winning best picture and a slew of other awards at the Oscars this year.One inspirational thing Meet Honorary Officer Carter Escobar of the Fort Worth Police Department. The 9-year-old was sworn into the force, checking another item off his bucket list as he fights a rare cancer. Also on the list: He's ridden in a Ferrari and got a shout-out from NBA legend Shaquille O'Neal.Thanks for reading the Morning Rundown.Today's my last day covering for Petra Cahill, who is back next week from her well-deserved break. If you have any comments — likes, dislikes — drop me an email: alexander.smith@nbcuni.com.If you're a fan, please forward it to your family and friends. They can sign-up here.Thanks, Alexander Smith