Good morning, NBC News readers.
Former special counsel Robert Mueller will take the hot seat this morning when he testifies before Congress.
Here's what we're watching today.
---
Mueller to answer questions on nearly two-year Russia probe for first time
Four months after he sent his report on Russian interference in the 2016 election and the Trump campaign to Attorney General William Barr, Robert Mueller will testify publicly today about what his investigators did — and didn't — find.
---
'This is just the beginning': ICE deportation operation starts
Immigration and Customs Enforcement arrested 35 people as part of an operation targeting families with deportation orders, officials said Tuesday, a number far lower than the 2,000 targeted in the highly publicized raids touted by Trump.
When asked about the low arrest rate, ICE Acting Director Matthew Albence said, "This is just the beginning of the operation."
ICE agents are under fire for smashing the driver's side window of a Missouri man, dragging him out and arresting him in a violent confrontation caught on tape Monday.
---
Britain's new prime minister now has to fix the Brexit mess he helped create
Today will mark the end of one era in British politics and the start of a new one.
Theresa May will face her final prime minister's questions in the House of Commons at 7 a.m. ET before she heads off to Buckingham Palace to tender her resignation to the queen.
Boris Johnson will then meet with the queen and she will invite him to form his government.
But the populist Conservative leader is not in for an easy ride. He faces perhaps the most daunting immediate challenge of any incoming British prime minister since Winston Churchill during World War II.
From Brexit to Iran, here's a look at the main challenges he'll face.
---
'Put down your swords': Senate passes 9/11 victims' fund bill
The Senate passed a bill Tuesday to ensure that a fund to compensate victims of the Sept. 11 terror attacks never runs out of money — and that first responders won't have to return to Congress to beg for more funding.
The vote came after intense lobbying from ailing 9/11 first responders — including one who died shortly after testifying before Congress last month.
"I'm hopeful that today begins the process of being able to heal without the burden of having to advocate," comedian Jon Stewart said.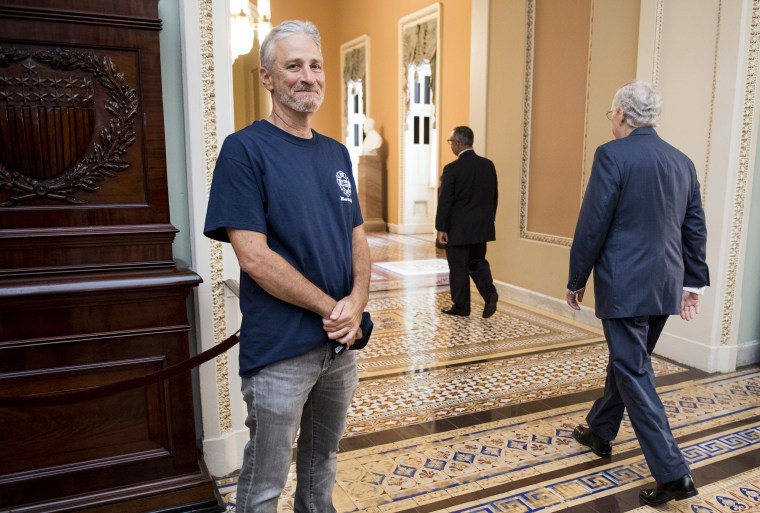 ---
'Agitated' bison charges girl at Yellowstone and sends her flying
A 9-year-old Florida girl was injured after a bull bison charged her and sent her flying into the air at Yellowstone National Park on Monday.
The unidentified girl was with a group of people in the Old Faithful Geyser area of the park in Wyoming.
The park service said the girl was "treated by a park emergency medical providers" and later released, but did not elaborate on the extent of the girl's injuries.
---
Want to receive the Morning Rundown in your inbox? Sign up here.
---
Plus
---
THINK about it
"Once Upon a Time in Hollywood" is a three-hour reminder of Quentin Tarantino's blind spots, critic Noah Berlatsky writes in an opinion piece.
---
Science + Tech = MACH
It's not just you thinking this summer is hotter than ever. An "unmistakable" climate trend is set to deliver Earth's hottest month on record, experts say.
---
Live BETTER
Here's how to start a side hustle to make money without quitting your job. (Video)
---
Quote of the day
"What I'm going to miss the most about D.C. is — nothing."
— Sept. 11th victims' advocate John Feal after the Senate passed the funding bill
---
One fun thing
One year from now, some 11,000 athletes will be in Tokyo for the start of the summer Olympics.
Here are some of the Team USA athletes to watch.
---
Thanks for reading the Morning Rundown.
If you have any comments — likes, dislikes — drop me an email at: petra@nbcuni.com
If you'd like to receive this newsletter in your inbox Monday to Friday, please sign up here.
Thanks, Petra