Good morning, NBC News readers.
North Carolina's special election, an alleged Russian spy on U.S. soil, and a happy homecoming at Fenway Park.
Here's what we're watching today
---
North Carolina's special election could show fault lines in Trump's coalition
Voters in North Carolina's 9th Congressional District are heading to the polls today for a special election that's being viewed as a bellwether for 2020.
The race between Republican Dan Bishop and Democrat Dan McCready, prompted by absentee ballot fraud in the 2018 election, should be a shoo-in for Bishop — who is running in a district Trump won by 12 points in 2016.
Instead, it's a dead heat, fueling jitters among Republicans still reeling from heavy losses in the House of Representatives in 2018.
The concerns are so great that President Donald Trump put his own political capital on the line by holding a campaign rally for Bishop last night.
NBC News' National Political Correspondent Steve Kornacki writes that the Charlotte-area congressional district race could serve as a canary in the GOP's coal mine ahead of the 2020 presidential election.
---
Death toll from Dorian climbs in Bahamas
Hurricane Dorian's death toll in the Bahamas climbed to 50 on Monday as more deaths were reported from the storm that plowed through the country last week, officials said.
Thousands of people remain missing, and relief efforts were underway on the battered islands.
"The situation is pretty dire here," Kristoff Strachan, a college student on Grand Bahama said over the weekend. "It's just a lot of people trying to get out."
President Trump on Monday dismissed the idea of allowing Bahamians fleeing Dorian's destruction into the United States on humanitarian grounds.
"We have to be very careful," Trump said on the White House South Lawn. "I don't want to allow people that weren't supposed to be in the Bahamas to come into the United States, including some very bad people."
---
Possible Russian spy for CIA now living in Washington area
A former senior Russian official, who had a job with access to secrets, is living in the Washington area under U.S. government protection, current and former government officials tell NBC News.
NBC News is withholding the man's name and other key details at the request of U.S. officials, who say reporting the information could endanger his life.
The discovery of the Russian's presence in the U.S. came after a CNN report asserting the CIA exfiltrated one of its top spies from Russia after officials became concerned he was in danger of being caught.
The New York Times reported the informant was instrumental to the agency's conclusion that Vladimir Putin ordered and orchestrated the campaign to interfere in the 2016 election.
---
British Parliament rejects Boris Johnson's call for an early election, again
Britain's embattled Prime Minister Boris Johnson suffered yet another political defeat on Monday as he failed for a second time to convince lawmakers to back his call for an election to solve the Brexit deadlock.
A new law also went into effect on Monday blocking Johnson from pursuing a "no deal" exit from the European Union this year.
With Parliament now suspended until mid-October, thanks to earlier political machinations by the prime minister, it's unclear where the Brexit saga will head next.
---
Want to receive the Morning Rundown in your inbox? Sign up here.
---
Plus
---
THINK about it
Trump's Twitter feud with supermodel Chrissy Teigen is as lopsided as it is revealing, Ani Bundel writes in an opinion piece.
---
Science + Tech = MACH
Here's why the Amazon rainforest is so important — for all of us.
---
Live BETTER
How to edit your own resume (and land the job).
---
One fun thing
"Big Papi" is back.
Former Red Sox slugger David Ortiz threw the ceremonial first pitch at Fenway Park in Boston on Monday evening, his first return to the park since being shot in the Dominican Republic in June.
The three-time World Series winner was met with thunderous applause from fans before the Red Sox played their arch rivals, the New York Yankees.
"First of all, I want to thank God for giving me a second opportunity in my life to be able to be here with all of you," Ortiz said. "I want to thank the Red Sox, my real family. They have always been there for me, supporting me."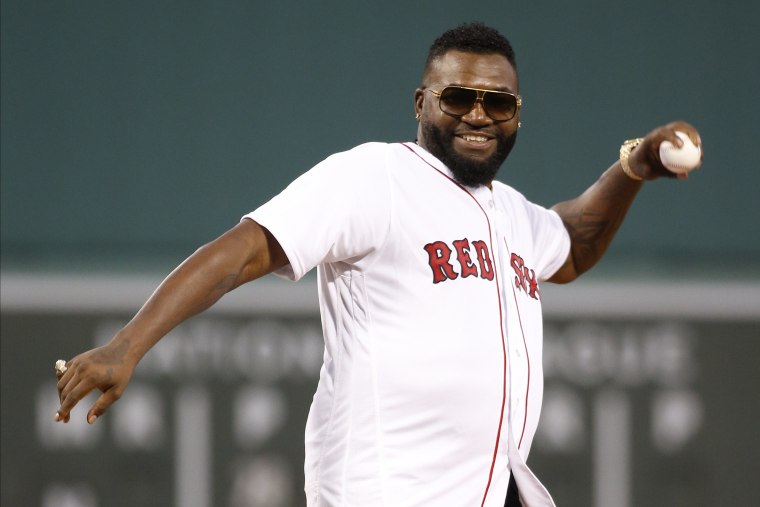 ---
Thanks for reading the Morning Rundown.
If you have any comments — likes, dislikes — drop me an email at: petra@nbcuni.com If you're a fan, please forward it to your family and friends. They can sign-up here.
Thanks, Petra