Good morning, NBC News readers.
The nursing home industry is pushing for legal immunity from lawsuits during the coronavirus crisis, British Prime Minister Boris Johnson is back on the job, and one top U.S. health official warned that this will be no ordinary summer.
Here's what we're watching this Monday morning.
---
Nursing homes push for legal immunity
As the COVID-19 death toll at nursing homes in the United States climbs to nearly 12,000, the care industry is pushing states to provide immunity from lawsuits to the owners and employees of the nation's 15,600 nursing homes.
So far at least six states have provided explicit immunity from coronavirus lawsuits for nursing homes, and six more have granted some form of immunity to health care providers, which legal experts say could likely be interpreted to include nursing homes.
But patient advocates worry that nursing homes accused of extreme neglect could avoid liability.
"I can't even believe this is a topic of discussion," said the daughter of a woman who was a resident of the New Jersey care facility where law enforcement discovered 17 bodies in a makeshift morgue earlier this month.
Here are some other major developments from the weekend:
---
Veterans Affairs has provided few answers around coronavirus study, advocates say
Veterans advocates say they are frustrated at the lack of transparency around the Department of Veterans Affairs' use of the unproven drug hydroxychloroquine as a treatment for the coronavirus.
After the release of a preliminary study of veterans hospitalized with COVID-19 last week that showed that hydroxychloroquine — an anti-malaria drug touted by President Donald Trump — had no benefit and caused a greater rate of deaths, the groups want answers and are worried that they may have been misled by the agency on its recent purchase of the drug.
"Why were veterans who were receiving treatment from a federal agency being treated with an unproven and speculative drug?" Jeremy Butler, CEO of Iraq and Afghanistan Veterans of America, asked in a statement.
---
Small businesses say they need more than two months of help to survive
Even as a new round of billion-dollar relief hits Main Street this week, some small-business owners fear that the money still isn't enough— and that it comes with so many strings attached that it won't help their long-term survival.
The latest version of the Paycheck Protection Program, or PPP, is expected to provide $310 billion more to help limit the economic meltdown caused by the coronavirus pandemic.
But some small business owners say the restrictions on how and when the funds are used are too strict and could hinder their efforts at long-term survival.
---
As first deadline approaches, Biden and Trump begin delicate dance on transition
It may seem early, but federal law mandates that by Sunday the apparent Democratic presidential nominee, Joe Biden, and aides to the president he hopes to unseat must begin planning for a possible transition of power after the November election.
Officials from agencies involved in transition planning said they will follow the law and start the process with Biden on schedule.
There are concerns among Democrats, however, that President Donald Trump might try to impede preparations for potentially handing over the office after serving one term, given his distrust of career government officials who would be critical to the process and his past musings that election results could be rigged against him.
"Because of the size of the task and because of the moment, this is the most important transition period since 1932," said David Marchick, director of the Center for Presidential Transition, a nonprofit organization that has advised presidential nominees and administrations about the process.
---
Want to receive the Morning Rundown in your inbox? Sign up here.
---
Plus
---
THINK about it
Journalism is under attack from coronavirus and Trump. But we're winning, chairman of NBC News and MSNBC Andy Lack writes in an opinion piece.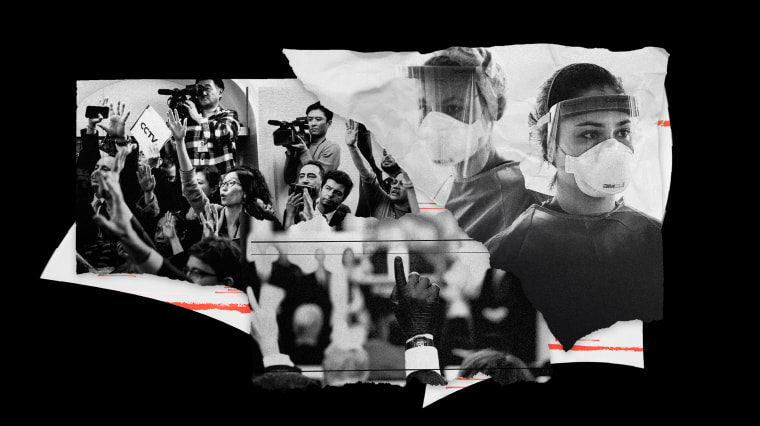 ---
Shopping
Stylists on the best products for natural hair.
---
Quote of the day
"If this virus were a physical assailant, an invisible and unexpected mugger, which I can tell you from personal experience it is, then this is the moment when we have begun together to wrestle it to the floor."
— British Prime Minister Boris Johnson on Monday resuming work three weeks after being admitted to an intensive care unit for COVID-19.
---
One fun thing
Dr. Anthony Fauci jokingly said on CNN that Brad Pitt should play him on "Saturday Night Live" weeks ago. On Saturday night, the show delivered.
Pitt hosted the second stay-at-home edition of "SNL," taking the opportunity to play Fauci, director of the National Institute of Allergy and Infectious Diseases and one of the nation's most prominent voices on the pandemic.
After thanking all the older women in America for sending "supportive, inspiring and sometimes graphic emails" Pitt's Fauci went on to say there had been a lot of misinformation about the virus so he was there to "explain what the president was trying to say."
Pitt closed out by taking off his wig and expressing a heartfelt sentiment felt by many: "To the real Dr. Fauci, thank you for your calm and your clarity in this unnerving time. Thank you to the medical workers, first responders and their families for being on the frontline."
---
Thanks for reading the Morning Rundown.
Hope you had a good weekend and were able to spend some time with family and friends — at Zoom-like safe distance.
Please send me any comments or questions you have on the newsletter: petra@nbcuni.com
And if you'd like to receive this newsletter Monday to Friday, please sign-up here.
Be safe and stay healthy, Petra Cahill