Good morning, NBC News readers.
A panel of federal judges will weigh the fate of Obamacare today, President Donald Trump has escalated the diplomatic spat with one of America's closest allies and we have a special report on how climate change is contributing to the crisis at the U.S. border.
Here's what we're watching today.
---
Federal judges weigh fate of Obamacare as Trump tries to gut the law
A panel of federal judges in New Orleans takes up the future of Obamacare on Tuesday, hearing from states that say it's unconstitutional and from Justice Department lawyers directed by President Donald Trump to oppose the entire law, too.
At the heart of the controversy is the individual mandate — the requirement that all Americans buy health insurance or face a tax penalty, NBC News' Justice Correspondent Pete Williams explains.
The case could eventually make its way to the Supreme Court.
But a victory for Obamacare's opponents could turn out to be a mixed blessing for Republicans, placing healthcare front and center during the 2020 election.
---
Sen. Mitch McConnell's ancestry brings reparations issue close to home
Senate Majority Leader Mitch McConnell, who recently said he opposes paying government reparations to the descendants of American slaves, has a family history deeply entwined in the issue: Two of his great-great-grandfathers owned a total of 14 slaves in Limestone County, Alabama, U.S. census records show.
The details about McConnell's ancestors, discovered by NBC News through a search of ancestry and census records, came in the wake of recent House hearings on reparations.
Asked about the reparations issue, McConnell, R-Ky., said he was opposed to the idea, arguing it would be hard to figure out whom to compensate.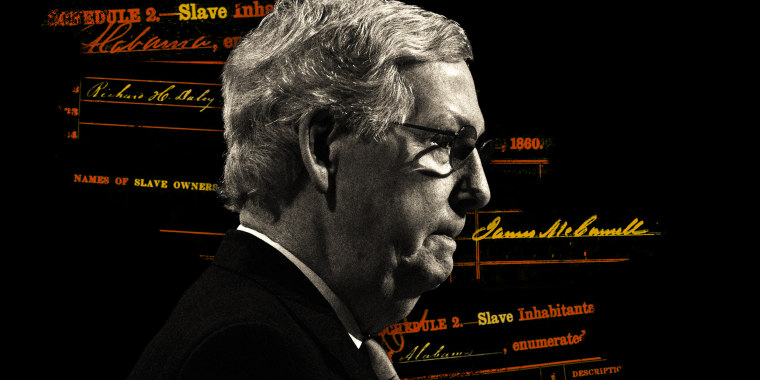 ---
Central America's choice: Pray for rain or migrate
Farmers in rural Honduras and Guatemala are living on the edge of hunger, not knowing if the next harvest will come.
Their crops have been decimated by a yearslong drought driven by climate change — which has contributed to a rise in migration to the U.S.
Farmers who spoke to NBC News and InsideClimate News for a special report worry that they'll soon have no other option but to leave their villages.
"This community lives because of water," said a longtime farmer in El Rosario, Honduras.
---
British officials scramble to stem diplomatic spat
In an angry broadside against one of America's closest allies, Trump said he would "no longer deal" with the British ambassador to the U.S. following an embarrassing diplomatic leak.
"I do not know the ambassador, but he is not liked or well thought of within the U.S.," Trump tweeted of the ambassador, Kim Darroch. "We will no longer deal with him."
Trump also lashed out at outgoing Prime Minister Theresa May who hosted him during a state visit last month.
The scathing comments came as British officials try to stem the spat that is threatening to complicate Anglo-U.S. relations at a time when the United Kingdom needs the White House's support.
---
Jeffrey Epstein charged with sex trafficking victims as young as 14
An "extraordinary volume" of photographs featuring nude or partially nude young girls was confiscated from the New York City home of Jeffrey Epstein, federal prosecutors revealed Monday. A newly unsealed indictment accused the multimillionaire financier of exploiting a "vast network" of underage victims for sex.
The wealthy hedge fund manager's arrest has drawn attention to a 2008 non-prosecution agreement that allowed him to dodge more serious charges by federal authorities.
The deal widely criticized as too lenient was agreed to by former Miami U.S. Attorney Alexander Acosta, who is now Trump's labor secretary.
---
Want to receive the Morning Rundown in your inbox? Sign up here.
---
Plus
---
THINK about it
Economic mobility is a myth, whatever the presidential candidates say, Evan Horowitz, director of a research at a financial think tank, writes in an opinion piece.
---
Science + Tech = MACH
Twitter has helped reveal the deadly toll ocean plastic is taking on sharks and rays.
---
Live BETTER
How regularly sprinting and kicking a soccer ball just like he did as a kid helped a 68-year-old man lose 40 pounds and put a spring back in his step.
---
Quote of the day
"He didn't die of an illness — he died of need. Because there is nothing."
— Tránsito Gutiérrez, a Guatemalan woman whose 16-year-old son Juan de León Gutiérrez migrated to the U.S. to find work and died in U.S. custody.
---
One fun thing
The ratings are in: More people watched the Women's World Cup final than last year's men's final.
With more than 17.8 million views across various platforms, Sunday's final was the most-watched soccer event in the U.S. since the last time the American women competed in the World Cup final in 2015.
The ratings win is another notch in the women's battle for equal pay with their male counterparts.
Advertisers should take note, said Shelley Zalis, chief executive officer of the Female Quotient, an organization that promotes gender equality in business.
"The women players are champions on and off the field," she said.
---
Thanks for reading the Morning Rundown.
If you have any comments — likes, dislikes — drop me an email at: petra@nbcuni.com
If you'd like to receive this newsletter in your inbox Monday to Friday, please sign up here.
Thanks, Petra