Good morning, NBC News readers.
After a royal welcome on Monday, including a lavish white-tie banquet at Buckingham Palace, President Donald Trump will get down to business today.
Here's what we're watching.
---
Policy and protests
Trump's agenda on Tuesday is more politics than pageantry.
He participated in a business round table discussion at St. James's Palace this morning and will meet outgoing Prime Minister Theresa May at her office in 10 Downing Street.
The leaders are expected to discuss trade and security, and both sides seem to be eager to strike a bilateral trade deal as Brexit looms.
The two leaders are scheduled to hold a joint news conference at around 8:45 a.m. ET. (You can watch live on NBC, MSNBC and NBCNews.com).
The meetings will take place as tens of thousands of anti-Trump protesters are gathering in central London. (You can follow live updates on the protests here).
Even before his arrival, Trump inserted himself into British politics. But by jumping into the domestic politics of other countries, he appears to be giving a "green light" to foreigners who may want to influence his re-election effort, NBC's Jonathan Allen writes in a news analysis.
Getting back to the pomp and circumstance, see Trump's state visit so far in pictures here.
---
Migrant children stuck at border stations because of overcrowding
Migrant children at the Southwest border are increasingly finding themselves caught in a bureaucratic purgatory, stuck sleeping on concrete benches or even outside at Border Patrol stations because of overcrowding.
Officials have warned that there could be more deaths of children at border stations if Health and Human Services, the agency responsible for sheltering migrant children and matching them with a parent or sponsor, does not increase its capacity.
The agency is currently operating at 97 percent capacity, far over its designated "red zone" of 90 percent.
Meantime, a botched family reunification left a group of migrant children stuck spending two nights — 39 hours — stuck in a van, NBC News' Jacob Soboroff and Julia Ainsley report.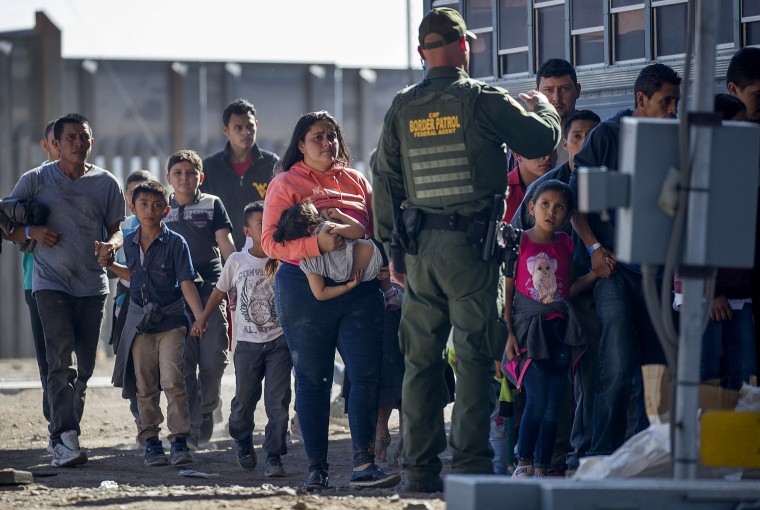 ---
The day that changed modern China
Tanks rolled into Beijing's Tiananmen Square 30 years ago today as the Chinese government tried to stop protesters demanding democracy.
While there's no confirmed death toll, it is believed that anywhere between hundreds of people to several thousand were killed.
But the iconic image of a protester standing in front of a tank is illegal in China. The massacre has been scrubbed from the history books and the Internet so thoroughly that many young Chinese don't even know it happened.
In a rare comment, China's defense minister defended the bloody crackdown on Sunday, saying the the response was "correct."
Richard Engel, NBC News chief foreign correspondent, reports on the unprecedented surveillance state China has created to prevent another rebellion.
---
Want to receive the Morning Rundown in your inbox? Sign up here.
---
Plus
---
Science + Tech = MACH
Spacecraft that sail on sunshine could be the next big thing.
---
Live BETTER
There's now less stigma around living with your parents into your 20s, but at what age does it start to become embarrassing?
---
One fun thing
Some people get the political bug early.
Mayor of South Bend, Indiana, and Democratic presidential candidate Pete Buttigieg participated in an MSNBC "Hardball" town hall hosted by Chris Matthews on Tuesday.
But it wasn't his first time on Hardball.
Back in 2003, Buttigieg asked another presidential candidate, Rep. Dick Gephardt, a question about young voters during a Hardball College Tour event at Harvard.
Gephardt's advice — for young people to "get involved in public life" — seemed to have an impact on the undergrad.
---
Thanks for reading the Morning Rundown.
If you have any comments — likes, dislikes — drop me an email at: petra@nbcuni.com
If you'd like to receive the Morning Rundown in your inbox Monday to Friday, please sign-up here.
Thanks, Petra