Good morning, NBC News readers.
A top diplomat's "explosive" impeachment testimony, Russia and Turkey strike a deal on Syria as the U.S. withdraws, and outrage over President Donald Trump's "lynching" tweet.
Here's what we're watching today.
---
Top diplomat testifies that Trump linked U.S. military aid to investigations
Bill Taylor, the top U.S. envoy in Ukraine, told members of Congress Tuesday that President Donald Trump directed officials to tie U.S. military aid to demands that the country open an investigation into the Biden family and the 2016 election.
Taylor's testimony directly contradicts denials of a quid pro quo from Trump and his Republican allies.
"I found a confusing and unusual arrangement for making U.S. policy towards Ukraine. There appeared to be two channels of U.S. policy-making and implementation, one regular and one highly irregular," Taylor told lawmakers, according to a copy of his 15-page opening statement provided to NBC News.
Taylor, a West Point graduate who served as ambassador to Ukraine under former President George W. Bush, called out Trump's personal lawyer Rudy Giuliani and said "that the official foreign policy of the United States was undercut by the irregular efforts led by Mr. Giuliani."
Democrats emerging from the nine-hour deposition Tuesday, called it "explosive" and "disturbing." Rep. Debbie Wasserman Schultz, D-Fla., said that it drew a "direct line" between the president's demand for an investigation by the Ukrainians into his political rivals and U.S. military aid.
Here are some of the highlights from his testimony that could prove to be a watershed moment in the impeachment inquiry.
Looking for more news and analysis on the impeachment inquiry? Check out a new podcast with NBC News' Steve Kornacki on the latest developments and why they matter.
---
Russia and Turkey carving out new map of Syria as U.S. troops leave
Russia's Vladimir Putin and Turkish President Recep Tayyip Erdogan spent hours poring over maps of Syria in the Black Sea resort of Sochi on Tuesday, carving up Syrian territory into different geopolitical spheres of influence.
The pair agreed to a deal designed to keep Kurdish forces away from the Syria-Turkey border, enforced by joint Russian and Turkish patrols starting next week. U.S. troops are continuing their journey out of Syria, headed for western Iraq.
The deal came as the five-day pause in fighting brokered by the U.S. expired — but Turkey now says the deal means hostilities need not resume.
The Russia-Turkey 10-point plan was succinct but will have wide-reaching ramifications for the region as well as those embroiled in this latest Syrian drama.
Meantime, Trump has invited Erdogan to the White House for a visit in November. The last time the Turkish leader came to the U.S. his security officials viciously beat peaceful protesters outside the Turkish ambassador's home in Washington, D.C.
Murat Yasa bears the scars from that attack, but the Kurdish-American activist plans to return to the nation's capital to protest again.
"As long as I breathe, as long as I live, I am not going to give up to the dictators," Yasa told NBC News.
---
Lawmakers express outrage over Trump 'lynching' tweet
Trump has called the House impeachment inquiry a "coup," a "witch hunt" and a "fraud," but he introduced a new phrase to describe the process on Tuesday: "a lynching."
The president's use of the term, which evokes a time when black Americans were murdered by extrajudicial white mobs, was the subject of immediate blowback.
"You think this impeachment is a LYNCHING?" Rep. Bobby Rush, D-Ill., tweeted. "What the hell is wrong with you? Do you know how many people who look like me have been lynched, since the inception of this country, by people who look like you. Delete this tweet."
---
Massive Pennsylvania factory layoff foreshadows Trump 2020 troubles
A manufacturing recession may already be under way in vulnerable swing states, challenging President Donald Trump's campaign promise to deliver blue collar jobs to his base.
Out of the 21 states with manufacturing job losses so far this year, some of those experiencing the greatest percentage declines are states where Trump won by less than 5 percentage points.
In Pennsylvania, the manufacturing sector lost 8,100 jobs. In North Carolina, it was 7,700 from that sector; and Wisconsin lost 6,500 jobs.
The closure of Wood-Mode, a 77-year-old family-owned factory known for making the "Cadillac" of custom cabinets in rural Kreamer, Pennsylvania, is emblematic of problems facing the manufacturing sector.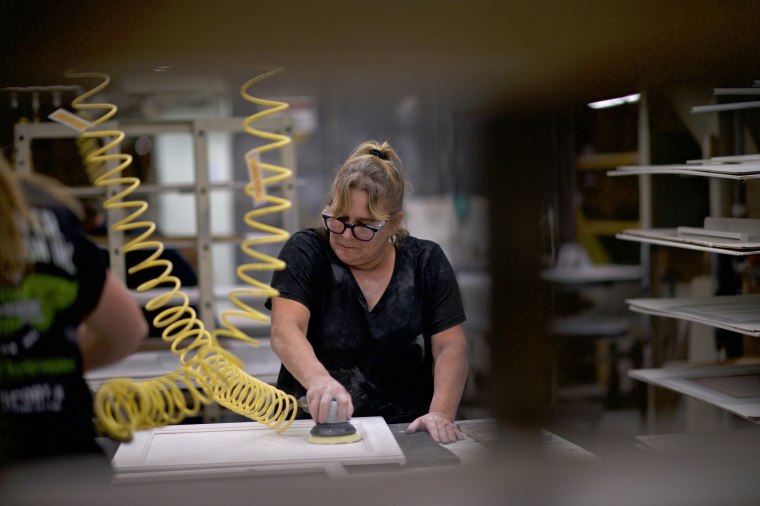 ---
Want to receive the Morning Rundown in your inbox? Sign up here.
---
Plus
---
THINK about it
When former generals like Secretary of Defense Gen. James Mattis and retired Adm. William McRaven go against entrenched military traditions and criticize the president, something is really wrong, Col. Jake Jacobs, Medal of Honor recipient and NBC/MSNBC military analyst, writes in an opinion piece.
---
Live BETTER
Wharton psychologist Adam Grant, co-author of "The Gift Inside the Box," points to a few simple things parents can do to raise kids who give, not just take.
---
Quote of the day
"Sondland tried to explain to me that President Trump is a businessman. When a businessman is about to sign a check to someone who owes him something, he said, the businessman asks that person to pay before signing the check."
— Bill Taylor's opening statement to members of Congress as part of the impeachment inquiry
---
One fun thing
Finally, Washingtonians got a break from the news.
Juan Soto helped the Nationals take a one-game lead over the Astros in the World Series.
Outfielder Soto stole the show on Tuesday night in Houston, going 3-for-4 with a double, a homer, three RBI, and a stolen base to power his team past the Astros 5-4.
The two sides will meet again for Game 2 on Wednesday night.
---
Thanks for reading the Morning Rundown.
If you have any comments — likes, dislikes — drop me an email at: petra@nbcuni.com
If you'd like to receive this newsletter in your inbox Monday to Friday, please sign up here.
Thanks, Petra