Good morning, NBC News readers.
As they say in the TV biz, it will be a split-screen day today with President Donald Trump gathering with world leaders for a second day of NATO meetings while the House Judiciary Committee holds its first impeachment hearing.
Here's what we're watching.
---
Impeachment hearings enter new phase
The Democratic-led House Intelligence Committee released its report Tuesday summarizing the evidence it has collected in the impeachment inquiry into President Donald Trump.
The 300-page report cited two instances of improper conduct: obstruction of the House inquiry and withholding the aid from Ukraine on the condition of investigating a Trump political rival.
In essence, the report stated that the president put his personal political interests ahead of the country's.
"The impeachment inquiry has found that President Trump, personally and acting through agents within and outside of the U.S. government, solicited the interference of a foreign government, Ukraine, to benefit his reelection," the report said.
It also revealed more information about the "irregular" foreign policy channel deployed by the president's personal lawyer Rudy Giuliani as he pushed his Ukraine pressure campaign through phone records of his calls to the White House budget office and a cryptic "-1" number.
Now, the impeachment inquiry turns to its next phase with the House Judiciary Committee holding its first impeachment hearing today.
In this next chapter it's up the Democrats to explain why Trump's action demand the ultimate constitutional remedy: impeachment from office, NBC News' Jonathan Allen writes in an analysis.
You can watch the hearings beginning at 10 a.m. ET on NBC, MSNBC and NBCNews.com. And follow our live blog for analysis as it happens.
---
NATO summit braces for friction after bruising first day
Parties always have the potential for messy drama and NATO's 70th birthday gathering has been no exception.
After a bruising first day, the alliance heads into day two of its summit Wednesday with more scope for friction between Trump and his counterparts, NBC News' Alexander Smith writes.
Today's gathering will include group talks, one-to-one meetings and will conclude with Trump giving an end-of-summit press conference at 10:20 a.m. ET — just as the impeachment hearings are getting underway back home.
On Tuesday, the president grabbed the headlines with an impromptu 53-minute news briefing, in which he called a previous statement by French President Emmanuel Macron "very, very nasty" and later said that House Intelligence Committee Chairman Adam Schiff, D-Calif. was "a maniac."
---
With Kamala Harris' exit, Democrats face a diversity reckoning
When Sen. Kamala Harris called off her campaign for the Democratic presidential nomination on Tuesday, she was the top-ranked non-white candidate in the race.
The reasons for the collapse of Harris' campaign are many: She was less than sure-footed when describing her policy positions, seemed torn between the moderate and progressive wings of the party and struggled to effectively fundraise, strategize or resolve internal strife in her campaign.
Still, she represented the hopes of many who wanted to see a more diverse field of candidates this presidential election, and her exit leaves the Democratic Party with a striking demographic problem.
And now that she's out, who is left in the 2020 Democratic primary field?
---
She left him after years of abuse. Now he uses tech to track her every move.
Reader warning: This is creepy.
Even after Maria Shurilla found the strength to leave her husband she wasn't free: He still knew where she was, what she was wearing, and what she was saying.
Increasingly, technology is being used as a tool for abusers to track their victims. Experts call it "stalkerware."
---
Want to receive the Morning Rundown in your inbox? Sign up here.
---
Plus
---
THINK about it
Trump is using the House impeachment hearings to fine-tune his 2020 election strategy, Keith Koffler writes in an opinion piece.
---
Live BETTER
If you're still shopping for deals today, these Cyber Week deals are the best of what's left from Black Friday and Cyber Monday sales.
---
One fun thing
Sometimes it's time to say, enough is enough.
For America's proudest pothead, that time is now.
Willie Nelson, the country music luminary whose name is practically synonymous with lighting up, said in a recent interview that he has stopped smoking marijuana due to breathing issues.
"I have abused my lungs quite a bit in the past, so breathing is a little more difficult these days and I have to be careful," Nelson, 86, told the San Antonio television station KSAT.
"I don't smoke anymore — take better care of myself," said the Grammy-winning crooner of "On the Road Again."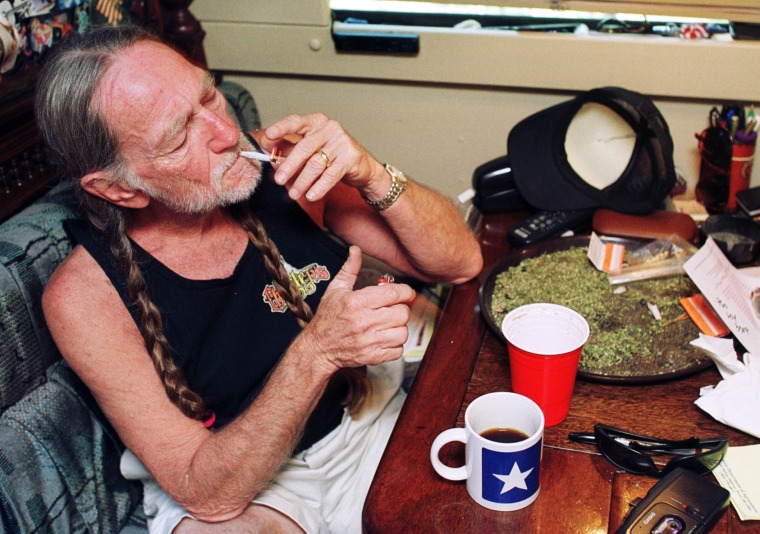 ---
Thanks for reading the Morning Rundown.
If you have any comments — likes, dislikes — drop me an email at petra@nbcuni.com
If you'd like to receive this newsletter in your inbox Monday to Friday, please sign up here.
Thanks, Petra