Good morning, NBC News readers.
We're hearing more grim reports about the conditions at immigration detention centers in Texas, President Donald Trump revealed his ambitious plans for this year's Fourth of July celebrations and a young tennis star shines at Wimbledon.
Here's what we're watching today.
---
'The system is still broken': Lawmakers criticize immigration detention centers
Rep. Alexandria Ocasio-Cortez and more than a dozen House members who toured two immigration detention facilities in El Paso and Clint, Texas, called the conditions at the centers "inhumane" and "indefensible."
"Officers were keeping women in cells w/ no water & had told them to drink out of the toilets," Ocasio-Cortez wrote on Twitter.
The congressional member's tweets and comments to reporters came hours after Pro Publica reported that 9,500 Customs and Border Patrol agents had participated in a Facebook group replete with jokes about migrant deaths and sexist comments about lawmakers, including Ocasio-Cortez.
Meantime, a 30-year-old Honduran man died at a Houston detention facility on Sunday. He is the sixth person to die while in Immigration and Customs Enforcement custody since October.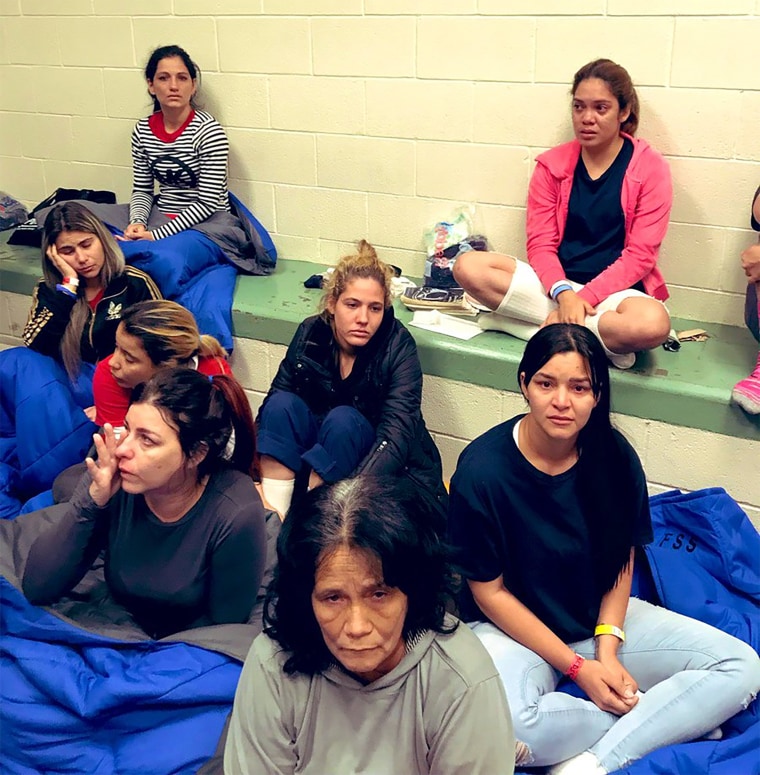 ---
Fears grow that Trump's foreign aid abortion ban is putting women's lives at risk
In January 2017, President Donald Trump re-instated the Mexico City Policy, widely referred to as the Global Gag Rule, which prohibits federal funding for the delivery and promotion of abortion care services overseas.
Critics say the policy is endangering the health and safety of women by making them resort to dangerous back-alley or at-home methods to terminate pregnancies.
"The fear is women will be denied services, and in that denial, we will push them to the wall where we start having high maternal (mortality) cases because of unsafe abortions," said one nurse midwife in Kenya. "Women will always find an alternative to get this service."
---
'This is tough': Baseball mourns death of pitcher Tyler Skaggs
Los Angeles Angels pitcher Tyler Skaggs, 27, was pronounced dead in a Texas hotel room Monday, prompting the team to postpone its game against the Texas Rangers.
"Tyler has, and always will be, an important part of the Angels Family," the American League team from Anaheim, California, said in a statement. "Our thoughts and prayers are with his wife Carli and his entire family during this devastating time."
No cause of death was made public, and authorities said neither foul play nor suicide was suspected.
Fans mourned the loss of the young player who had been expected to overcome injuries to blossom into a big-time star.
"It's just heartbreaking," said one Angels fan.
---
Trump's 'Salute to America' July Fourth celebration will be 'like no other'
Tanks, fighter jets, military brass, a campaign-style rally — oh yeah, and fireworks. That's Trump's plan for this year's Independence Day celebration on the National Mall.
"We're going to have a great Fourth of July in Washington, D.C. It'll be like no other — it'll be special," Trump told reporters in the Oval Office Monday. "We have some incredible equipment, military equipment, on display — brand-new. And we're very proud of it."
Critics say the military display will greatly increase the costs of the annual event, the weight of the equipment could potentially damage the city's infrastructure and claim that the president is hijacking what has traditionally been a nonpartisan event.
---
Want to receive the Morning Rundown in your inbox? Sign up here.
---
Plus
---
THINK about it
Taylor Swift's latest controversy reveals a dark truth about the music industry, culture critic Noah Berlatsky writes in an opinion piece.
---
Science + Tech = MACH
Antarctic sea ice is shrinking rapidly after decades of growth. Scientists aren't sure why.
---
Live BETTER
And some news you can really use as bathing suit season hits: Here's a 31-day routine to tighten and tone your glutes.
---
One fun thing
The green grasses of Wimbledon hosted a changing-of-the-guard match for the books on Monday.
Cori Gauff, at 15 the youngest qualifier in Wimbledon's history, beat the oldest, her 39-year-old role model Venus Williams.
Gauff upset Williams, a five-time Wimbledon singles champion, 6-4, 6-4, in the first round of the tournament.
To the young African-American player who grew up idolizing the Williams sisters, it was a dream come true.
"I wouldn't be here if it wasn't for her," Gauff said after the first Grand Slam singles match of her career.
Ever the sportswoman, Williams wished her opponent well.
"I think the sky's the limit," Williams said. "It really is."
---
Thanks for reading the Morning Rundown.
If you have any comments — likes, dislikes — drop me an email at: petra@nbcuni.com
If you'd like to receive this newsletter in your inbox Monday to Friday, please sign up here.
Thanks, Petra