Good morning, NBC News readers.
Americans across the country marked Independence Day — with President Donald Trump putting his own unique stamp on the celebrations.
Here's what we're watching today.
---
Trump touts military at star-spangled celebration
President Trump delivered a speech long on praise for America and its armed forces — and largely devoid of the highly political content critics feared he would inject into his taxpayer-funded July Fourth extravaganza.
Crowds gathered on the rain-soaked National Mall for two separate events — Trump's "Salute to America" military-inspired event in front of the Lincoln Memorial, and the traditional Independence Day concert featuring Carole King and the National Symphony Orchestra at the other end near the Capitol.
Trump, who spoke for nearly an hour, stocked his remarks with historical anecdotes about each branch of the military and musical interludes to allow warplanes and helicopters to roar over the large crowd.
The president, who received multiple draft deferments during the Vietnam War, urged young Americans to join the military, saying doing so would "make a truly great statement in life."
He also said the Army "took over the airports" during the American Revolution — or the War of 1812 — either way, long before they were invented.
"In June of 1775, the Continental Congress created a unified Army out of the Revolutionary Forces encamped around Boston and New York, and named after the great George Washington, commander in chief," Trump said. "The Continental Army suffered a bitter winter of Valley Forge, found glory across the waters of the Delaware and seized victory from Cornwallis of Yorktown."
"Our Army manned the air, it rammed the ramparts, it took over the airports, it did everything it had to do. And at Fort McHenry, under "the rocket's red glare," it had nothing but victory," he said. "And when dawn came, their star-spangled banner waved defiant."
---
Southern California rattled by strongest earthquake in decades
A 6.4-magnitude earthquake, the strongest in the region in two decades, hit Southern California on Thursday, causing buildings to shake and rattling nerves on the Independence Day holiday.
The earthquake was a stark reminder for Californians of the potential dangers from future, stronger earthquakes after several years when they have been relatively rare.
"We expect aftershocks. People should hold tight," Los Angeles Mayor Eric Garcetti told NBC Los Angeles. It's a "great time to come up for plan" for the next one, he said.
Video: California residents wondered if today's earthquake was 'the big one'
---
Harris, Biden take debate stage battle on race to the campaign trail
Joe Biden and Kamala Harris sparred on Thursday over the former vice president's views on busing, one week after the California senator thrust the issue to the forefront of the Democratic debate.
Biden defended his record on school integration even as he encouraged Democrats to "move on" from a discussion of a complex debate centered on his decades-old statements and votes.
But Harris seems to have no intention of letting it go.
"He has yet to agree that the position he took then was wrong, and he and I just disagree on that," she said.
---
Americans across the country celebrate Fourth of July
July Fourth celebrations come in all shapes and sizes. See images from some of the parades and picnics from Cape Cod to California.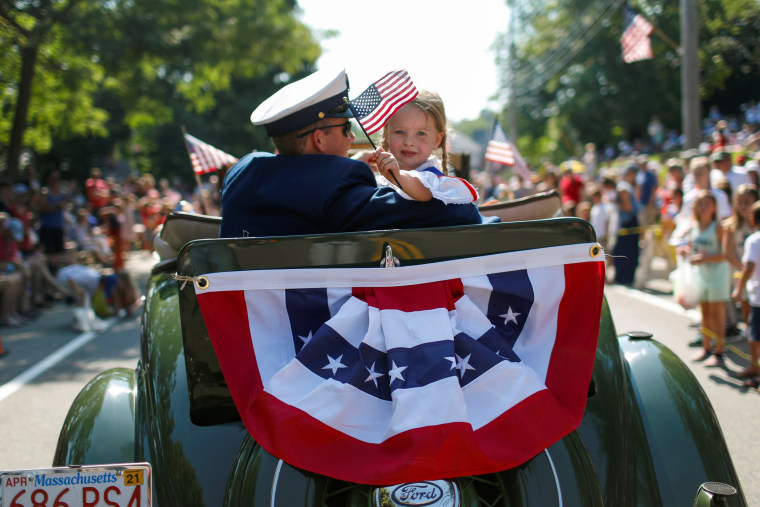 ---
Want to receive the Morning Rundown in your inbox? Sign up here.
---
Plus
---
THINK about it
Celebrating the Fourth of July as an Iranian-American patriot, Melody Moezzi writes in an opinion piece that she has not lost faith in America. And neither should you.
---
Live BETTER
There's still time for more watermelon over the holiday weekend. Here's how to cut one of summer's favorite fruits without stabbing yourself.
---
Quote of the day
"I don't have to atone ... My record stands for itself."
— Former Vice President Joe Biden told NBC News in Independence, Iowa, following a Fourth of July parade.
---
One historic thing
The Abraham Lincoln Presidential Museum and Library has a new addition: A Bible that was first gifted to the president back in 1864.
Sandra Wolcott Willingham, whose relative was given the Bible after Lincoln's funeral, decided it was time to share the treasure with the rest of America.
Video: President Abraham Lincoln's Bible is now on display to the public
---
Thanks for reading the Morning Rundown.
Hope you had a fun day yesterday and a great rest of the holiday weekend.
If you have any comments — likes, dislikes — drop me an email at: petra@nbcuni.com
If you'd like to receive this newsletter in your inbox Monday to Friday, please sign up here.
Thanks, Petra