Good morning, NBC News readers.
President Donald Trump's lawyers put forward an expansive defense against impeachment, researchers are in a race against time to develop a coronavirus vaccine, and Vanessa Bryant breaks her silence on the sudden loss of her "adoring husband."
Here's what we're watching this Thursday morning.
---
Trump lawyers expand defense as GOP works to block witnesses
Senators grilled both the House managers and the defense team on Wednesday to begin the question-and-answer period of President Donald Trump's impeachment trial.
Trump's lawyers offered an expansive view of presidential powers in his defense.
"If a president does something which he believes will help him get elected in the public interest, that cannot be the kind of quid pro quo that results in impeachment," Trump defense lawyer Alan Dershowitz said. (Video)
Dershowitz's argument was met with swift blowback both on the Senate floor and by legal scholars.
Rep. Adam Schiff, D-Calif., the lead House manager, said that if the Senate adopted that stance it would give "carte blanche" for more foreign interference in the future.
Catch up on the play by play from yesterday here.
While senators are still divided on whether to hear from witnesses, the Q & A will resume later today. Watch on NBC, MSNBC and follow our live blog for the latest updates and analysis.
Meantime, in the final days before the Iowa caucuses, Democratic presidential hopefuls are walking a political tightrope when it comes to former Vice President Joe Biden and the Ukraine scandal, NBC News' Jonathan Allen writes in a news analysis.
---
As coronavirus spreads, so does concern over xenophobia
As the coronavirus continues to spread, experts point out that misinformation and misguided precautions, often rooted in racially insensitive stereotypes, have proliferated.
So far, at least 7,711 cases of the illness have been reported in China and experts are concerned that increasing xenophobia could be another side effect of the illness.
With the continuing outbreak comes "more panic, more temptation to blame the outsider — the other," a Columbia professor of sociomedical sciences said.
Meantime, researchers around the world are in a desperate race to develop a vaccine.
The virus has now spread to at least 18 countries and killed 170 people in China. Get the latest updates here.
---
'Completely devastated': Vanessa Bryant breaks her silence
Kobe Bryant's wife of nearly 20 years broke her silence Wednesday on the death of her husband and their 13-year-old daughter, Gianna, in a heartbreaking Instagram post.
Vanessa Bryant said she and her three surviving daughters have been "completely devastated."
"There aren't enough words to describe our pain right now," she wrote on Instagram. "I take comfort in knowing that Kobe and Gigi both knew that they were so deeply loved."
"I'm not sure what our lives hold beyond today, and it's impossible to imagine life without them," she said. "But we wake up each day, trying to keep pushing because Kobe, and our baby girl, Gigi, are shining on us to light the way."
Meantime, ABC News suspended a correspondent over an inaccurate report in the wake of Bryant's crash.
And experts say that Bryant's death could spur the Federal Aviation Administration to increase helicopter safety.
---
Want to receive the Morning Rundown in your inbox? Sign up here.
---
Plus
---
THINK about it
Trump's hypocritical "wealth test" will hurt all Americans, not just immigrants, María Teresa Kumar, president and CEO of Voto Latino, writes in an opinion piece.
---
Live BETTER
A Super Bowl party menu your friends and family will cheer for.
---
Shopping
Dark under-eye circles? They plague many of us, we've got tips on how to reduce under-eye circles from dermatologists.
---
One fun thing
DeAndre Arnold, a senior at Barbers Hill High School in Mont Belvieu, Texas, was told he wouldn't be allowed to return to school or attend his graduation ceremony unless he cuts his dreadlocks.
His story gained national attention — including from Ellen DeGeneres — who surprised him with a $20,000 scholarship on her show on Wednesday.
Arnold explained to DeGeneres that his hairstyle is important because it's part of his culture and heritage.
"And I really wish the school would kind of be open to other cultures and just, at least let us try to tell you some things. Don't just shut us out."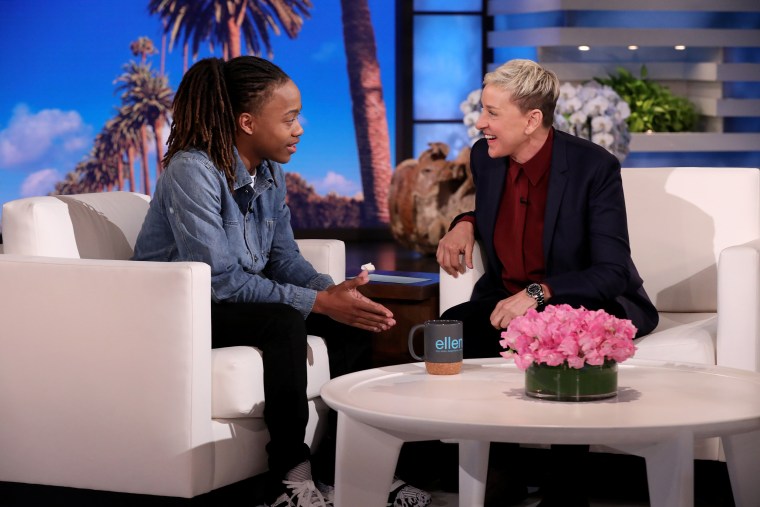 ---
Thanks for reading the Morning Rundown.
If you have any comments — likes, dislikes — drop me an email at: petra@nbcuni.com
And if you'd like to receive this newsletter in your inbox Monday to Friday, please sign up here.
Thanks, Petra