Good morning, NBC News readers.
President Donald Trump unveiled a plan to reopen the country amid dire economic news in the U.S. and China. But public health experts warn that an exponential growth in testing will be necessary for the country to get back to "normal."
Here's what we're watching this Friday morning.
---
Coronavirus testing must double or triple before U.S. can safely reopen, experts say
In a reversal from earlier in the week, President Donald Trump announced federal guidelines Thursday to ease stay-at-home orders that would leave it up to state governors to decide on timing.
The president outlined a gradual process that would be based on benchmarks like declines in positive cases.
"We are not opening all at once, but one careful step at a time," Trump said.
Under the plan, restaurants, movie theaters and even large sporting venues would be allowed to reopen under certain conditions — in some states even before May 1.
But coronavirus testing would have to be at least doubled or tripled from its current levels to allow for even a partial reopening of America's economy, public health experts say.
Without diagnostic testing on a massive scale, federal and state officials and private companies will lack a clear picture of who has been infected, who can safely return to work, how the virus is spreading and when stay-at-home orders can be eased, public health experts say.
"We are an order of magnitude off right now from where we should be," said Dylan George, an expert in infectious disease modeling who advised the administration of President Barack Obama in combating the Ebola epidemic. "Testing is the perpetual problem here."
Here are some other major developments:
---
Small-business loan program's $350 billion fund is already tapped out
The economic news is grim.
Around 5 million more people filed jobless claims last week, bringing the total to almost 22 million in one month.
The bleak unemployment numbers came out on the same day that one of the main lifelines for small businesses also dried up.
The small business loan program hit its $350 billion cap Thursday and is no longer accepting any more lenders or applications, the SBA announced.
The emergency fund offered some hope to small businesses with fewer than 500 employees, providing loans that turn into grants if used to cover payrolls and avoid layoffs.
But the hastily constructed program was bedeviled with administrative issues since its launch less than two weeks ago.
The depletion of the fund's resources had been expected for several days and have now set the stage for a battle between Democratic and Republican lawmakers over the shape of additional relief funding.
NBC News Senior Business Correspondent Stephanie Ruhle writes in a news analysis how the next stage of the loan program should be set up to stop it from simply benefiting the rich.
---
New York woman's family blames hydroxychloroquine for fatal heart attack
Ligia, a 65-year-old Queens resident who had coronavirus symptoms, died last week after she was prescribed hydroxychloroquine and azithromycin — drugs Trump has promoted to treat the coronavirus — by a general practitioner.
The drug cocktail has known cardiac side effects, and hydroxycholroquine is not FDA-approved.
Ligia was never evaluated in person or tested for COVID-19 and received no heart screening or warning about the potential side effects, her family said.
"It was handed over like a bag of cookies," her brother-in-law said.
---
Want to receive the Morning Rundown in your inbox? Sign up here.
---
Plus
---
THINK about it
Coronavirus unemployment numbers are staggering. And the real number is higher, Noah Berlatsky writes in an opinion piece.
---
Shopping
A little more hirsute these days than pre-lockdown? Here are the best hair and beard trimmers for men, according to experts.
---
Quote of the day
"You're going to call your own shots."
— President Trump said during a videoconference with U.S. governors Thursday afternoon regarding federal guidelines on reopening the economy. Earlier this week, he said "the president of the United States calls the shots."
---
The Week in Pictures
It was another challenging week with the number of confirmed coronavirus cases around the world skyrocketing to over 2 million and the U.S. death toll passing 34,000.
Through it all, photojournalists around the globe have captured the glimpses of humanity getting people through these tough times. Check out The Week in Pictures.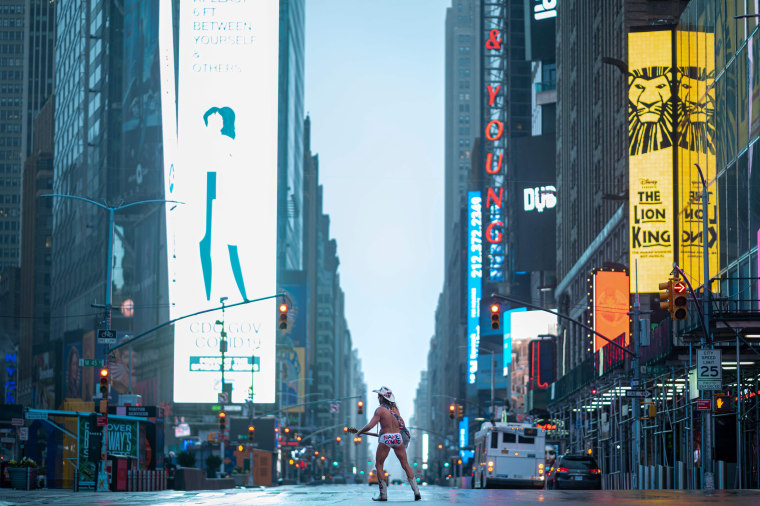 ---
Thanks for reading the Morning Rundown.
I hope you have a relatively restful weekend.
Please send me any comments or questions you have on the newsletter: petra@nbcuni.com
And if you'd like to receive this newsletter in your inbox Monday to Friday, please sign-up here.
Be safe and stay healthy, Petra Cahill