Good morning, NBC News readers.
President Donald Trump suggested an "injection" of disinfectant might help beat coronavirus, the House passed another nearly $500 billion relief bill and New Yorkers reminded the city's essential workers to "Lean on Me."
Here's what we're watching this Friday morning.
---
'Irresponsible' and 'dangerous': Experts rip Trump's musings about injecting disinfectant to treat COVID-19
President Trump suggested exploring disinfectants as a possible treatment for coronavirus infections during Thursday's daily White House briefing — an extremely dangerous proposition that medical experts warn could kill people.
After a Homeland Security official mentioned the ability of disinfectants like bleach to kill the coronavirus on surfaces, Trump remarked on the effectiveness.
"And then I see the disinfectant where it knocks it out in a minute. One minute. And is there a way we can do something like that, by injection inside or almost a cleaning?" said Trump.
"Because, you see, it gets on the lungs, and it does a tremendous number on the lungs. So it'd be interesting to check that. So that you're going to have to use medical doctors, but it sounds — it sounds interesting to me," he added.
Disinfectants like bleach are poisonous and dangerous when mishandled, doctors say.
"This notion of injecting or ingesting any type of cleansing product into the body is irresponsible, and it's dangerous," said Dr. Vin Gupta, a pulmonologist and global health policy expert who is an NBC News and MSNBC contributor.
"It's a common method that people utilize when they want to kill themselves."
Here are some of other big developments:
---
SPECIAL REPORT: Want some ventilators? A White House connection helps
Using the unilateral authority of the White House, Trump and his aides have consolidated power during this crisis, picking winners and losers based in part on personal relationships, ideological affinity and partisan loyalty, write NBC News' Jonathan Allen, Phil McCausland and Cyrus Farivar in an in-depth report.
Ultimately, that favoritism has created a two-track system of haves and have-nots, a model revealed in dozens of interviews that NBC News conducted with federal, state and local officials, health industry professionals, emergency response veterans working on the crisis and current and former White House officials.
Put simply, the fight for survival among businesses related to the COVID-19 fight — and for a slice of the billions of dollars going out the door — is about political influence
A federal government veteran of national emergency response said the influence coming from the White House is unparalleled.
"I've never seen anything directed by the White House like this before," said the source, who insisted on anonymity out of fear of retribution.
"The president has been very, very hands-on in this," White House senior adviser Jared Kushner has said about Trump's personal involvement in determining where goods are shipped.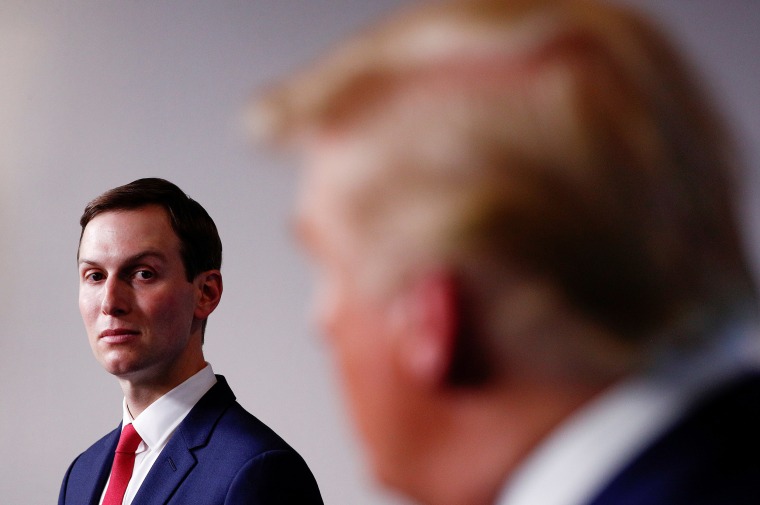 ---
What we can (and can't) take away from New York's antibody testing results
New York Gov. Andrew Cuomo on Thursday offered what appeared to be a surprising statistic on just how broadly the outbreak of the coronavirus has hit the state: Almost 14 percent of people tested in a new study were found to have antibodies to the disease it causes.
That might be good news. The data suggest that the state's mortality rate could be lower than previously thought, albeit much higher than for seasonal influenza.
But it's still too early to reach that conclusion — or any other extrapolations people might want to make about easing lockdowns, experts say.
"Outbreaks are like an iceberg, where the top part that we can see are the people who are hospitalized or die, but there's a big bottom part made up of people who were missed," said Natalie Dean, an assistant professor of biostatistics at the University of Florida in Gainesville.
"Establishing how big that bottom part is helps us characterize the severity of the disease."
---
'Looking for community': Muslims begin Ramadan amid the pandemic
A glimmering crescent moon in Thursday's twilight sky, signaled to many of the world's nearly 2 billion Muslims that the holy month of Ramadan had begun. For one month, Muslims from Boston to Baghdad will forgo food, water and sexual relations from dawn to dusk.
Traditionally, people commune joyfully with family and friends at sunset, when they break the fast at tables laden with spicy dishes and sweet mint tea.
Not this year.
In the face of the global coronavirus pandemic, Muslims are preparing for an isolated and solitary Ramadan, with millions cooped up at home under social lockdown and mosques shuttered.
---
Want to receive the Morning Rundown in your inbox? Sign up here.
---
Plus
---
THINK about it
Trump's new immigration ban proves not even a pandemic can stop xenophobia, María Teresa Kumar writes in an opinion piece.
---
Shopping
The best, (ie: most comfortable) eco-friendly shoes, according to experts.
---
The Week in Pictures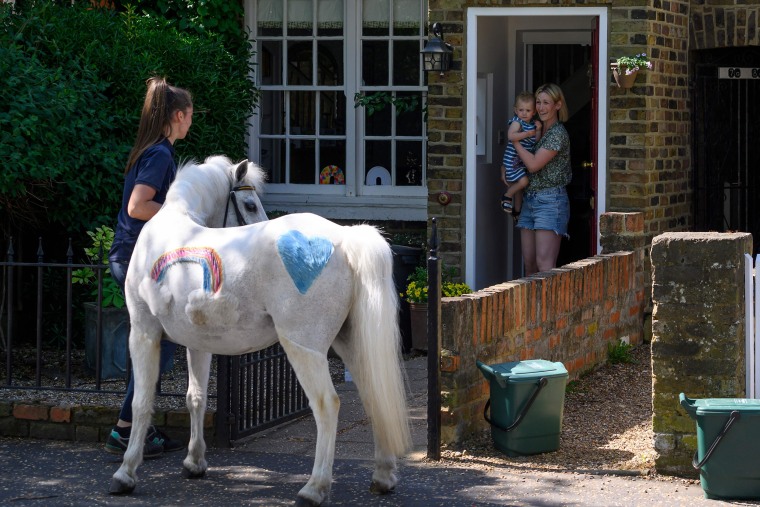 "Annie's Wizz," a Welsh mountain pony pays a visit to a family in Twickenham, a London neighborhood, to spread a little cheer during the lockdown as part of an initiative called "Tiny Pony at Your Window."
See more of the most compelling photos from the last week as people all over the world grapple with the coronavirus pandemic.
---
One uplifting thing
You might need a hankie for this one.
New Yorkers joined in a mass sing-along of "Lean on Me" last night to honor essential workers.
It was especially poignant because Bill Withers, the singer-songwriter behind the 1972 classic, died earlier this month at 81 from heart complications.
His lyrics continue to ring true in the city ravaged by COVID-19:
"Sometimes in our lives
We all have pain
We all have sorrow
But, if we are wise
We know that there's always tomorrow."
---
Thanks for reading the Morning Rundown. I hope you have a relatively restful weekend.
Please send me any comments or questions you have on the newsletter: petra@nbcuni.com
And if you'd like to receive this newsletter in your inbox Monday to Friday, please sign-up here.
Be safe and stay healthy, Petra Cahill