Good morning, NBC News readers.
President Donald Trump tells Americans to avoid gatherings of over 10 people, San Francisco orders the public to stay home, and Ohio's governor defies a court order and delays the primary election.
Here are the latest developments in the global effort to halt the spread of the coronavirus pandemic.
---
Trump tells Americans to stay home to 'defeat' coronavirus
The Trump administration's coronavirus task force released new guidelines on Monday to slow the spread of coronavirus, including closing schools, and avoiding gatherings of 10 or more people, discretionary travel, bars and restaurants.
The administration later said the guidelines are in effect for 15 days and may change after that time.
When asked about how long the crisis could go on, Trump said "people are talking about July, August."
He urged the country to come together and take action immediately.
"We will rally together as one nation and we will defeat the virus and we're going to have a big celebration all together." (Video)
Here are some of the other major developments:
---
Some states have seen a 'phenomenal increase' in coronavirus tests — but America still lags far behind
Some states have seen a desperately needed increase in their bandwidth to test for the coronavirus in recent days — but the United States' testing capacity still lags far behind other nations.
Identifying who is sick is a key part of mitigating a pandemic. So far, the ability to freely test anyone showing symptoms, which include fever, cough and shortness of breath, has eluded U.S. public health officials.
NBC News' Elizabeth Chuck takes a look at what's behind the coronavirus testing crisis in the U.S. that's been bedevilling efforts at containment.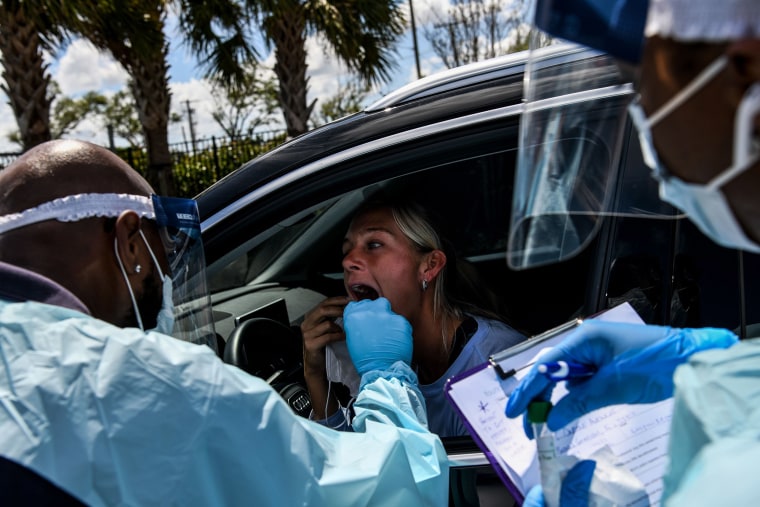 ---
Coronavirus upends justice system as states close courts and halt trials
The Supreme Court postponed oral arguments on Monday, including its plans to hear a case involving President Donald Trump's efforts to block release of his tax returns.
In Los Angeles, the highly anticipated murder trial of real estate heir Robert Durst was delayed — along with all other criminal and civil trials.
Across the country, attempts to slow the spread of the deadly coronavirus have thrown the criminal justice system into disarray as officials try to limit large courthouse gatherings, including juries, while also making sure that people accused of crimes aren't deprived of their due-process rights.
"The ramifications could be catastrophic if not managed properly," one defense lawyer said.
---
With widespread school closures, teachers and families brace for massive experiment in online education
As of Monday afternoon, 35 states had mandated school closures in an effort to slow the spread of coronavirus; at least 35.9 million children are now displaced from their classrooms, according to a tally by Education Week.
As school leaders look for ways to minimize the disruption to children's learning — and try to avoid extending the school year through the summer — teachers at thousands of schools all across the country are scrambling for ways to teach children who are holed up at home.
"You can't simply snap your fingers and say, 'Tomorrow you're going fully virtual.' It takes planning and training, and we don't have time for that," said one education expert.
---
Analysis: Trump finally paints a bleak coronavirus outlook. Is it enough?
For the first time Monday, Trump laid out a truly bleak picture of America in the time of coronavirus — pointing to an "invisible enemy" he said could plunge the nation's economy into recession and possibly even require quarantines of geographic "hot spots," if not the whole country.
Now can he fix it? NBC News' Jonathan Allen asks in a news analysis.
---
Want to receive the Morning Rundown in your inbox? Sign up here.
---
Plus
Despite the outbreak, Tuesday's primaries in the key battleground states of Florida, Arizona and Illinois are still on as the presidential campaigns adapt to new rules.
Joe Biden has vowed to pick a female running mate. We take a look at the strength and weakness of five possible contenders.
NFL blockbuster: DeAndre Hopkins has reportedly been traded to the Cardinals.
---
THINK about it
The Irish in America want green cards, not green beer for St. Patrick's Day, filmmaker Sadhbh Walshe writes in an opinion piece.
---
Shopping
Cooking at home more while you're shut in? Here are chef's tips on the best cast iron cookware.
---
Quote of the day
"You cannot fight a fire blindfolded. And we cannot stop this pandemic if we don't know who is infected. We have a simple message for all countries: test, test, test."
— WHO Director-General Dr. Tedros Adhanom Ghebreyesus said Monday.
---
One new reality thing
OK, so the coronavirus pandemic has brought cities around the world to virtual standstills and forced millions to hunker down at home for the foreseeable future.
If you're looking to get your mind off the alarming headlines (or simply pass the time), here's a guide to 25 of the best movies and shows you could watch during your self-quarantine.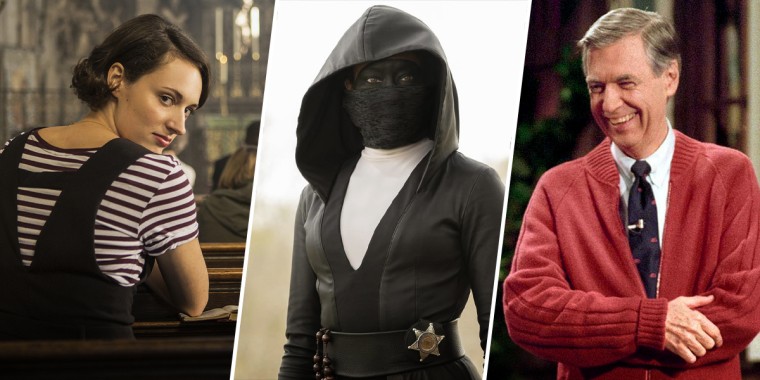 ---
Thanks for reading the Morning Rundown.
We are currently all hands on deck for coronavirus. Please send me any comments or questions you have so we address them in future stories: petra@nbcuni.com
If you're a fan, please forward it to your family and friends. They can sign-up here.
Be safe and stay healthy, Petra Cahill